Spicy Sweet potato snack – quick and oil freeShakarkand/sweet potato is a tuber and is very high in vitamin B6,good source of VitC,D ,Iron,Magnesium and is very rich in fiber and is fat free so now becoming popular worldwide.It is a versatile tuber ,you can bake, roast, grill or boil it and can make many different types of dishes with it or just enjoy the plain roasted one as a snack.
 Roasted shakarkandi ki chaat  is very popular during winter as a snack or can be enjoyed just plain roasted one. street vendors on small stalls sells these charcoal grilled sweet potatoes,which are then peeled ,cubed and few spices and tangy chutnies are mixed in it and a tangy and spicy snack is served in just few minutes.
Traditionally sweet potatoes are grilled on charcoal for the wonderful smoky aroma but you can also bake them in an oven or just boil them in a pressure cooker.
you can mix lemon juice and dry spices only or add tamarind and green chutney,both versions taste great.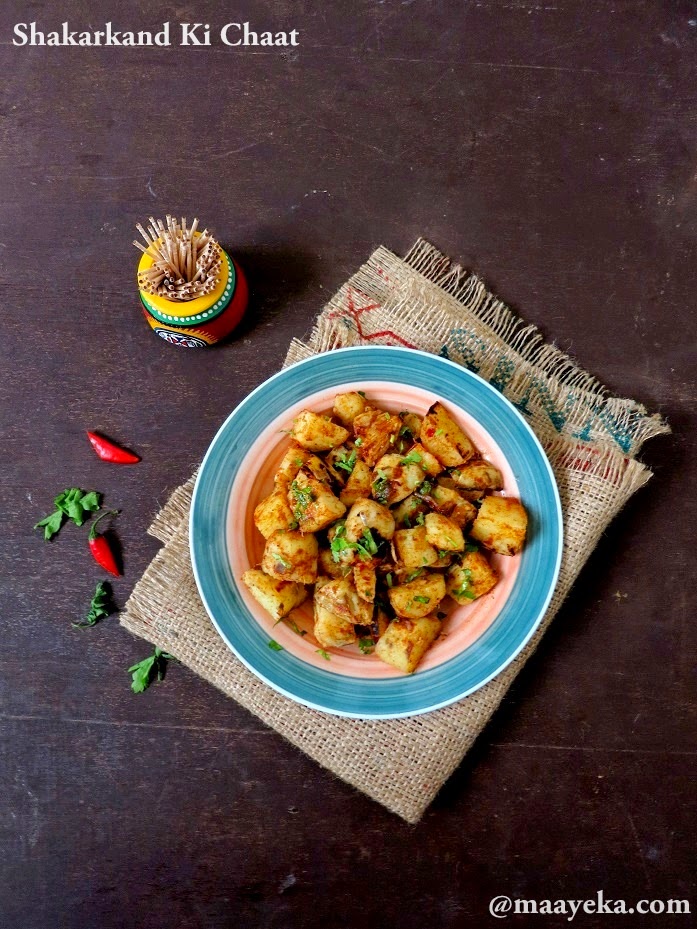 Prep time-5 min
Cooking time- 10 min
Difficulty level-easy
Spice level-medium hot
Cuisine- North Indian
Type-Snack,side
Serve – 4
INGREDIENTS-
Sweet potato /shakarkandi  – 2  (400 gms)
Tamarind chutney -1.5 tbsp
Green chutney – 1.5 tbsp
Red chili powder -1 tsp
Black salt /kala namak – 1/4 tsp
Roasted cumin powder  – 1/3 tsp
Salt – to taste
Green chili,chopped -1 tsp
Fresh coriander,chopped –  2 tbsp
Lemon juice- 2 tbsp
PROCEDURE-
Boil shakarkand /sweet potato in a pressure cooker with a glass of water,if its big then make into 2-3 big pieces.
Boil on medium heat fopr 3 whistles.
When cool down completely then peel the skin completly.
Chop the boiled sweet potato into medium size cubes.
Take a big bowl and add chopped sweet potatoes.
Add all the spices and both chutney and lemon juice.
Mix preperly add chopped green chili and fresgh coriander.
Serve with a tooth pick and a lemon wedge.
Tips-
For the smoky flavour- slice the boiled and peeled sweet potato into 1 inch thick roundels. grease a non stick flat pan with few drops of oil.arrange the sweet potato slices over it in single layer and cook on medium heat till it get nice golden color,turn the sides and cook from other side too. make cubes and make chat.
Can also make without the chutnies.
You can substitute lemon juice with orange juice.
Can also add some boiled potatoes and ripe banana cubes in it.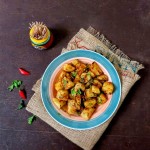 Print Recipe
Shakarkand Ki Chaat