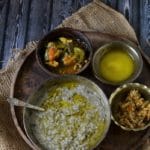 Print Recipe
Bajra khichdi Recipe
Bajra Khichdi -A healthy delicious winter special khichdi made with pearl millet ,yellow lentil and rice
First of all little water is sprinkled on the whole bajra and then set aside for an hour. Then the bajra is slightly crushed using the mortar and pastle or pulse in the mixer few times to loosen out the husk.

Then take out the bajra in a plate and gently crush with your hands and then the bajra husk is removed by winnowing.

Then it is again put in the mixer and pulsed few times to make into a slightly coarse powder.

Wash the moong daal chilka and rice and keep aside.

Now just add the ready bajra , Chilka wali moong daal, rice and 4 cups of water in the pressure cooker and cook for 5 whistles on medium heat or cook till done

When the cooker cool down completely then open it and mash it slightly.

Add chopped ginger,salt , 2 tbsp ghee and some more hot water to adjust the consistency and then simmer for 10 minutes.

Serve hot with lots of ghee on top.

Serving Instruction- Bajra khichdi is best served with either jaggary and ghee or with khatti kadhi or buttermilk.