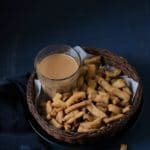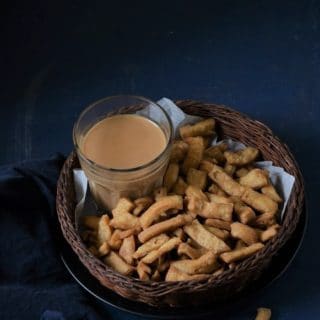 Print Recipe
Aloe vera ke Namak pare
Aloe Vera Ke namak pare- Deep fried crispy snack made with aloe vera pulp,flour and few spices. 
2

cup

Whole Wheat Flour / Atta

4

tbsp

Semolina / Sooji

1

cup

Aloe vera gel

5

tbsp

Ghee

1.25

tsp

Salt / Namak

1/2

tsp

Cumin Seeds / Sabut Jeera

1/3

tsp

Carom Seeds / Ajwain

1

tsp

Peppercorns / Sabut Kali Mirch

coarsely pounded

Enough

Cooking Oil

to deep fry
Aloe vera Gel- Peel the aloe vera leaf and scoop out the pulp with a sharp knife ,take care to take out the transparent gel only.

Grind the pulp in the mixer jar and keep in aside.(Do check the notes below before using aloe vera gel))

In a large bowl add the refined flour, semolina, all the spices and ghee .

Mix properly so the ghee mix well with the flour and looks like crumbs.

Now add the aloe vera pulp in the flour mixture ,keep adding little at a time.(you may not need the whole quantity of aloe pulp)

Make a tight dough and keep aside to rest for 10 minutes.

Make 2-3 balls from the dough and roll to make medium thick chapati .

Cut into your desired shape and keep aside.

Heat enough oil in a deep wide pan.

Gently slide few namak pare in the oil.

After adding in medium heat oil ,lower the heat and fry till they become golden in colour.

Remove the fried namak pare on a kitchen paper and let them cool down completely.

Store in an airtight jar and enjoy with a hot cup of tea or coffee!
Note-
Use fresh aloe vera leaves to make aloe vera gel ,don't use the ready made aloe vera gel available in the market.
Be careful while choosing aloe vera as all  aloe vera varieties are not edible.There are many types of aloe vera available,many varieties are bitter in taste so not advisable to consume.
Sweet variety of aloe vera is dark and bright in colour and have less thorns and have shiny transparent Gel inside, so use only the sweet variety of aloe vera to make these namak pare or any food recipe .Do Taste a piece of aloe vera before making pulp .
You can use whole cumin or carom depends on your taste preference ,or grind and use the powder for the fussy eater of your family.
Can use Refined flour instead of wheat flour.