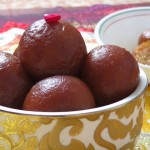 Print Recipe
Gulab Jamun Recipe with Milk Powder
Gulab jamun- An classic Indian dessert made with milk powder dumplings soaked in sugar syrup. 


Take sugar,saffron ,cardamom seeds and 2 cups of water in a pan,boil for 15 minutes on medium heat.till you feel the stickiness in the syrup.keep stirring

Now add 2 tsp of rose water in the syrup and keep aside.

Take milk powder,refined flour ,semolina ,soda and ghee in a deep plate and mix well ,add little water and mix and make a soft dough

Rub with your palm to smoothen the dough.

Now take a small portion from the mixture and make a smooth ball by rubing on your palm.

Make all balls from the mixture and keep aside(cover with a moist cloth)

Heat ghee or oil in a pan,when it become hot then lower the heat and slide the balls gently in the ghee.

Keep fryng and turning the sides on low heat till golden in colour.

Drain on a paper napkin and wait for 2 minutes.

Then add in the hot sugar syrup.

Now cover the sugar syrup pan and simmer for 8-10 minutes on low heat.

Serve after 3.4 hours so the gulab jamuns will absorb the syrup and become soft.

serving suggestions-serve warm or cold .or top with vanilla icecream
NOTE-
You don't need a thick sugar syrup for making Gulab Jamuns.
The dough should be soft ,don't make it dry.