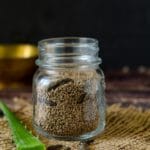 Print Recipe
Pachak Ajwain with Aloe vera , Digestive Carom seeds
Pachak Ajwain with Aloe vera- a very good and easy to make home made digestive made with carom seeds, aloe vera and lemon juice
1.5

cup

Carom Seeds / Ajwain

1.5

cup

Aloe Vera pulp

2.5

tsp

Black Salt / Kala Namak

1

cup

lemon juice

1/2

tsp

Asafoetida / Hing powder

2.5

tsp

Ginger / Adrak

paste

12

Peepli/Bengal Pepper / Long Pepper / Lendi Peepli

1

tbsp

Roasted Cumin Powder / Jeera Powder
Wash and peel the Aloe Vera stem and extract the pulp. Blend the pulp in a blender.(check the notes before adding aloe vera)

Take a glass jar and pour the aloe vera pulp in it. Add all the ingredients to it and mix well.

Press the mixture with a spoon, ajwain should be moist and soaked well in the mixture. If the mixture feels dry then add some more lemon juice into it.

Cover with a lid and keep aside for 3 days. Keep mixing in every once in a while.

After 3 days spread the mixture into a plastic or glass tray (do not use a metallic metal jar or tray)

Let it dry completely by placing in shade. Do not expose to direct sunlight.

When it has dried completely, store in a glass jar and use when required.

Usage Directions: Take 1/2 tsp of the mixture and chew slowly. You may drink 1/2 cup of warm water afterwards .If you don't find the strong taste of ajwain tolerable then just swallow it with some warm water.
Note-
If you don't have aloe vera then can make this with only lemon juice, it will be equally good for digestion.

Be careful while choosing aloe vera as all  aloe vera varieties are not edible.There are many types of aloe vera available,many varieties are bitter in taste so not advisable to consume. sweet variety of aloe vera is dark and bright in colour and have less thorns and have shiny transparent jel inside, so use only the sweet variety of aloevera to make this ajwain .Do Taste a piece of aloe vera before making pulp .
If you don't like adding black salt then can use table salt or sea salt.