Pachak Ajwain with Aloe vera- a very good home made digestive made with carom seeds, aloe vera and lemon juice
Pachak Ajwain- Aloe vera is a very useful medicinal plant which is used in cosmetics,medicines and in many food items. The leaves of aloe vera are flashy and the gel is used as the main ingredients . Aloe vera gel can be applied or used external and internal both ways.Aloe vera gel is very good to treat burns, sunburns, tooth aches, treat dental plaques too. Tropical application is considered very good to increase collagen production thus it reduces wrinkles and improves the skin texture.
Aloe vera is not the only plant that can prove to be useful in helping relieve any physical ailments that someone is experiencing. Whereas aloe vera can help with sunburns and toothaches, cannabidiol  which is the compound that you can find in the cannabis plant, can help with stress, depression, and chronic pain such as arthritis, amongst other things.
Aloe vera gel when taken internally helps to treat diabetics. It also stimulates the immune system.Is also rich in Vitamin C, Vitamin B12, and folic acid. Aloe vera is considered very good for stomach health and gut health.
Ajwain/ carom seeds/ bishop seeds are the very common spice in the Indian kitchen, easily and very reasonably available in the market. It is used for digestion. Thymol present in ajwain helps to release the gastric juices and thus boost the digestion process.  It also improves the digestion of new mothers and helps lactating mothers as it has anti-inflammatory and curative properties.
Ajwain is also good in easing rheumatic and arthritis pain. Ajwain decoction is also good remedy for acidity problems. After delivery a lot of ghee and heavy food is consumed by the new mothers so it is also very good for them to consume it regularly for good digestion.
Aloevera and ajwain both are a very good remedy for gastric issues, Upset stomach and for general digestion and therefore makes a lot of sense to post this easy but very useful remedy on my food blog !
Today I am sharing a health remedy- Pachak ajwain with aloe vera that my mother learnt from my great grandmother. I always used to get it from my mother whenever I used to visit India but got around to actually learning it during this visit. If you are not able to get good quality aloe vera then just add lemon juice and it will be equally good for digestion.
You can also try this Aloe vera ki sabzi recipe from my blog if you want to try some thing interesting and healthy from aloe vera.
you can also check these recipes-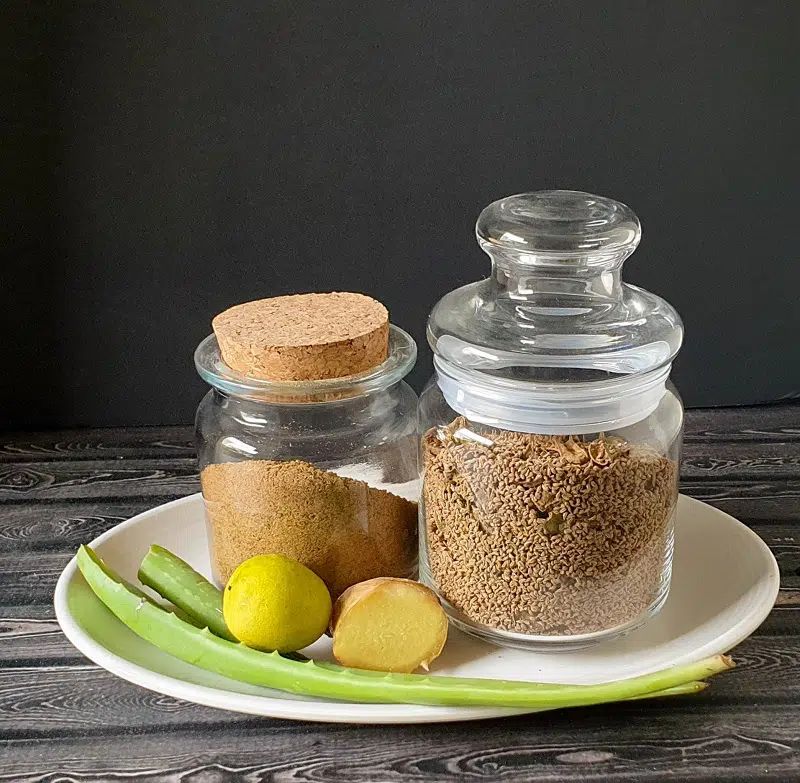 you can check my youtube video and subsceibe to my channel- MAAYEKA
 Have you tried this recipe? Click on the stars ? in the recipe card to let us know your feedback! If you tried it then You can also click the recipe pic and share on Instagram with hashtag #maayek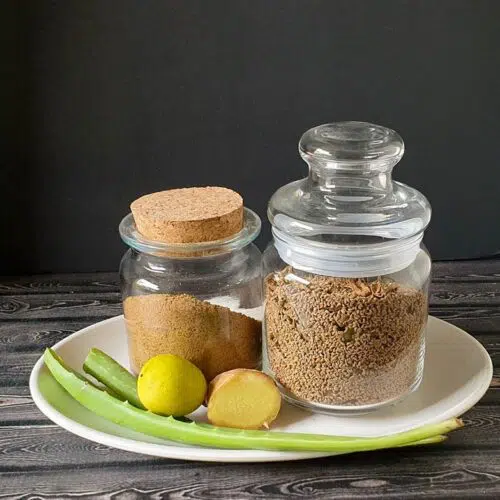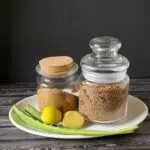 Print Recipe
Pachak Ajwain with Aloe vera , Digestive Carom seeds
Pachak Ajwain with Aloe vera- a very good and easy to make home made digestive made with carom seeds, aloe vera and lemon juice
Ingredients
1.5

cup

Carom Seeds / Ajwain

1.5

cup

Aloe Vera pulp

2.5

tsp

Black Salt / Kala Namak

1

cup

lemon juice

1/2

tsp

Asafoetida / Hing powder

2.5

tsp

Ginger / Adrak

paste

12

Peepli/Bengal Pepper / Long Pepper / Lendi Peepli

1

tbsp

Roasted Cumin Powder / Jeera Powder
Instructions
Wash and peel the Aloe Vera stem and extract the pulp. Blend the pulp in a blender.(check the notes before adding aloe vera)

Take a glass jar and pour the aloe vera pulp in it. Add all the ingredients to it and mix well.

Press the mixture with a spoon, ajwain should be moist and soaked well in the mixture. If the mixture feels dry then add some more lemon juice into it.

Cover with a lid and keep aside for 3 days. Keep mixing in every once in a while.

After 3 days spread the mixture into a plastic or glass tray (do not use a metallic metal jar or tray)

Let it dry completely by placing in shade. Do not expose to direct sunlight.

When it has dried completely, store in a glass jar and use when required.

Usage Directions: Take 1/2 tsp of the mixture and chew slowly. You may drink 1/2 cup of warm water afterwards .If you don't find the strong taste of ajwain tolerable then just swallow it with some warm water.
Notes
Note-
If you don't have aloe vera then can make this with only lemon juice, it will be equally good for digestion.

Be careful while choosing aloe vera as all  aloe vera varieties are not edible.There are many types of aloe vera available,many varieties are bitter in taste so not advisable to consume. sweet variety of aloe vera is dark and bright in colour and have less thorns and have shiny transparent jel inside, so use only the sweet variety of aloevera to make this ajwain .Do Taste a piece of aloe vera before making pulp .
If you don't like adding black salt then can use table salt or sea salt.