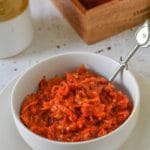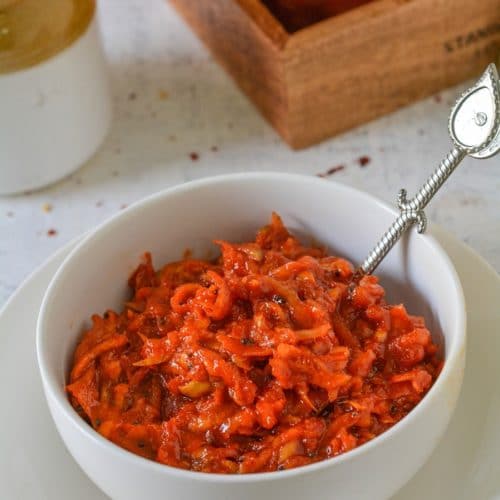 Print Recipe
Kairi Cha Takku
Kairi Cha Takku- A very quick ,easy and Instant raw mango and jaggary pickle/ relish
Wash and then wipe the raw mango and then peel it.

Grate the peeled raw mango using a thick grater.

Take a big bowl and add the grated mango,grated jaggary, chili powder,kashmirri chili, salt, roasted fenugreek powder and mix well.

After some time the jaggary will melt completely and release moisture.

Now heat oil in a small pan and add the mustard seeds. when seeds start to crackle switch off the heat and add asafoetida in the oil.

Now pour this tempering in the pickle and mix.

let it cool down completely then store it in a sterlized galss jar.

Keep it refrigerated for a long shelf life. It stays well for 2-3 days at room temperature and for a month in the refrigerator.

Serve with paratha,roti rice or as a dip with snacks
Notes-
Try to choose sour firm raw mangoes.
The quantity of jaggary depends on the sourness of the raw mangoes and your taste preference . You may need 1/4 to 1/2 cup jaggary.
Addition of kashmiri chili powder gives a very beautiful red colour to the takku. But if it is not available then can use only the normal red chili powder,but add some turmeric powder in the tempering to enhance the colour.
You can also add some chopped green chilies in it .