Aromatic and delicious jackfruit pilaf- speciality from Awadhi Cuisine
Jack fruit/Kathal is a exotic vegetable,popular and enjoyed in many regions of India.It is a very good source of dietery fibre so a good option for vegetarians. Ripe jackfruit/kathal is used as a fruit and the tender young jackfruit is used to make stir fries,curries. 
Kathal is subzi
 and
kathal biryani
 pulao is a popular delicacy from Awadhi Cuisine.
This kathal Biryani is very popular among vegetarian and non-vegetarians.To make this biryani jackfruit should be either boiled or fried according to personal preference and then it is marinated in a spicey yogurt marinade which gives a very nice flavour to the Biryani.
You need just a bowl of chilled yogurt or
Spinach Raita
and papadam to serve with.
The seeds of jackfruits are also edible but they have to be peeled carefully as mature seeds have a very thick plastic like coating which have to be removed carefuly before adding in the curries or pilaf.I have posted a delicious stir fry with jack fruit seeds-
Kathal ke Beej ki Subzi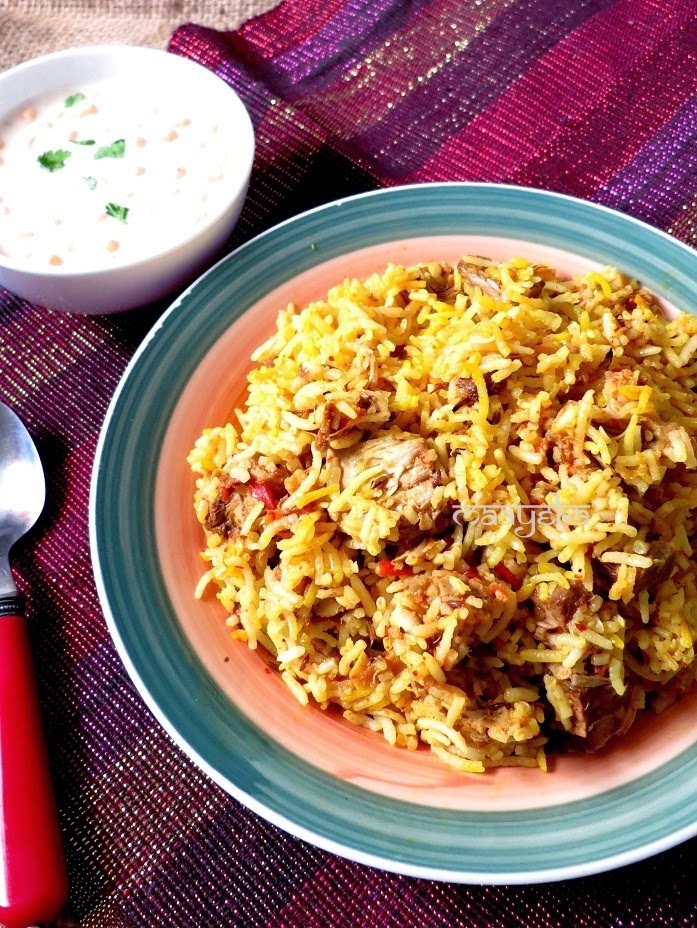 Prep time-20 min
Cooking time-30 min
Cuisine-Indian
Type-main
Serve-4
INGREDIENTS-
Rice-1.5 cup
Jack fruit /kathal-3 cup
Tomato, chopped-1.5 cup
Yogurt /Dahi -3/4 cup
Cooking oil -3 tbsp
Ghee – 2 tbsp
Lemon juice – 2 tsp
Ginger,grated -1.5 tsp
Mint leaves,chopped -2 tbsp
Fresh coriander- 1.5 tbsp
Green chili paste- 1 tsp
Red chili powder- 2 tsp
Coriander powder- 2 tsp
Turmeric – 1/2 tsp
Garam masala- 1 tsp
Salt- to taste
Milk-3 tbsp
Saffron-few strands
Whole spices-
Cloves /Laung-4
Green Cardamom /Elaichi-4
Bay leaf/Tejpatta-2
Cinnamon /Dalchini-1 inch
Star anise/Phool chakri -1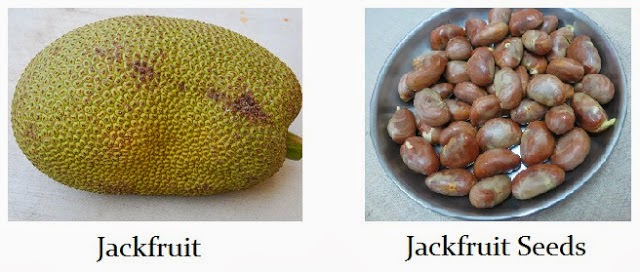 PROCEDURE-
Jackfruit marinade–Apply some oil on your hands and on the knife and peel the jack fruit skin and remove the center part.
Chop jackfruit in small pieces and peel and chop the seeds.
In the pressure cooker add 1 glass of water,1/2 tsp turmeric,1/2 tsp salt and chopped jackfruit and cook till done (about 2 whistles,depend on the quality and size of jackfruit)
Drain the jackfruit and gently squeeze out the water.
Heat 2 tbsp of oil in a pan and shallow fry the jack fruit pieces for 2 minutes.
Take the jackfruit in a bowl and add ginger, garam masala, chili powder, lemon juice and yogurt .
Mix well and cover the bowl and let it marinate for 20 minutes.
Warm milk and add crushed saffron in it.
Rice–Wash and soak rice for 15 minutes.
Boil enough water in a big pan add the whole spices,1 tsp salt and the soaked rice and cook al dente.
Drain the boiled rice on a colander and keep aside.
Heat 2 tbsp of ghee and 3 tbsp of oil in a pan.
Add 1 bayleaf,1 tsp jeera ,green chili paste ,chopped tomato and salt.
Cover and cook till tomato become soft.
Now add the marinated jackfruit (along with the marinade) in the pan and saute till oil start separating.
Add chopped mint,coriander, pinch of cardamom powder and boiled rice in the pan.
Mix properly and sprinkle saffron milk on it .
Cover the pan with a tight lid and simmer for about 5-7 minutes.
Serve hot with yogurt, papad and pickle
There is no Nutrition Label for this recipe yet.