Flavorful and aromatic rice and dill pilaf
Dill /suwa/shepu is a herb from celery family ,it has a very strong and slightly pungent taste .They are rich in iron, good for digestion, anti oxidant properties, low in calories so you can easily include it in your diet.Dill rice is a a popular recipe of Persian cuisine they use dill and lima beans  to make a fragrant pulao.Suwa is mainly used to make dips,stir fries,soups ,paratha and rice preparations.
Only the tender leaves of dill should be used and discard the leaves which are yellow and avoid using the thick steams as the hard and thick steams will ruin the taste. I have used only peas  but you can also use mixed vegetable or make it just with dill and tomatoes.
Rice is consumed in all the states of Indian specially in the southern parts. Biryani and pilaf are made of different varieties.I have posted – Chili and pineapple rice,Mildly flavoured- Kiwi and coriander rice, a very flavourful and easy biryani style pulao-Vegetable biryani pilaf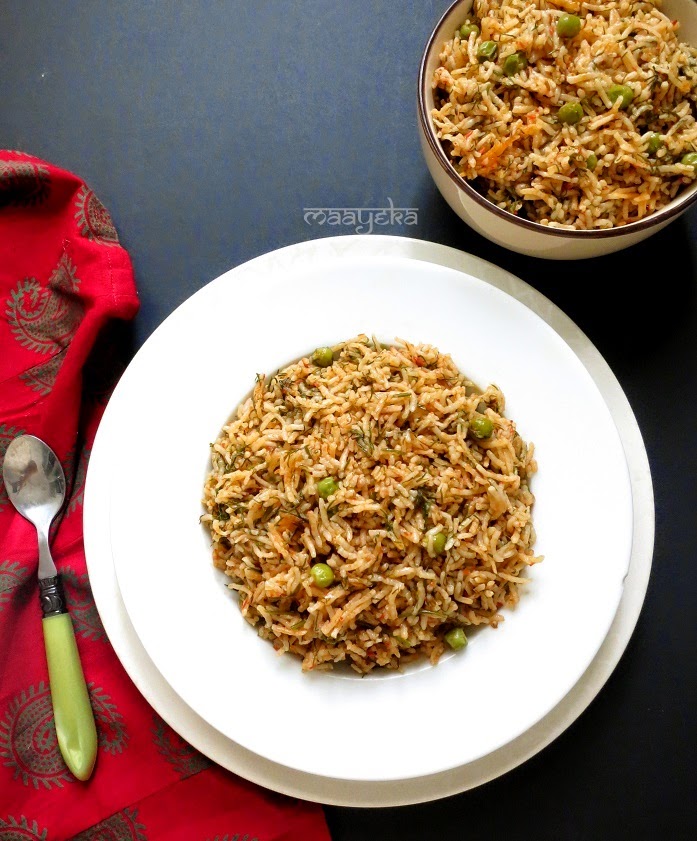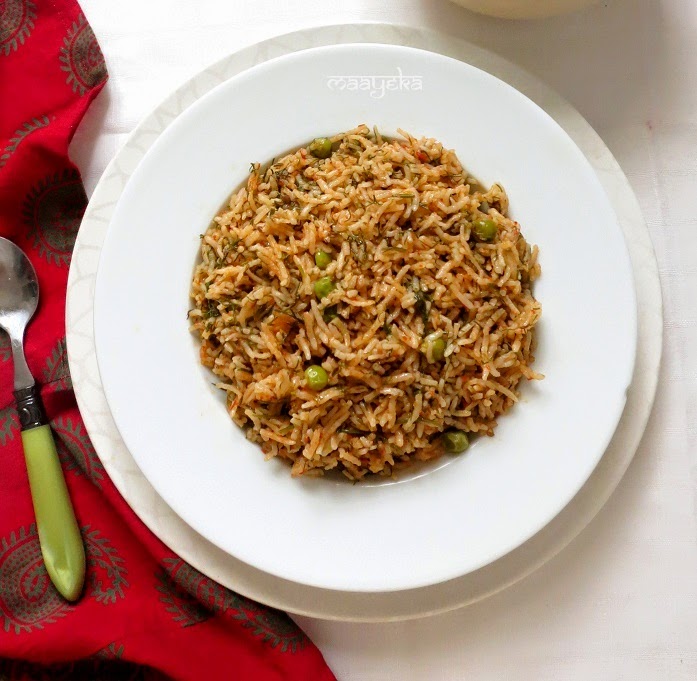 Prep time-15 min
Cooking time-20 min
Difficulty level-easy
Cuisine-Indian
Type-main
INGREDIENTS-
Rice/chawal – 1 cups
Dill /suwa -2 bunch,130 gms
Tomato -275 gms
Peas/matar -1/2 cup
Chili powder /lal mirch- 1 tsp
Coriander powder /dhaniya 1 tsp
Salt /namak – to taste
Water- 3 cups
Tempering-
Cooking oil- 5 tbsp
Cumin seeds- 1tsp
Cloves/Laung -3
Green cardamom /Elaichi -3
Black cardamom /badi elacihi-1
Bay leaf / tejpatta-2
Cinnamon /daalchini-1/2 inch piece
Wash and soak rice for 20 minutes.
Discard the hard steams and wash the dill leaves.
Now finely chop the dill leaves and tomatoes.
Heat oil in a heavy and broad pan.
Add all the tempering and let it crackle .
Now add chopped tomatoes and salt,cover and cook till tomatoes become soft.
Add dill leaves and all the spices and saute.
When oil start separating then add soaked rice and peas and stir for a minute.
Now add water in the rice and let it come to a boil.
When it start boiling cover the pan and let it cook on slow flame till done.
When done fluff with a fork and serve hot.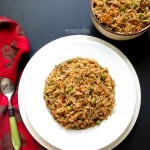 Print Recipe
Dill and Pea Pulao