Potatoes stir fried and roasted in Indian spices
Potato is the most popular vegetable world wide as most of the people loved it .Its a very versatile root vegetable which is used to make many types of dishes .You can make dessert like Aloo ka halwa , aloo ka paratha  ,snacks ,curries ,kofta and so many types of dishes can be made with this humble vegetable,it can be easily paired with all most all the vegetables- Aloo gobhi,  Aloo methi , aloo baigan ,Kashmiri Dum aloo, and so much more you can try with potatoes.
Jeera aloo is the favorite stir fry of my family ,it goes very well with daal chawal,kadi ,poori or any Indian bread .I still remember my childhood train and bus journeys when my mom always pack pooris with jeera aloo and mango pickle and we all enjoyed it more then the journey.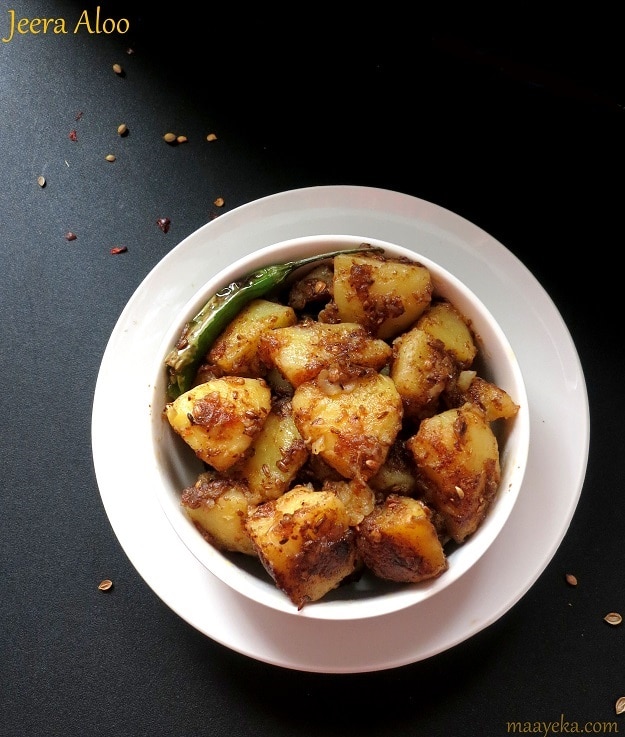 There are so many versions of making jeera aloo ,I also make many version and for fasting I make this – vrat ke jeera aloo, Dahi ke aloo. The left over jeera aloo can be used as a filling to make delicious grilled sandwiches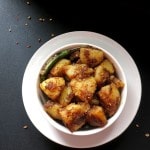 Peel and dice the boiled potatoes in medium size cubes.

Slit green chilies lengthwise.

Slightly crush the whole coriander seeds

heat oil in a wide and heavy pan.

Now add ghee in the pan and add the crushed coriander seeds and cumin seeds .

When cumin start to crackle then add asafoetida and the slit green chilies.

When cumin become golden then add the chopped potatoes and stir.

Now add salt and roast for a minute.

Add all the spices, mix and roast for 2-3 minutes on medium heat

Serve with rice ,poori or any bread of your choice
There is no Nutrition Label for this recipe yet.
Note-
You can add turmeric powder if you wish.
If making for fasting then use pepper powder instead of red chili powder.
Can also serve these potatoes as a starter.
You can use lemon juice instead of mango powder /amchoor
There is no Nutrition Label for this recipe yet.