Potato and yam cutlet, suran cutlet -can be eaten during fasting too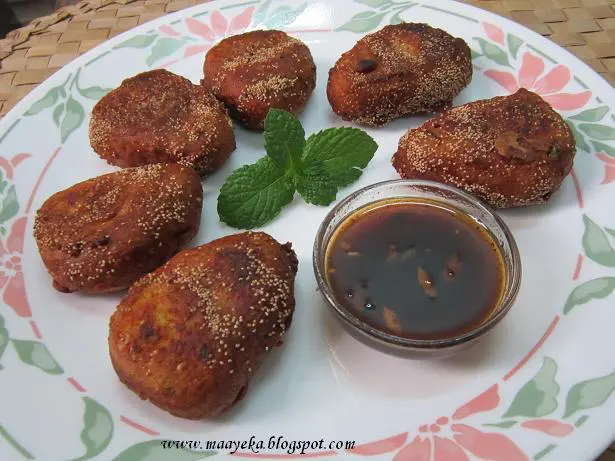 INGREDIENTS;-
Boiled yam (jimikand)-1 cup*
Boiled potato-1 cup
Roasted and crushed peanuts-3 tbls
Roasted sesame seeds-3 tbls
Lemon juice-1.5 t.s
Sugar-1 t.s
Green chillies-3
Ginger-1 t.s
Singhara atta-1/2 cup *
Poppy seeds-3 tbls
Cumin seeds-1/2 t.s
Oil- t.s
PROCEDURE:-
Heat 2 t.s oil in a pan add cumin seeds and chopped green chillies.when become golden ,add boiled and mashed suran and mashed potato and peanuts.
Stir fry for 1 minute and then take out in a bowl.
Let it cool down ,then add salt ,sugar ,sesame, .lemon juice.mix well.
Make cutlets and  keep aside.
Take singhara atta ,salt and water  in a bowl and make a medium thick batter.
Dip the cutlets in the batter and sprinkle poppy seds over it.
Heat oil in a pan and deep fry the cutlets on mediun heat till golden and crisp.
Serve hot.
serving suggestions-serve with date chutny or ketchup.
* Yam (suran) is also called -jimikand in Hindi
singhora atta is water chestnut flour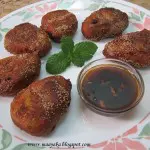 Print Recipe
Suran Cutlet
suran cutlet