Eggless Blueberry Muffins-Soft and moist eggless muffins
Summers are the best time to get fresh and delicious blueberries. I love their flavour in cakes and muffins so when I find a bag of fresh blueberries in my local store, the first thing that came to my mind was to make muffins. After going through a few different recipes on the net, I made these blueberry muffins and  loved the caramelized berries in the soft and moist muffins. You can adjust the quantity of blueberries between 1/2 a cup to 1 cup depending on how much you like them.
I love making muffins and cup cakes and already posted Orange cup cakes and beautiful and delicious Strawberry cup cakes recipes. But these blue berry muffins are now my new favorites.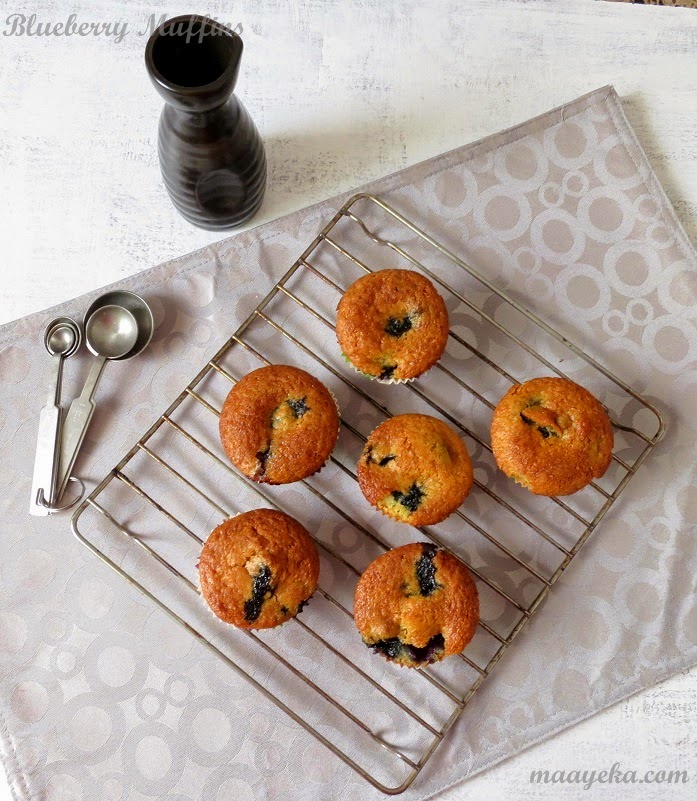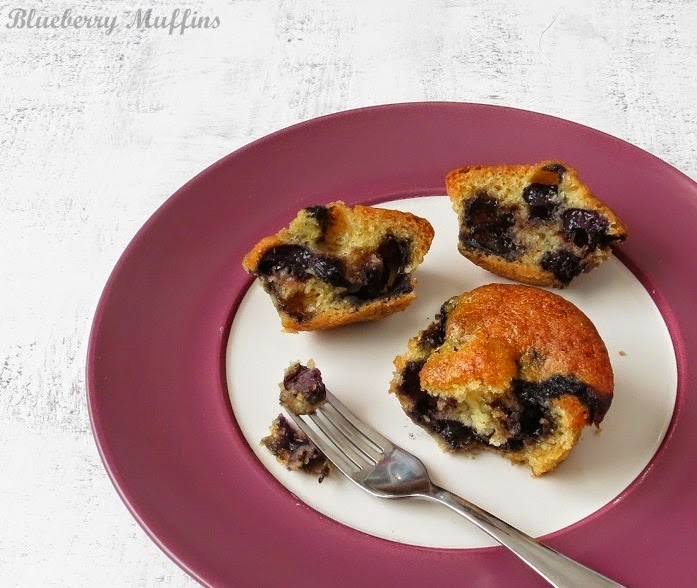 Prep time – 15 minutes
Baking time – 35 minutes
Difficulty level – Easy
Cuisine – International
Type – Dessert, Breakfast
INGREDIENTS-
Refined flour / Maida – 1cup +2 tbsp
Fresh blueberries – 3/4 cup
Corn flour – 3 tbsp
Yogurt / Dahi – 1 cup
Cooking oil – 1/2 cup
Castor sugar / Pisi hui chini – 3/4 cup
Vanilla essence – 1 tsp
Lemon Zest / Kasa hua nimbu ka chilka – 1 tsp
Baking Powder – 1 tsp
Baking Soda – 1/2 tsp
PROCEDURE-
Sieve flour in a big bowl.
Wash and wipe the  blueberries and dust(sprinkle) them with 1 tbsp of flour.
In a separate bowl add yogurt, castor sugar and mix well.
Now add baking soda and baking powder in the yogurt and mix.
Let the yogurt mixture rest for 3-4 minutes or till it froth.
Now add oil ,vanilla essence and lemon zest in the yogurt mixture and mix gently .
Now add the sieved  flour in the yogurt mix .(keep adding 1 tbsp flour at a time and keep mixing)
Now add the blue berries in the flour mix and stir gently.
Fill the prepared mixture in muffin cups till 3/4 level(don't fill it till the top ,as it need some space to rise while baking)
Bake in a  preheated oven at 170 c for 35 minutes or till a tooth pick inserted come out clean.
Let it rest for 5 minutes in the oven.
Remove from the muffin cups and serve.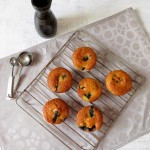 Print Recipe
Eggless Blueberry Muffins