Kolhapuri Misal Pav-Spicy tomato stew with moth sprouts and topped with Indian croutons
Misal Pav is a very popular street food/breakfast from Maharashtra. Healthy and spicy, there are a few different versions of making this, depending on the region. Misal is a medley of sprouts, a spicy broth and a crispy topping, served with fresh sweet buns (pavs).
I've never had misal pav before but had been wanting to try this from a long time now. A few days back I found this recipe in one of my old dairy, and I tried it immediately. I had no clue its such a wonderful dish, and will surely be making this more often!
Try these delicious street food of India-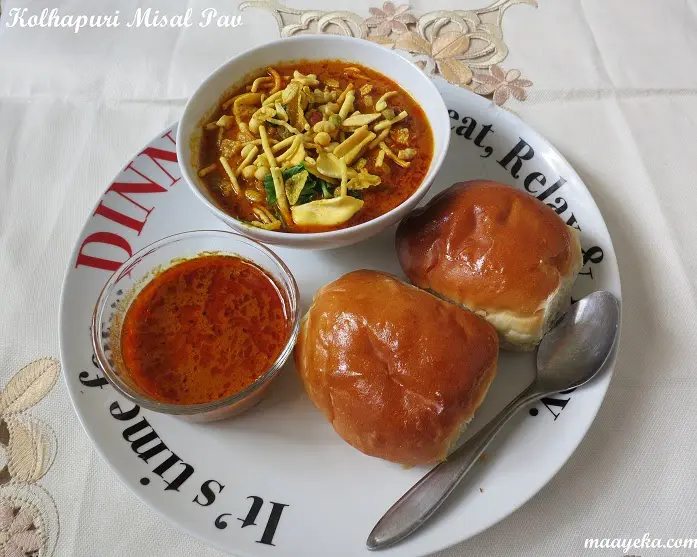 This Kolhapuri Misal recipe, as the name suggests, is a popular street food from the city of Kolhapur. It consists of three main parts:
1. Freshly ground spice mixture.
2. Stir frying the sprout mix (usal)
3. A spicy and tangy tomato broth (kat).
The three are then topped with Indian fried savory mixes (namkeen/farsan), which is then collectively called as Misal, and served along with fresh sweet buns (pavs).


This recipe may look daunting because of its length, but is actually a very quick and easy to follow recipe. Enjoy my version of hot and spicy Kolhapuri Misal Pav!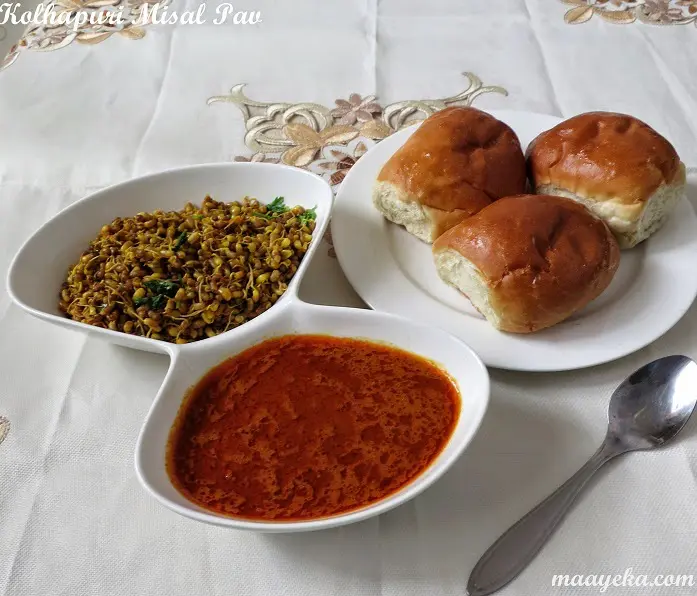 Prep time-10 min
Cooking time-20 min
Difficulty level-medium
Spice level-hot
Cuisine-Indian
Type-snack,street food
Serves – 4
Ingredients-
For sprouts/usal
Moth/Matki sprouts – 3 cups
Refined oil/tel – 3 tsp
Mustard seeds/rai – 1/2 tsp
Cumin seeds /jeera- 1 tsp
Curry leaves – 8
Asafoetida /hing- 1/4 tsp
Chili powder /mirch- 1/2 tsp
Turmeric/haldi – 1/2 tsp
Salt/namak – 1 tsp
For the dry spice mix (masala)
Refined oil/tel-1/2 tsp
Cloves /laung-6
Pepper corns/sabut kali mirch- 8
Cinnamon /daalchini -1/3 inch
Cumin seeds /jeera -1 tsp
Coriander seeds /sabut dhaniya -1 tsp
Sesame seeds /safed til -1/2 tsp
Fennel seeds /saunf -1/4 tsp
For the broth (rassa/kat)
Coconut, dessicated and dry roasted – 1.5 tbsp
Tomatoes, chopped – 2
Ginger, chopped – 1/2 inch
Kashmiri Red Chilies, whole -4
Tamarind /imli  – 1 /2 inch
Misal Masala-1 tsp*
Turmeric /haldi -1/3 tsp
Chili powder /mirch -2 tsp
Jaggary/gur-1 tsp
Salt /namk -1 tsp
Water- 3 cup
Refined oil-3 tbsp
For garnishing and serving
Sweet Buns (Pav) -8
Mixed Namkeen – 4 tbsp
Fresh Cilantro – 2tbsp
Lemon wedges – 4
Sweet Chutney – 4 tbsp (optional)
Yogurt – 3 tbsp (optional)
PROCEDURE-
For the Dry Masala (Can also use readymade masala )

Heat a tsp oil in a pan and add all the spices listed under For the dry spice mix (masala).
When the cloves start swelling up, remove the spices and grind to make a fine powder.
Take out in a bowl and keep aside.

For the Sprouts/Usal

Wash and pressure cook sprouts* with 2 glasses water for 2 whistles or till almost cooked (al dente).
Heat 1.5 tbsp oil in a pan and add mustard seeds and cumin seeds, and when the seeds start crackling add asafoetida and curry leaves.
Now add turmeric and boiled sprouts, then add salt and chili powder, saute for few seconds.
Add 1 cup water, cover and cook till water almost dries up.
Take out in a bowl and keep aside.

For the Broth 

Grind tomatoes, kashmiri chilies, tamarind and the roasted dessicated coconut together and make a fine paste.
Heat 4 tbsp oil in a pan and add the tomato paste and saute till oil separates from the sides.
Now add the dry masala, misal masala**, chili powder, turmeric, jaggary, salt and 3 cups of water.
Boil the broth for around 3-4 minutes.
How To Serve-
1. Take a individual serving bowl and then add sprouts, pour the hot broth on top, depending on how spicy do you want your misal to be.
2. Garnish with Namkeen Sev/Farsan and chopped fresh cliantro.
3. Serve with sweet buns/pavs and another small bowl of just kat/broth.
MY TIPS and NOTES–
1-*To make moth sprouts-
Wash and soak 1 cup moth beans overnight in 4 cup water. Next day drain the water ,cover   with a muslin cloth and keep covered for 2 days to sprout them.
2-**Misal masala, is easily available in Indian stores and you can substitute it with garam masala.
3-You may substitute moth/matki sprouts with mungo (moong), black gram, dried green peas or with mixed sprouts.
4- You may also add some boiled potato cubes, crispy potato chips, roasted salted peanuts on top of the misal.
5 -If you are short of time then you may use readymade goda masala or Kolhapuri masala instead of freshly roasting and grinding the spice mix.
6 -Add yogurt and sweet chutney if you find the broth a bit too spicy for your taste.
7-Misal also tastes great with steamed rice .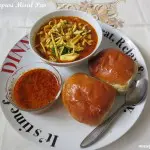 Print Recipe
Kolhapuri Misal Pav (Spicy Tomato Stew with Sprouts)
Kolhapuri Misal Pav-Spicy tomato stew with moth sprouts and topped with Indian croutons- pouplar street food of Maharashtra