Sweet and sour Carambola/Star fruit and jalapeno relishKamrakh /Carambola /Star fruit is a sweet and sour juicy fruit which when sliced resemble the shape of a star.Kamrakh is very rich in Vitamin C,antioxidants and Fibre and low in sodium ,fat and acids.
This sour fruit is very good for polishing stained and rusted metal surfaces due to its acidic nature like tamarind and lemon juice.
Star fruit is mostly used for making salads, stir fries,pickles, chutney and relishes.This sweet,spicy and sour relish/Laungi taste great with rice,chapati or can be served as a dip with any snack.
You can also check the recipes of –Aam ki Launji and Amla ki Launji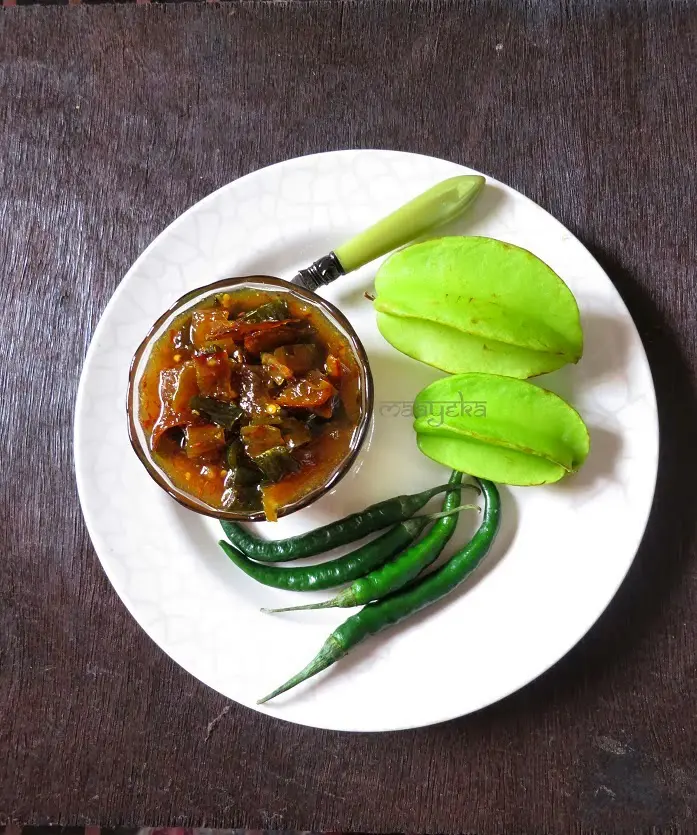 Prep time- 10 min
Cooking time- 25 min
Cuisine- Indian
Type-side,pickle
INGREDIENTS-
Star fruit /kamrakh/Cambolia-400 gms
Green chilies /Bhavnagri mirch-100 gms
Sugar- 1.5 cup *
Turmeric powder/Haldi- 1/2 tsp
Coriander powder/Dhaniya- 1tsp
Salt/Namak- to taste
Cumin seeds /Jeera- 3/4 tsp
Asafoetida /Hing- 1/4 tsp
Cooking oil- 1.5 tbsp
PROCEDURE-
Wash and slice kamrakh and green chilies in medium size pieces .*
Heat oil in a pan and add cumin and asafoetida.
When cumin become golden add chopped chilies and kamrakh and saute for a minute
Add salt,turmeric and 1/2 cup water,cover and simmer for 10 minutes or cook till kamrakh become soft.
Now add sugar and coriander powder and mix.
Let it boil for 10 -15 minutes till gravy become slightly thick.
Remove from the flame and let it cool down completly.
Store in a glass jar and use as required.
Stays fresh for 3 days at room temperature and about 15 days in refrigerator.
NOTE-
1-You can either chop the kamrakh in long and thin strip/ slice in star shape circles or make small cubes like I did.
2- Can also use gur/Jaggary instead of sugar.
3- Use mildly hot green chilies or Jalapeno to make this or can also skip chilies and make it only with kamrakh.
4- It will thicken further when cool down completly so cook accordingly .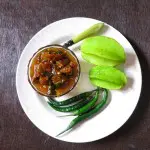 Print Recipe
Kamrakh Mirch ki Launji Starfruit and Green Chilli Relish