Pasta is an interesting ingredient with which you can be as a experimental as you can.You can make numerous variety with the addition of different types of sauces,spices and can add lots different vegetables in it to make it very healthy ,colorful and interesting.
Children love pasta so much that they can have it in breakfast, lunch, dinner and in their tiffin boxes too.When macaroni is cooked in creamy sauces it taste delicious but not good to have on regular basis due to its high calorie counts.But this quick tossed macaroni can be made often as it has less fat and more fresh vegetables and can be made in a jiffy whenever you want to make a quick snack or want to make for your kids lunch box. It taste great hot or at room temperature.
I have also posted – Tomato and basil pasta and a creamy – Pesto cream pasta which can also be made quickly and also a nice delicious tiffin recipes for kids.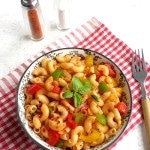 Add enough water in a big pan .

Add 1/2 tsp salt and 1.5 tsp oil and let it boil.

When water start boiling add macaroni ,stir and let it cook .

When pasta cook al dente then drain the boiled pasta in a colander.

Apply 1/2 tsp oil in the boiled pasta and keep it aside .

Heat 1 tbsp olive oil in a broad non stick pan.

Add oregano, boiled pasta and little salt and stir fry for few seconds.

Take out the sauteed pasta in a bowl.

Again add 1 tbsp oil in the same pan.

Add chopped bell peppers and saute for a minute

Now add corn, olives, basil, oregano, chili flakes and stir to mix.

Add the sauteed pasta, tomato paste and salt in it.

Stir fry till every thing blends well.

Garnish with basil leaves and serve hot
Try to use colored bell peppers to make it more interesting for kids.
Can use any other boiled pasta instead of Macaroni.
Instead of red bell peppers you can use chopped tomatoes(remove the seeds and pulp before chopping)
There is no Nutrition Label for this recipe yet.