Cauliflower-350 gms
Curd – 1 cup
Milk – 1 cup
Green chilies – 4
Sugar – 1/2 tsp
Green Cardamom (seeds) – 4
Cinnamon – 1/2 inch
Bay leaf – 2
Cloves – 3
Oil – 1tbls
Salt – 1/2 t.s
PROCEDURE:
Wash and break the cauliflower in florets and wash well.

Deep Fry/ Steam/ Microwave the florets till they are slightly cooked.
Heat oil in a pan, add slit green chilies' and whole garam masalas.
When they become golden, add sugar and fry till it caramelized.
Mix curd and milk well and then pour it into a pan.
Add the cauliflower, cover and cook for 5 minutes.
Add salt and keep cooking uncovered till all the moisture dries up.
Now add green coriander and cook for 1 minute.
Serve hot with lemon wedges..
Note – If you are steaming the Cauliflower then use 2 tblsp of oil in the pan, instead of 1 tblsp
Serving Suggestions – Serve with Chapatis or Paranthas.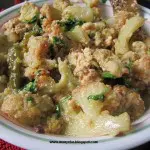 Print Recipe
Malai Gobhi (Creamy Cauliflower Curry)