Roasted Brinjal with curd, sesame paste, and Indian spices. A variation of the popular Mediterranean dish – Babaghanouj/Baba Ghanoush.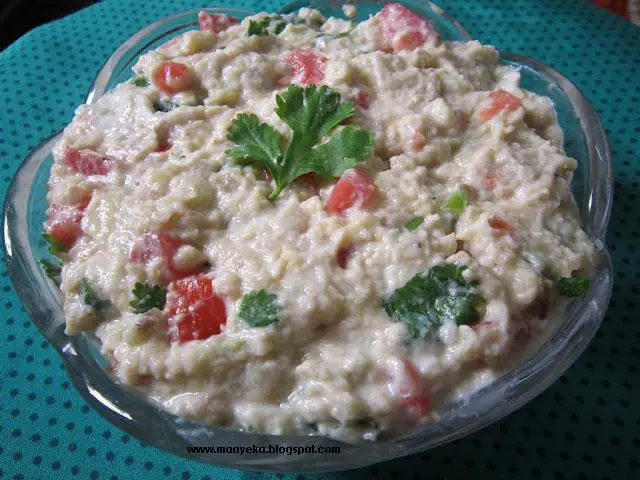 INGREDIENTS:-
Big Brinjal – 1 (500 gms)
Tomato – 1 (medium size)
Green chillies – 4
White sesame seeds – 2 tblsp
Curd – 2tblsp
Salt – 1/2 t.s
Fresh Coriander – 2tblsp
Lemon Juice – 1 tsp
Olive Oil – 2 tsp
PROCEDURE:
Apply some oil on the brinjal and roast on an open flame till it is roasted and cooked well.(soft to touch)
Peel and chop/mash the brinjalwith the help of a fork.
Take 1/2 t.s oil in a pan and roast sesame seeds in it. Cool and grind them with curd.
Finely chop green chillies, tomato and fresh coriander.
Take a bowl and add the brinjal, chillies, tomato, sesame and curd paste, olive oil, salt, lemon juice and chopped coriander .
Mix well and serve  hot or cold.
Serving suggestions: Serve as a dip with Pita Bread or as a side dish with Rotis.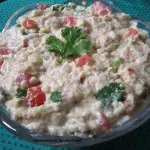 Print Recipe
Indian Babaghanouj (roasted brinjal in curd)