A popular and traditional Indian dessert made with carrot and milk.
Gajar halwa/Gajrela is a very delicious dessert /sweeet of North India especially popular in Punjab. To make
Gajar ka halwa
Grated carrots are cooked in milk and sugar and then pure ghee and nuts are added to give a nice taste and crunch,addition of khoya is optional as you can make this only with milk,or can add some condensed milk.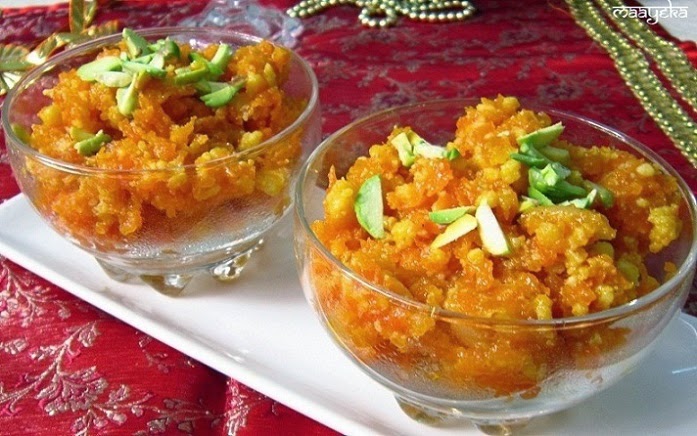 Prep time- 10 min
cooking time 20 min
Difficulty level-easy
Cuisine-Indian
Type-dessert
INGREDIENTS-
Carrot-1 kg
Full fat milk-1 liter
Sugar-250 gms
Khoya/solidified milk-1 cup*
Cashew pieces /Kaju-1/2 cup
Cardamom powder-1/2 tsp
Ghee-5 tbsp
Pistachio -to garnish
PROCEDURE-
Scrape the carrots and grate them .
Heat  2 tbsp ghee in a heavy bottom pan,add the grated carrots and saute for a minute on medium heat.
Now add milk and cook on medium heat till the moisture almost dries up .
Add sugar and cook till it thickens again.
Add grated mawa ,cashew pieces and cardamom powder.
Mix and add 2-3 tbsp of ghee and stir fry for few seconds.
Serve hot .
Instant khoya/Mawa Recipe:
Take 2 cups of full cream milk powder in a glass bowl, add 2 tbsp of
ghee or butter in it and mix well. Add some water and make a soft dough.
Cover and microwave for 1 minute or steam in a closed container for 3-4 minutes. You may now mash or grate it and use
it as required.
Note-
1-Use red Indian carrots for a nice and bright red colour,I used the American orange carrots,hence it has a orange red colour..
2-In U.P we use a good amount of ghee to fry the carrots(approx. 1 cup) and that truly enhance the taste:)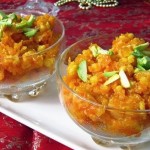 Print Recipe
Gajar Ka Halwa /Carrot Pudding