Strawberry jam- Home made fresh chunky strawberry jam
Strawberry Jam- During my food preservation classes in school I learned to make different types of pickles, jams and jellies .I used to try making jam and squashes before my marriage and my siblings loved all my trials sometimes even the failed attempts:D , they loved the apple jam the most and they even ate that with their aloo parathas !! , as bread was not easily available in the nearby stores it was only available in the main market .
But as I personally like pickles the most so I am always busy in trying and making different types of pickle and jam not that often ,but as now the market is flooded with fresh and colorful fruits that I got tempted in trying a few jam recipes and which my family loved very much.
Home made preserves are also a very good gift idea ,home made jams and pickles are always loved and appreciated by everyone's.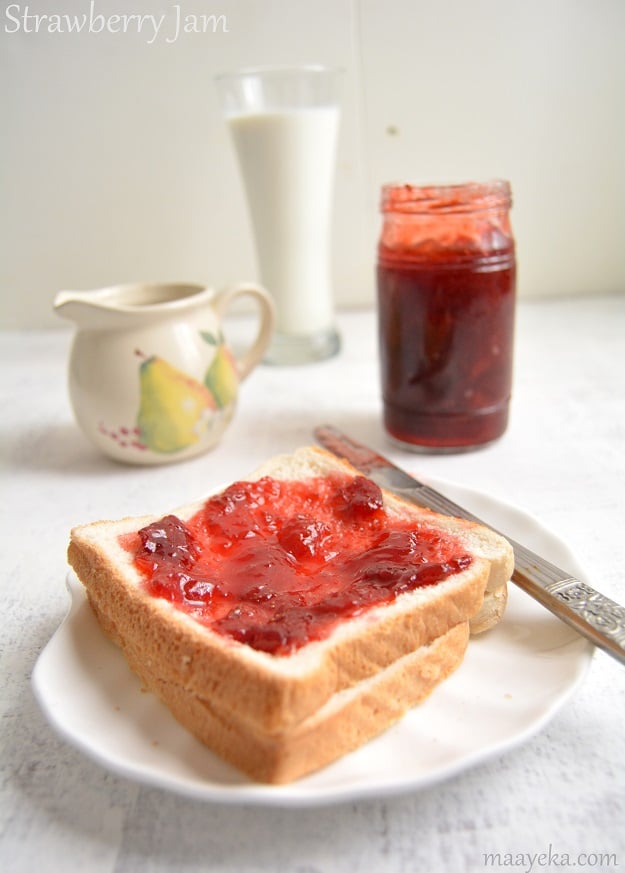 Today I am sharing my personal favorite chunky strawberry jam which is quite easy to make and tastes amazing .Home made jam's have a very fresh and rich taste as they are free of any artificial colour and flavoring. You don't need to add any preservative in it unless you are making it in bulk .
To make the jam The fruits should be washed and dried properly and the jar should be sterilized properly either by boiling in hot water or just keep it in microwave for a few minutes to ensure a good shelf life .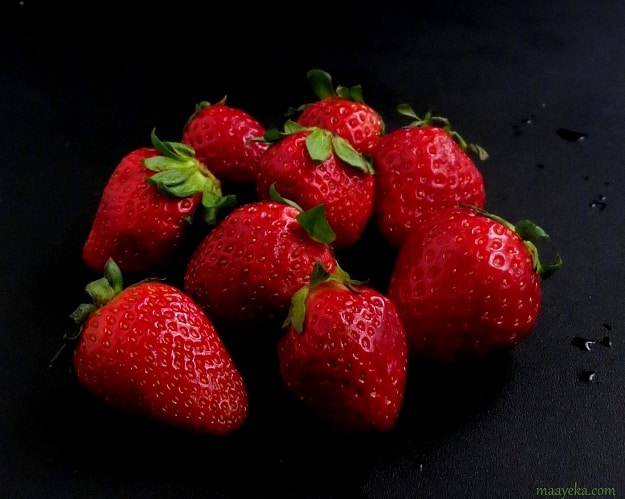 You can make the jam smooth or make it slightly chunky,i personally prefer a little chunky jam, choice is yours. But you have to be careful about the thickness and the texture of the jam, else the strawberry jam recipe is quite simple to follow.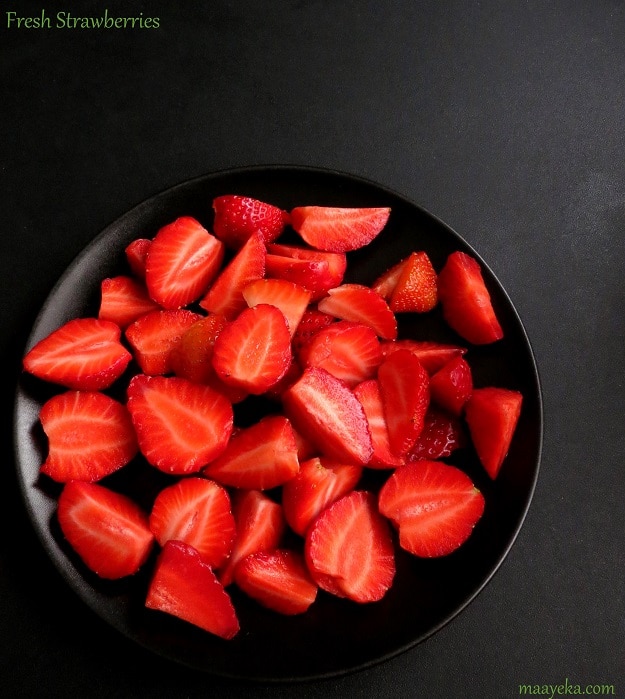 ★ Have you tried this recipe? Click on the stars ★ in the recipe card to let us know your feedback!  If you tried it then You can also click the recipe pic and share on Instagram with hashtag #maayeka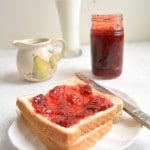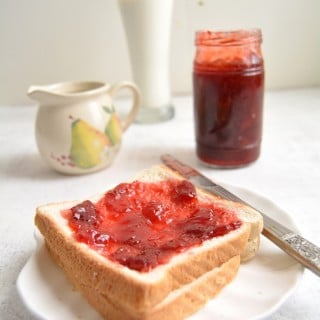 Print Recipe
Homemade Strawberry Jam Recipe , How To Make Strawberry Jam
Home made fresh chunky strawberry jam
Ingredients
400

gm

Strawberries

300

gms

Sugar / Chini

1

tsp

Lemon Juice / Nimbu Ka Ras

1

tsp

Butter, Unsalted / Makkhan

1/2

tsp

Lemon Zest / Nimbu Ka Chhilka, Ghisa Hua

pinch

of

Salt / Namak
Instructions
Wash the strawberries well and remove the leaves.

Chop them into medium size pieces

Add them in a cooking pan and then add sugar and mix.

Cover the pan let it rest for 2 hours .

Mash the strawberry slightly with a spoon.

Put the pan on the gas stove and cook on low heat till the sugar melts.

Now add lemon juice,mix and give it a boil.

Now remove the pan from the heat and with a spoon try to remove the scum formed on top of the jam (it helps to get a clear and bright colour jam)

Now add the lemon zest and cook the jam on low heat and keep mashing the strawberries in between.

When jam starts to thicken then add butter in it and mix.

Remember that the jam will thicken further when it cool down completely so cook accordingly.

Now do the plate test- -put a spoon full of jam in a plate and check ,if the water separates from the pulp then you need to cook it further,and if it remains at the same place then its done.

Let the jam cool down completely.

Store in a sterilized glass bottle and keep refrigerated.