Alsi Mukhwas — A very healthy, nutritious and easy to make Flax seed Mouth freshener
Alsi Mukhwas- / Flax seeds /Teesi / Javasu is the new wonder food in the market though these seeds are cultivated and consumed for more then 4000 years. It was used to make alsi ke ladoo and pinni during winter in rural areas of India,mainly in Punjab and Gujarat regions
Flax seeds/alsi/linseed is a rich source of protein, high in Fiber and low in carbs, High in antioxidants, contains Omega 3 Fatty acids, helps to lower cholesterol, balance hormones and reduces hot flushes in women, helps in reducing body weight, good for bone health and even help to fight cancer, is a great immunity booster and have anti aging properties and is Gluten free.These are few among the long list of its benefits
We can use Alsi / flax seedsin many ways ,we can grind alsi and use that powder in soup, Milk or fruit shakes, add in yogurt or smoothies. My favorite way is too add powdered alsi in the chapati dough. Sprinkle alsi in salad and puddings or add in your daily sabzi or daal it taste good in every thing. We have to use this nutritious seed in which ever way suits us. This roasted Alsi Mukhwas is also a good way to use alsi. Alsi is mixed with some spices and then dry roasted on low heat till it start crackling like sesame seeds. Then it is stored in a air tight jar and easily used 2-3 tsp in a day.
Though Alsi have so many health benefits but there are few things to remember before start using it-
 Alsi is hot in tasser so use it in moderate quantity during summer.
It is rich in fiber and absorb water thus makes you thirsty and dehydrated so make sure to drink enough water if you are consuming Alsi.
Don't roast or bake flax seeds on high temperature as it will destroy its valuable nutrients.
Alsi is a very hard and tough seed so not easy to digest so its better to grind it or roast it before using.
Ground Alsi powder get oxidized soon and turn rancid so always grind it in small quantity .
Too much use of flax seeds can cause bloating,gastric problem,allergy and loose motions
Pregnant and breast feeding mothers should avoid it or use it in small quantity only.
If Having High B.P OR Low B.P or have PCOD then should consult their doctors before using Alsi.
Recommanded dose is not more then 2-3 tbsp per day.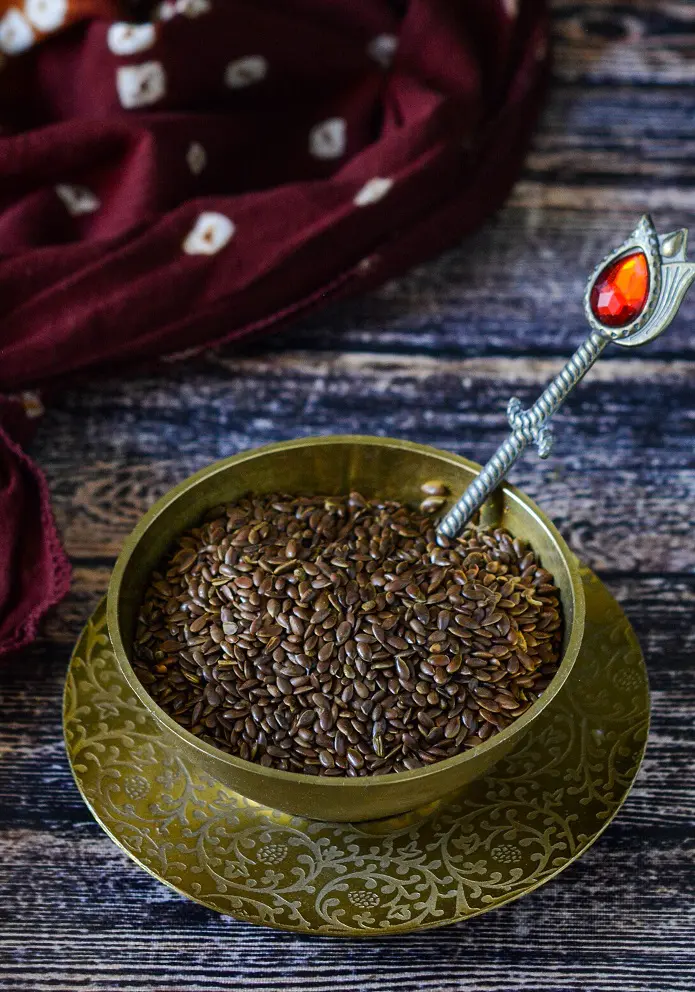 ★ Have you tried this recipe? Click on the stars ★ in the recipe card to let us know your feedback!  If you tried it then You can also click the recipe pic and share on Instagram with hashtag #maayek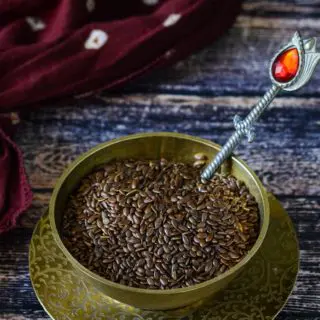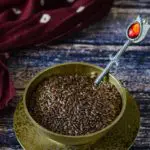 Print Recipe
Alsi Mukhwas, Flex Seed Mouth Freshener
Alsi Mukhwas -- A very healthy, nutritious and easy to make Flex seed Mouth freshener
Ingredients
1

cup

Flex seeds/ Alsi

150 gm

1.5

tbsp

Water / Paani

2

tsp

Lemon Juice / Nimbu Ka Ras

1/2

tsp

Black Salt / Kala Namak

1/4

tsp

Salt / Namak
Instructions
In a small bowl add water, lemon juice, salt ,black salt and mix well.

Take asli in a wide bowl and mix the prepared lemon water in alsi and mix it properly to coat all the seeds with this liquid.

Cover with a lid and rest for 15-20 minute or till it absorb all the liquid and become dry.

Now add this alsi in a heavy bottom pan and dry roast on low heat and keep stirring it continuously else it may burn at the bottom of the pan.

Keep stirring and roasting till flax seeds start crackling and popping like sesame seeds and become crispy then remove the pan from the gas stove.

Let it cool down completely for few hours and then fill in an air tight bottle.

Can use 1 tsp mukhwas 3-4 times daily.