Digestive Hing Harad Churan- a very good Ayurvedic churan /Spice mix for digestion and stomach ailments
Digestive Hing Harad Churan is an heirloom recipe from my grandmother's family. My mother learned this from her great grandmother (naani)and making regularly since then. Everyone in our family uses this for digestive problems such as bloating and gastric trouble and get instant relief every time.
This digestive Harad Peepli Churan tastes very good as well and we often use this as a substitute for chaat masala in our salads and raita/yogurt. This is also also a very good postnatal food. This Hing Harad churan is given to new mothers to help them digest all the heavy food given after delivery
All the ingredients used to prepare this churan are very good for digestion and most of the ingredients are easily available in our kitchen. The ones which are not available in your kitchen can easily be brought from the kirana shop or any good pansari (spice shop).
You all must be knowing about the health benefits of cumin (jeera), carom (ajwain), black salt / rock salt / pink salt (kala namak), asafoetida (hing), black pepper (kali mirch), cloves (laung), ginger powder (saunth). These spices are good to cure stomach ailments, help in digestion and improve appetite.
Health Benefits of Lendi Peepal/ Peepli/ Piper Longum/ Long Pepper
Peepli helps to boost metabolism, lower lipid levels, helps to treat tuberculosis and also treats respiratory problems like cough, asthma, bronchitis. It also helps detoxify the lungs and liver. Aids and improves digestion, cures heartburn, is anti-inflammatory and anti-bacterial properties. Peepli is also very good for diabetics. It has mild sedative properties so can also help to cure insomnia. It is also helpful in epilepsy, Alzheimer and arthritis. It is also given to new mothers for post-natal recovery.
Health Benefits of Harad/ Haritiki/Black Myroblan/ Kaddukai
Haritaki herb is used since ancient times as an amazing Ayurvedic medicine. It boosts metabolism, immunity and has anti-inflammatory and anti-oxidant properties. It is also a super food for the brain as it increases regular brain function and improves the mental and spiritual awareness. It eliminates parasites and bacteria from the digestive track thus keeps the gut healthy and clean. Harad is also very beneficial for oral health, it treats and cures mouth ulcers and throat problems.
It reduces blood sugar levels and builds immunity, and is therefore very good for diabetics. It also improves the brain functions to an extent, helps cure liver problems like cystic fibrosis. It can be used to clean eyes and to wash wounds, skin fungus, lip sores etc.
Nausadar (Ammonium Chloride)
It looks like white crystal and tastes like salt. Helps reduce toothache and infection. Helps to cure cough and asthma and very good for stomach ailments.
You can also try these Digestive recipes-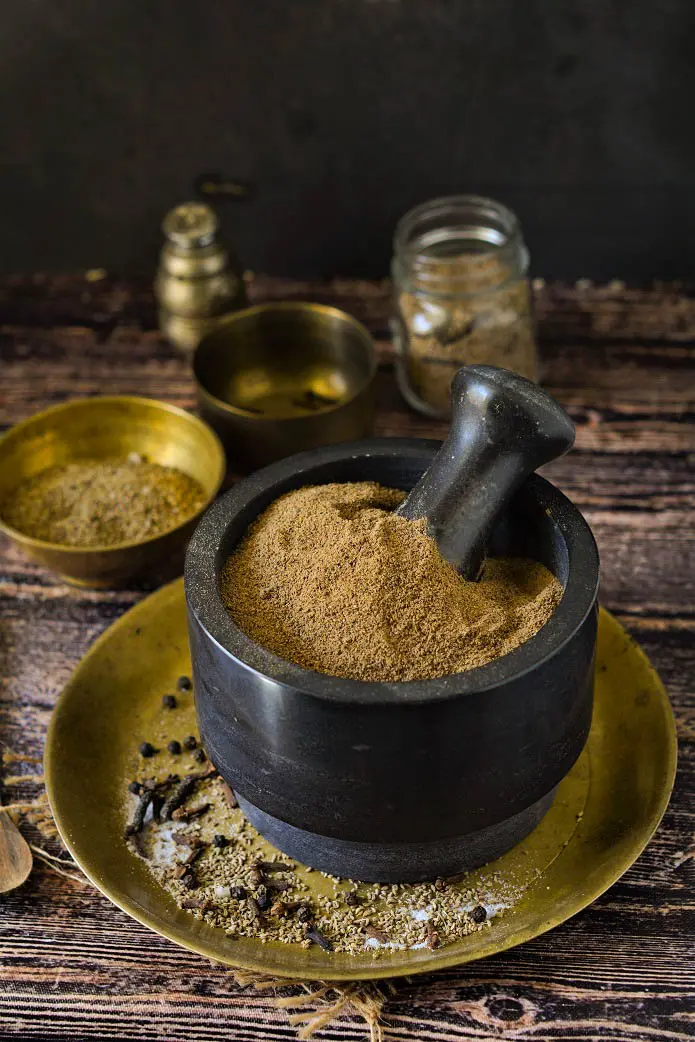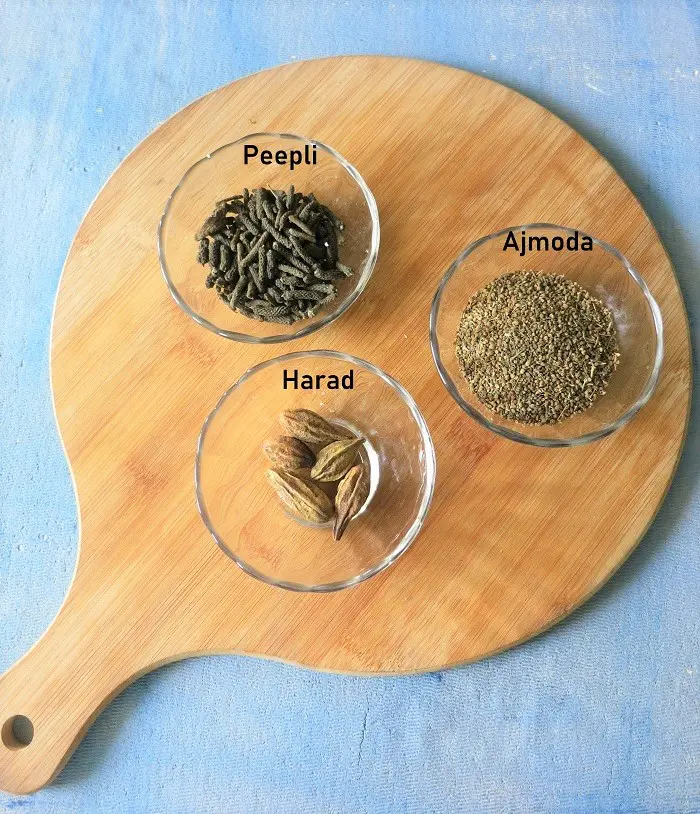 You can also follow me on Pinterest , Facebook ,  Instagram and You Tube for more delicious recipes and updates 
 ★ Have you tried this recipe? Click on the stars ★ in the recipe card to let us know your feedback!  If you tried it then You can also click the recipe pic and share on Instagram with hashtag #maayeka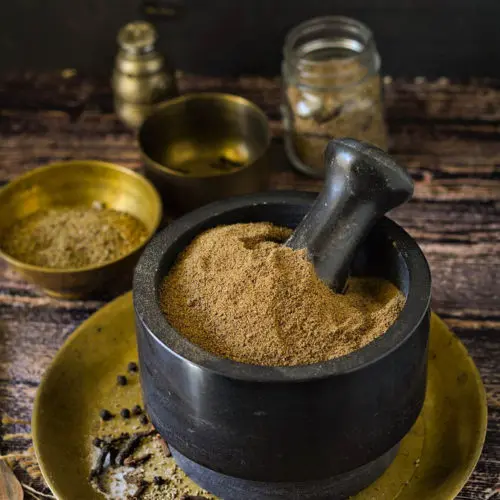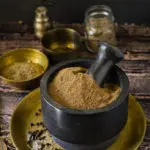 Print Recipe
Digestive Hing Harad Churan
Digestive Harad Peepli churan- a very good Ayurvedic churan/ spice mix for digestion ,Gastric problems and stomach ailments
Ingredients
50

gm

Cumin seeds/ Sabut Jeera

50

gm

Carom seeds/Ajwain

50

gm

Dry ginger powder/ saunth

50

gm

Ajmod/ Ajmoda

25

gm

Black salt/ Kala Namak

25

gm

Sendha namak/ Rock Salt

50

gm

Javakhar/ potassium carbonate/ pearl ash

50

gm

Pepper corn/Sabut Kali Mirch

50

gm

Cloves/ Lavang

50

GM

Black Cardamom/ Badi Elaichi

50

gm

Harad/ Myrobalan

25

gm

Peepramul/ Ganthoda

25

gm

Long Pepper /Peepli

10

gm

Nausadar/ Ammonium Chloride

10

gm

Asafoetida/ Pure Hing

1/2

tsp

Tatri / Nimbu phool/citric acid
Instructions
Take a pan and add cumin, ajwain and dry roast for 2-3 minutes on low heat. We are doing this just to remove the moisture ,no need to over roast or change the colour of seeds

Now switch off the flame and add the asafoetida and stir for a minute in the hot pan.

Let it cool down completely.

Now add all the ingredients in the mixer jar and grind to make a fine powder.

Store in an airtight jar.

Take 1/2 to 1 tsp of churan with a cup of lukewarm water when needed.
Notes
Note-
Use good quality pure compound hing to make this churan.
Can use mango powder insted of neebu phool/ tatri.
You can also add 50 gm table salt in it if you like salt on higher side