Homemade pizza sauce recipe
Whenever we want to make pizza at home we often buy the pizza sauce from the market, largely because of the misconception that store brought sauce is tastier and making the sauce at home is difficult or time taking.
As the crust and vegetables are usually bland or very light in taste ,the main taste of pizza is from the pizza sauce and if you make pizza sauce at home you can adjust the taste and spiciness according to your taste.
The pizza sauce available in the market  have a good amount of food colors and preservative and as homemade pizza sauce is made fresher so it is healthier and tastier and is very cheaper as compared to the store brought ones. I always make pizza base and pizza sauce at home,will post the recipe of pizza soon 🙂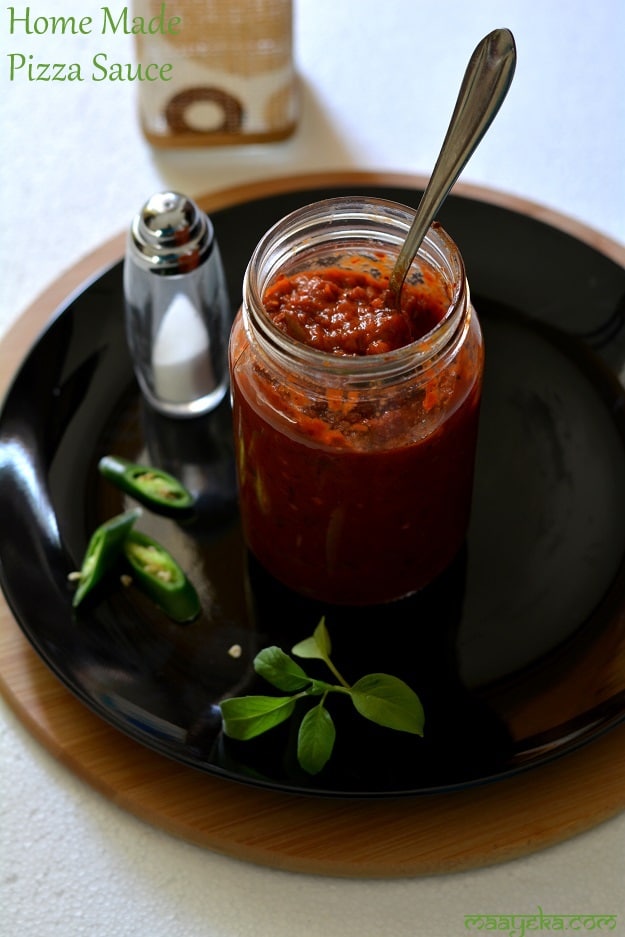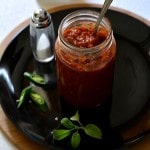 Wash and chop tomatoes in small pieces.

Heat oil in a broad pan and add the chopped green chilies and capsicum pieces.

Stir fry for a minute on medium heat.

Now add oregano and basil and stir for a minute.

Add the chopped tomatoes and cook on medium heat till they become soft and mushy.

Now add the tomato puree ,salt, sugar,chili flakes and pepper powder and cook on low heat.

When sauce become thick add the tomato ketchup and cook for a minute.

Check the seasoning and adjust salt and chili if needed.

When sauce cool down completely then spread on pizza or use to make pasta.

The left over sauce can be easily stored for a week in the refrigerator.
Note-
Use fully ripen and red tomatoes to make pizza sauce.
Instead of using chopped raw tomatoes you can blend them and use,if you want a smooth fine sauce .
Tomato puree -You can blanch ,peel and grind the tomatoes and cook till it reduces or can use ready made tomato puree.
There is no Nutrition Label for this recipe yet.