Puff pastries stuffed with the pizza topping
Now a days Puff pastry sheets are very easily available and are so versatile that you can use them in so many ways.The most popular stuffed puff pastries can be made in both-sweet and savory versions.we can experiment with so many fillings and flavours to suit our taste.My daughter likes pizza very much so we tried to create the same flavour in puffs, we make the stuffing with pizza topping ingredients and spices and these cheesy vegetable puffs turn so wonderful,but you can add any vegetable of your choice, but the mixture should not be very loose else the puffs will not seal properly.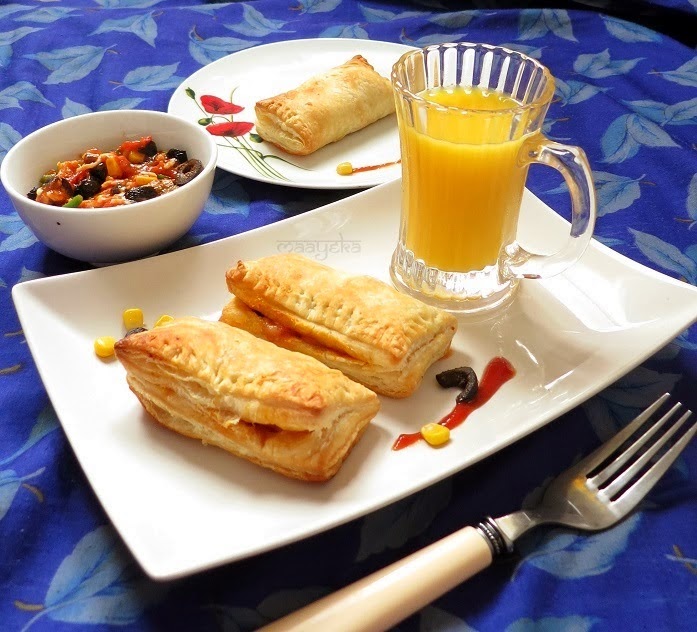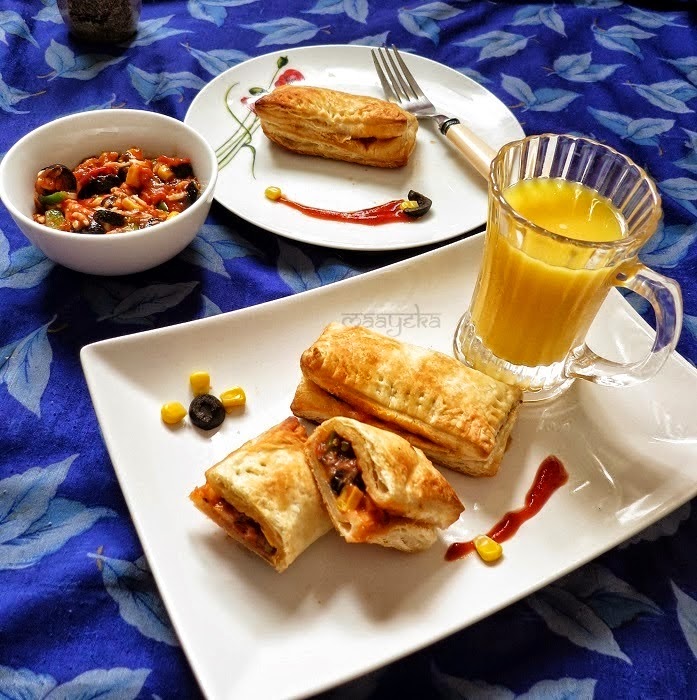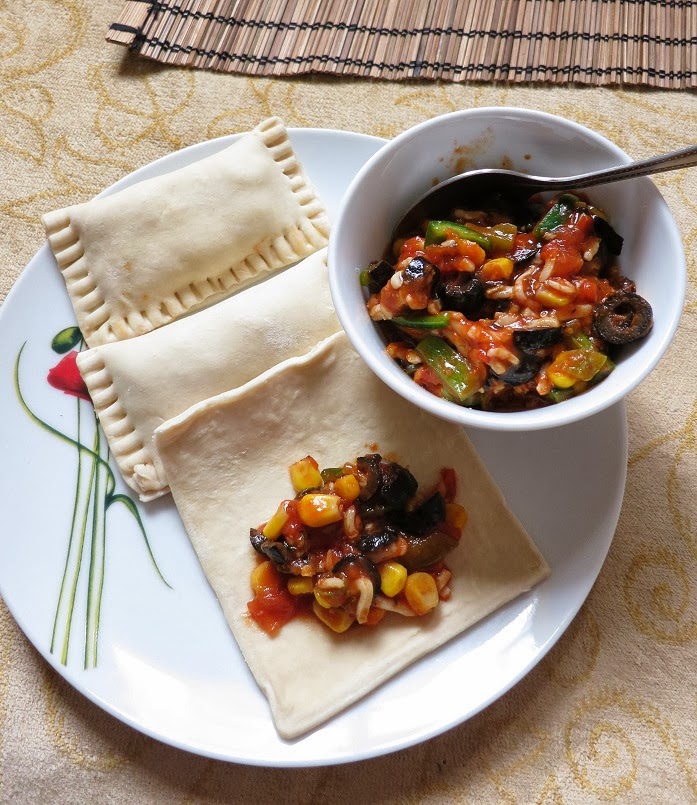 Prep time-10 min
Cooking time-20 min
Difficulty level-Easy
Type-snack
INGREDIENTS-
Puff pastry sheets – 7
Thick Tomato puree-1/2 cup
Tomato,chopped-1
Tomato ketchup -1.5 tsp
Black olives, sliced – 2 tbsp
Corn kernels, boiled – 2.5 tbsp
Capsicum, chopped- 3.5 tbsp
Mushroom, chopped – 1.5 tbsp
Jalapeno,chopped – 1 tsp
Mozzarella cheese,grated- 2.5 tbsp
Olive oil -2 tsp
Chili flakes – 1 tsp
Chili powder- 1/2 tsp
Oregano – 1 tsp
Dried basil – 1/2 tsp
sugar- 1 tsp
Salt-to taste
PROCEDURE-
Take out the pastry sheets(store brought) from the refrigerator and thaw them for about 20 minutes on room temperature.
Heat oil in a pan and add tomato, tomato puree and chili flakes.
Saute for 2 minute,then add all the spices and vegetables and cook for 2-3 minute or till it become thick.
Now add ketchup in it and take out in a bowl and let it come to room temperature.
Now add grated cheese and mix well.
Take a puff pastry sheet and put some mixture in the center of it.
Fold the sheet into half to cover the mixture.
Press the sides of the sheet with a fork to seal it from all the sides.
Preheat the oven at 200 c temperature.
Now put the stuffed puffs in the oven.
Bake for about 20 minutes or till they become golden from the top.
Cut and serve hot.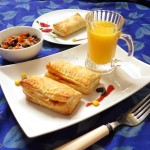 Print Recipe
Cheesy Vegetable Puffs / Pizza Puffs