Sambhariya -Assorted mixed vegetables cooked in a flavorful mint sauce – a delicacy from Sindh, Pakistan.
Potatoes – 3 (Medium sized)
Okra – 300 gms
Brinjal – 300 gms
Capsicum – 300 gms
Bitter gourd (Karela) – 5 slices
Fresh coriander – 1/2 cups
Fresh mint – 1/2 cups
Tomatoes – 1
Green Chillies – 3
Ginger – 1/2 tsp
Mango powder – 1 tsp
Chilli powder-1 tsp
Lemon Juice-  1 tsp
Sugar – 1/2 tsp
Salt – 1 tsp
Gram flour – 1.5 tsp
Asafoetida – 1/3 tsp
Turmeric – 1/2 tsp
Oil – 2 tblsp
PROCEDURE:
Wash and chop the vegetables in big chunky pieces. Apply salt to bitter gourd pieces and keep aside for 15 minutes and then wash well with water.
Heat oil in a pan and deep fry all the vegetables. (Alternatively, you may boil the potatoes and stir fry rest of the vegetables, if you want to avoid deep frying)
Take mint, chillies, coriander, ginger and tomato in a mixer jar and grind to a coarse paste.
Take this paste in a bowl and add gram flour, salt, sugar, chilli powder, mango powder and turmeric.mix well.
Heat 2 tbls oil in a non stick pan, add asafoetida and then add the mint paste and stir fry it for a minute on medium heat.
Now add 1 cup water and mix well, then add all the vegetables except okra.
Mix, cover with a lid and cook for 2 minutes.
Open the lid, add the okra, 1 tsp lemon juice and mix gently.
Cover and cook for another minute.
The curry is now ready to serve.
Serving suggestions: Best served with roti, daal and rice.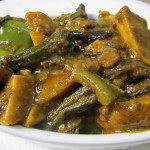 Print Recipe
Sambhariya ,Mix vegetables in tangy mint sauce