Methi vadi nu shaak -A Gujarati curd based curry,cooked with fresh fenugreek, yellow lentil fritters and mild spices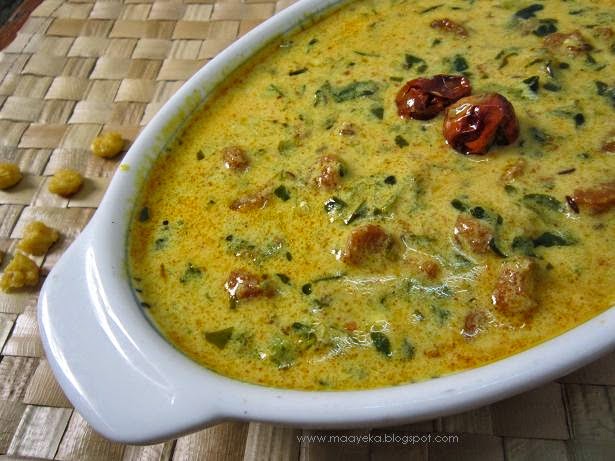 INGREDIENTS:-
Curd-250 gms
Gram flour-1 t.s
Fresh fenugreek leaves-1 cup
Moong daal(yellow lentil) mangodi-1 cup *
Oil-3 tbls
Cumin seeds- 1 t.s
Asafortida-1/3 t.s
Whole red chillies-3
Chopped green chillies-3
Chilli powder-1/2 t.s
Turmeric-1/2 t.s
Salt-1/2 t.s
Sugar-1/2 t.s
PROCEDURE-
Wash and finely chop fenugreek leaves. 
Take curd, gram flour and 2 tbls of water in a bowl and mix well.
Heat 2 tbls oil a pressure cooker,add the mangodi's and fry to a golden brown colour ,then add 1 cup water and pressure cook for 2 whistles.
Take a pan add 2 t.s oil ,add cumin seeds and asafoetida ,when it start crakling add whole red chillies, green chillies and chopped fenugreek leaves and stir fry for a minute on medium heat.
Add chilli powder and turmeric, mix ,now pour the curd mixture and keep stirring for a minute.
 Add boiled mangodi's( along the water left in the cooker),and 1 cup of water,salt and sugar.
Boil for 5 minutes on medium heat ,keep stirring..
Garnish with fresh coriander and serve hot.
serving suggestions-serve with bajra roti,rice or as a side dish with any thing.
Note- * if you don't have moong daal mangodi ,then make small size, fresh moong daal pakodi's(fritters)
and add at stage 6.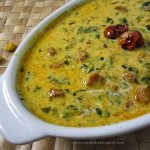 Print Recipe
Methi Vadi nu Shaak ,Fenugreek curry in yoghurt sauce