Tomato and lentil chutney –
A Southern Indian specialty – tempered tomato and lentil chutney.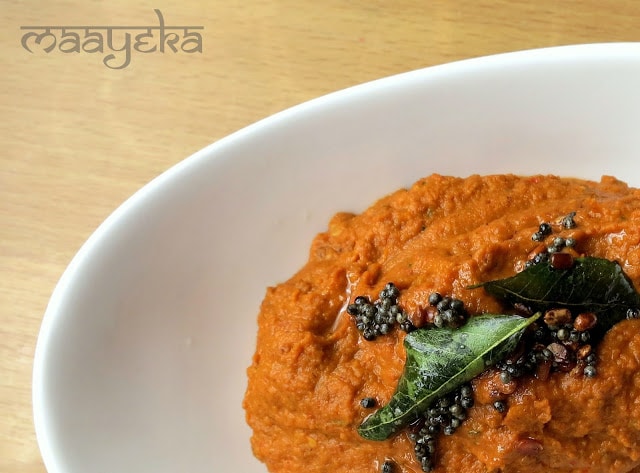 INGREDIENTS-
Tomatoes – 3
Bengal gram – 3 tblsp
Black gram – 1 tblsp
Whole coriander seeds – 1 tblsp
Whole red chillies – 4
Kashmiri chilli powder – 1 tsp
Tamarind pulp – 1 tsp
Jaggary – 1 tsp
Turmeric – 1/4 tsp
Curry leaves – 10
Asafoetoda – 1/4 t.s
Salt – 1 t.s
Oil – 2 tbls
TEMPERING-
Black Gram – 1/2
tsp
Mustard seeds – 1/2
tsp
Asafoetida – a pinch
Curry leaves – 4
Whole red chilli – 2
Oil – 2
tsp
PROCEDURE-
Heat oil in a pan. Add the chana daal(bengal gram), whole coriander and urad daal.
Saute on low heat for 1 minute then add curry leaves and whole red chillies. Keep frying till they become golden in colour.
Now add the chopped tomatoes, salt, turmeric and chilli powder, and cook on low heat till they soften and are cooked well. (Note: Do not cover the pan with a lid while cooking).
Let the mix cool down completely. Then transfer the contents of the pan to a mixer jar, and grind it with tamarind pulp and jaggery to make a smooth paste.
Heat 2
tsp of oil in a small pan, and add black gram and mustard seeds, then asafoetida, whole red chillies and curry leaves. When they are slightly roasted (The curry leaves should have a slight green colour on them.), pour this tempering over the chutney and mix well.
Serving Suggestions – Serve with Idli, Dosas, and almost any Indian snack. Can also be used a spread in sandwiches.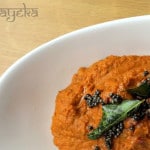 Print Recipe
Tomato and Lentil Chutney