Bakery Style Potato Buns -Eggless Stuffed Buns/Dinner Rolls with a spicy potato filling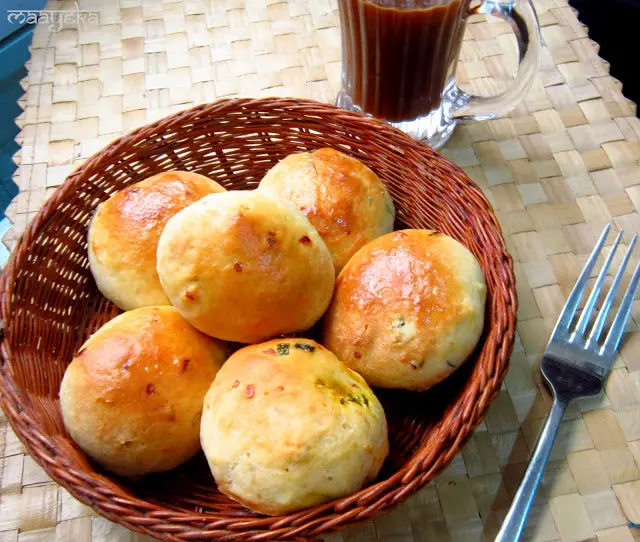 INGREDIENTS-
Refined flour /Maida-3 cup
Olive oil-2 tbsp
Active dry yeast-2 tsp
Sugar-1 tbsp
Salt-1 tsp
Chili flakes-1 tsp
Fresh coriander-1/4 cup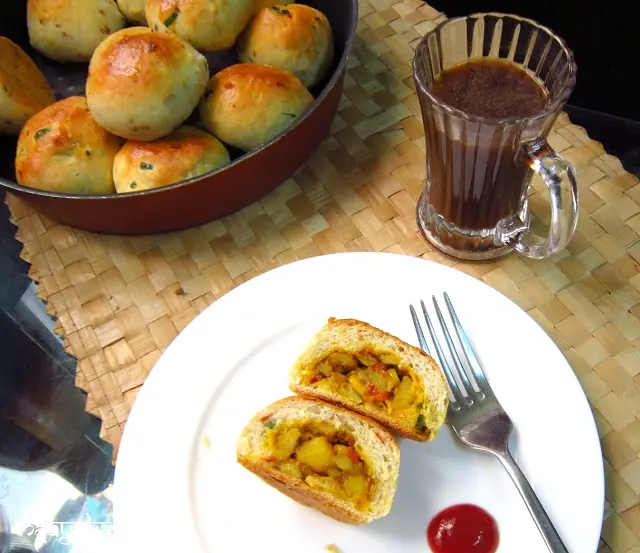 Filling-
Boiled potato-2
Boiled corn or peas-1/2 cup
Chopped capsicum-1/2 cup
Green chilies-2
Pav bhaji masala-1 tsp
Turmeric-1/3 tsp
Salt-1/3 tsp
Mango powder-1/2 tsp
Chili powder-1/2 tsp
Cooking oil/Butter-3 tsp
Cumin-1/2 tsp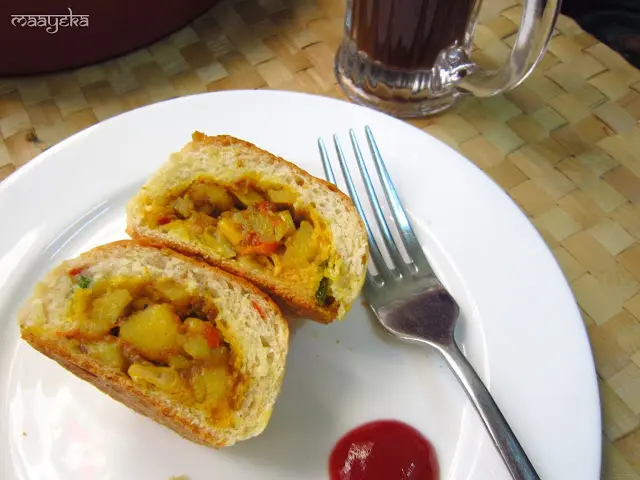 PROCEDURE-
Take a bowl add 1 cup luke warm milk ,sugar and yeast,mix properly,cover and rest for 10 minutes to activate the yeast(wait untill the bowl surface fully covered with froth)
In a seperate bowl add refined flour, salt,chili flakes, olive oil,chopped fresh coriander and mix gently .
Now add the yeast mixture and make a soft dough,can add some lukewarm water if needed.
When you get a nice dough,gently knead it for approx 5 minutes till it become smooth .
Cover and keep aside the dough to rest for around 1-1.5 hour or till it doubles in volume.
Masala-take a pan and add oil or butter,when become warm add cumin seeds and chopped green chilies.
Then add turmeric,coarsly mashed potatoes,and all the spices and vegetables.
Now mix and stir fry all for approx 2 minutes ,till everything blends and cooks well.
Take out in a bowl and let it cool down completly.
 Take out the dough and punch down  gently 2-3 times to remove the air .
Now make equal sized balls from the dough (approx 15)
Grease your palms and flatten a bowl on your palm and place approx.1.5 tsp mixture in the center,
Pull and bring all the edges in the centre and seal the ball completely.and make a smooth and neat ball.
Brush the top of the buns with milk and bake in a preheated oven 180 degree C for approx 15 minutes or till top become nicely golden.
When done remove from the oven and apply melted butter on top.
Enjoy with a cup of hot coffee!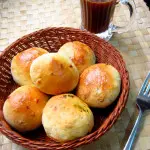 Print Recipe
Eggless Stuffed Buns