Vrat ki  Muthiya- Steamed sago and potato dumplings
During  janmashtami and other fasting days we often make cutlets and pooris from potato,rajgiri and sabudana,which taste very delicious but are high in calories.So today I tried these potato and sabudana muthiyas,which taste almost like vadas ,but consume very less oil as compared to sabudana vadas and poories.
If you are looking for more fasting recipes then check-
Sabudana khichdi
,
Sama potato
patties,
Jeera aloo and rajgiri poori
, and
Vrat ki  recipes
Happy Krishna Janamashtami to all!!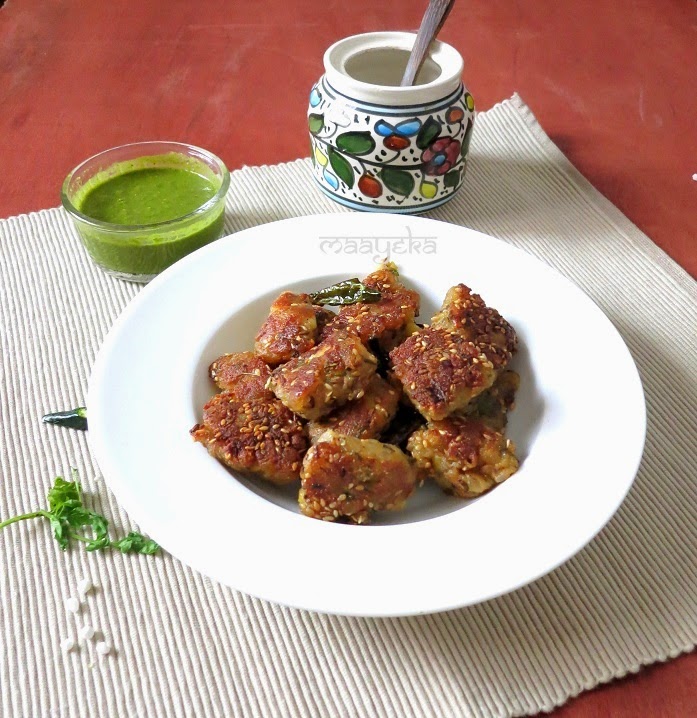 Prep time-10 min
Cooking time 25 min
Cuisine- Indian
Type -snacks
Serve-3
INGREDIENTS-
Sabudana,soaked- 1 cup
Potato,boiled-2
Rajgiri atta- 3/4 cup
Peanut,crushed- 2 tbsp
Green chili,chopped- 2
Ginger ,grated- 1tsp
Lemon juice- 1/2 tsp
Yogurt- 2 tbsp
Fresh corinader- 2 tbsp
Salt- to taste
Pepper powder- 1/2 tsp
Tempering-
Cooking oil- 2-3 tbsp
Cumin seeds- 1 tsp
Sesame seeds- 1.5tsp
Asafoetida- 1/4 tsp
Green chilies- 2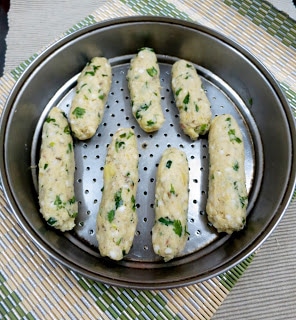 PROCEDURE-
In a bowl add all the ingredients and mix well.
Grease your palms and make small and long roll from the mixture.
Grease the steamer plate and put all the rolls on it.
Boil enough water in a steamer and put the steamer plate in it(above the water level,can also use the rice cooker ).
Steam the rolls for 20 minutes on high heat.
Take out the plate from the steamer and let them cool down completely.
These rolls are soft in texture so gently slice the rolls with a greased and sharp knife.
Heat oil in a nonstick or heavy pan and add cumin,sesame seeds and asafoetida.
Now add sliced green chilies and sliced muthiya and stir fry on medium heat for around 5-7 minutes.
Keep turning the sides in between till they become golden in colour.
Serve with Fruit and nut chutney or date chutney.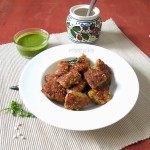 Print Recipe
Phalahari Muthiya