Healthy and digestive Date Pickle
Date pickle -As we all know dates are very good for health .They are very good source of dietary fiber, Iron, potassium, calcium ,Vitamin A and many more, so it is advised to include few dates in your daily diet.
There are many varieties of dates cultivated.The pulp of fresh date is very soft and easily digestible so when eaten it provide instant energy,so they are used to break the fast during Ramadan month.
I have mentioned earlier that I love to make different types of pickles which I inherited from my mother and grandmother,My grandmother used to make a very delicious pickle from Munakka(Big Raisins),But unfortunately I forgot to note down her recipe, now from a bookmarked recipe I tried making that pickle with dates and Munakka and it turn out perfect.This Chatpata Khajoor is delicious,very good for digestion and to improve appetite.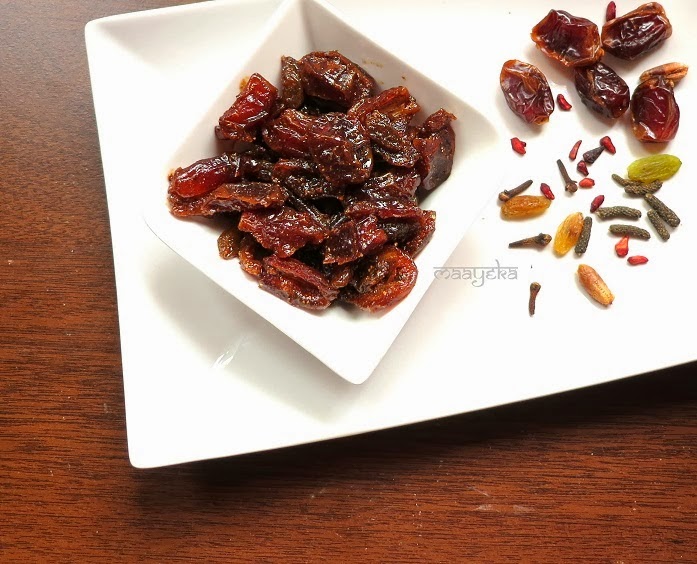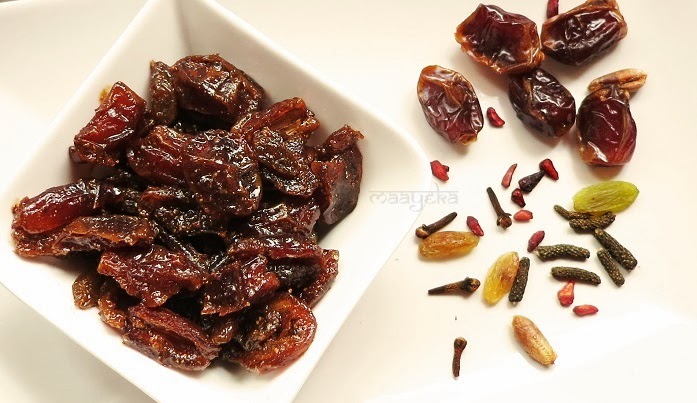 Prep time-15 min
Cuisine-Indian
Type-side,pickle
INGREDIENTS-
Dates/Khajoor -250 gms
Raisins/Munakka – 2 tbsp
Lemon juice – 2.5 tbsp
Castor sugar/pisi hui chini- 1/4 cup
Ginger powder /saunth- 1/3 tsp
Black salt-1/2 tsp
White pepper powder-1/2 tsp
Roasted cumin powder- 1tsp
Salt-to taste
Cinnamon /Dalchini -1/4 inch
Dried pomegranate seeds -3/4 tbsp
Asafoetida /Hing – 1/4 tsp
Cloves /Laung- 4
Lendi peepal -4
PROCEDURE-
Wash and wipe dates and raisins and spread on a cloth till they dry completely.
Slit and remove the seed from dates and chop into 2 pieces .
Dry roast lendi peepal till they swell up.
Now grind together lendi peepal, cloves , cinnamon and pomegranate seeds and make a fine powder.
Take a bowl and mix every thing together (except dates.)
Now add the chopped dates and raisins and mix well.
Keep it in the bowl for a day, so dates and raisin will absorb all the juice and flavor.
Store in a glass jar at room temperature.
Serving suggestions- serve as a appetizer,digestive or as a pickle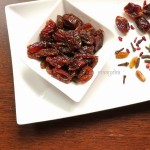 Print Recipe
Khajoor Ka Achar / Date Pickle / Masala Khajoor