Instant microwave cake with just 3 ingredients and in 5 minutes
.Generally, people think that eggless cakes can't be as soft and moist as compared to the ones which are made with eggs. I am a vegetarian, and therefore always make cakes without eggs or egg substitutes and get good results everytime! Check out my- Orange cup cakes, Fruit and nut cake , Pineapple upside down cake, Strawberry cup cakes for more eggless cake recipes. Baking is a topic which excites everyone, but many hesitate to try their hands due to lack of experience. Baking is quite easy if you know the basics and some tricks, but a fair deal of experience is required to make a nice soft and beautifully decorated cake.
As Rakshabandhan festival is on next week, I decided to post this recipe of a quick and delightful cake – specially for small children to make this for their brothers or sisters. This oreo cake is very easy, fuss free, and a fool proof recipe which children can easily make and enjoy together with their family on this festival. They can always add a scoop of their favorite ice cream to it too 🙂 My friend did it in their Toshiba EM925A5A-BS microwave and had a quick great time of cooking it!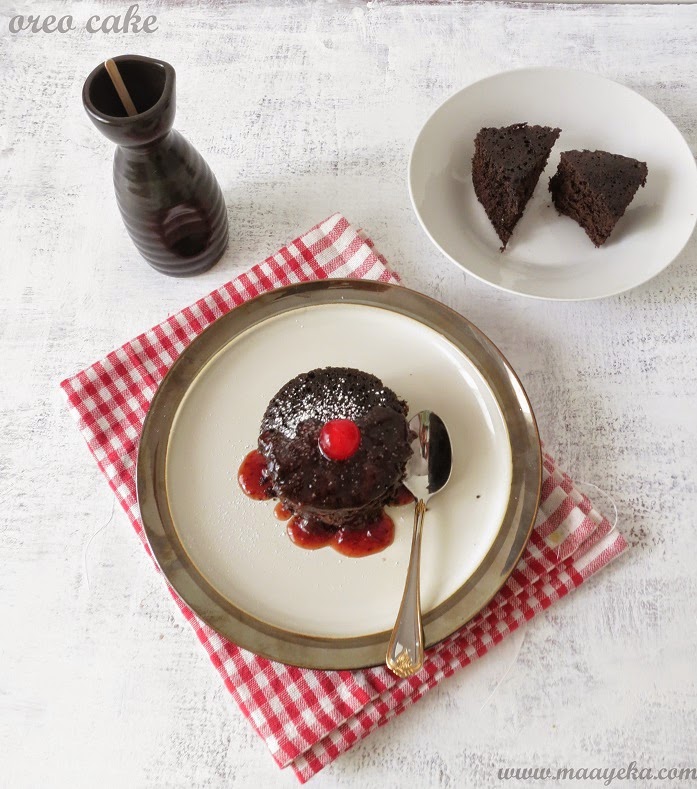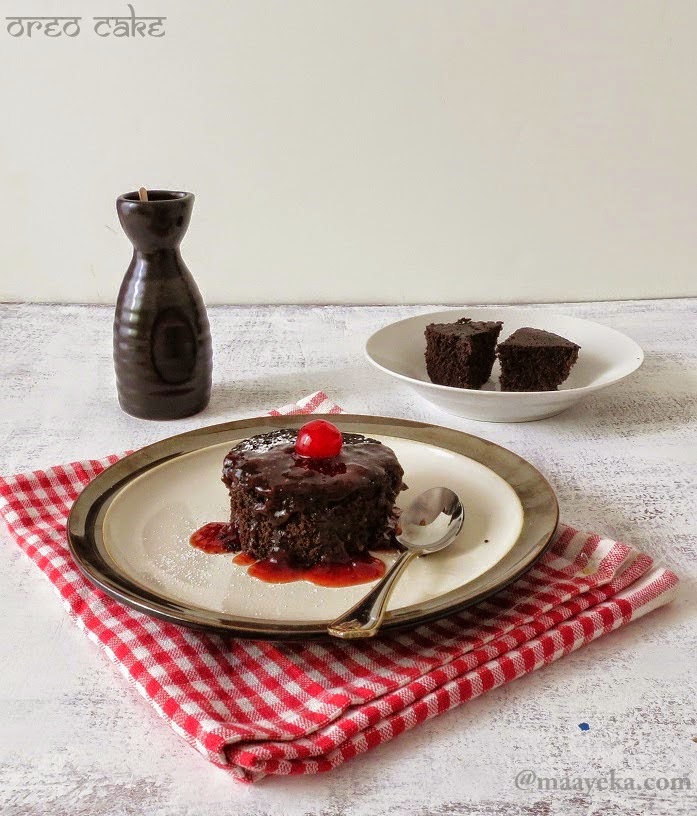 Prep time-5 min
Cooking time- 5 min
Difficulty level – Easy
Type – Bake, Dessert
Cuisine – International
Serves – 6
INGREDIENTS-
Oreo cream biscuits – 20
Fresh milk – 1 cup
Fruit Salt /Eno – 3/4 tsp
PROCEDURE-
Add oreo biscuit and milk in a mixer jar
Grind to make a smooth paste.
Take out the mixture in a jar
Grease a glass bowl with little butter.
Add eno in the biscuit and milk mixture and mix well.
Pour the mixture in greased glass bowl.
Put in in the microwave and cook on micro high for 5 minutes.
Rest for a minute and then take out from microwave.
Let it cool down for 10 minutes then slice into pieces.
Sprinkle some castor sugar and garnish with a cheery
Serve with a smile 🙂
Serving suggestions-
Drizzle some strawberry syrup or chocolate sauce or any fruit sauce over the cake slices
Serve this with a scoop of Ice-cream or any fruit compote or crush
Add 1 tbsp of water in 1 tbsp of any fruit jam ,warm it slightly and pour over the cake
The cooking time may vary between 5-7 minutes as every microwave have different setting.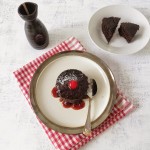 Print Recipe
Microwave Oreo Cake