A rich and moist egg less fruit and nut cake- perfect  to bake on Christmas
Wish you all a very Merry Christmas & a Happy New Year!!!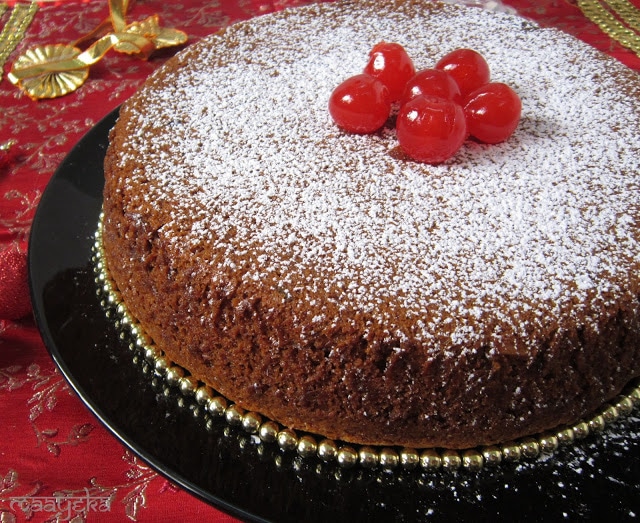 INGREDIENTS-
Refined Flour / Maida – 200 gms
Condensed Milk – 1 tin
Butter – 100 gms
Chopped Mixed Nuts – 100 gms *
Tutti Frutti – 75 gms
Orange Marmalade – 1 tbsp
Cinnamon Powder – 1/4 tsp
Ginger Powder – 1/4 tsp
Nutmeg Powder – a pinch
Drinking Soda – approx 125 ml
Sugar – 5 tbsp
Baking Powder – 1.5 tsp
Baking Soda – 1 tsp
Water – 30 ml
Icing sugar-1 tbsp
PROCEDURE-
Mix and sift refined flour,baking soda and baking powder twice and then add ginger powder,nutmeg powder and cinnamon powder.(mixture A)
Add 1.5 tsp refined flour in the chopped nuts and mix well.
In a heavy pan add sugar and melt on medium heat to caramelize it.
When it become like a golden syrup then add 30 ml water in it and mix well.keep aside.
In a pan, melt butter till it become soft,switch off the flame and then add condensed milk and orange marmalade and  whisk well.
Now add 1/3 portion of refined flour mixture(A) in it and mix.then add some caramalized sugar water,1/3 portion of nuts and some drinking soda water and mix well
Repeat this process in 3 batches till all the ingredients are mixed well in the batter.
Preheat the oven to 140 degree temp.
Pour the cake mixture in a non stick cake tin ,and tap gently to remove any air bubble.
Bake for 50-60 minute then insert a toothpick and check .
If the toothpick come out clean then remove the cake from the oven
OR-if there is some wet mixture stick on the toothpick then cook further for 5-10 minutes.
Allow to cool for 15 minutes and then lossen the edges with a butter knife and invert on a plate.
Take 1 tbsp of icing sugar in a sieve and dust over the cake and decorate with some glazed cherries and enjoy!!
Note-
I have used almonds, cashews, walnuts and raisins, but you may use any other dry fruits like prunes, pecans, apricots, dates etc.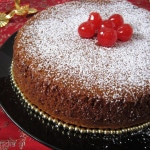 Print Recipe
Eggless Fruit and Nut Cake