Instant Rava Upma mix –  to make quick Rava upma in just 5 minutes
Instant rava upma mix- Upma is a very popular breakfast item of Southern India and now it has become popular in all Indian states. Upma is mainly made with rava/ semolina with a flavourful tempering of urad daal ,chana daal ,curry leaves  and mustard seeds.You can add your choice of vegetables or just make it plain and simple .It taste delicious both ways.
Though making upma is quite easy as the process is simple to follow, but some times we need instant recipes which can be made in a jiffy or our home alone children can also make them without any fuss for their sudden hunger pangs. On my recent India trip the airlines served this mug upma for breakfast which I didn't eat as I don't like these instant kind of food but my children enjoyed that instant cup Upma.
So I thought to try and make this Instant style of Upma which is a great option to carry along while travelling as we always crave for home cooked food on our travel trips specially vegetarians like me have a tough time searching for veg food in foreign countries .This type of ready instant food packets are easy to carry and easy to make travel food.
This homemade instant upma mix is also very good for working women as they can make quick breakfast or dinner with these ready mixes ,you can make and store these mixes in bulk when ever you got free time on your weekend.
Children who are going away from their home for further studies,often crave for home cooked food in their hostels .We can make packets of such instant ready to cook food items which they can easily make either in microwave or just cook a small individual portion in coffee mugs. They just need some hot boiling water and home style instant cup upma is ready in few minutes.
How to Make Upma with this Instant Upma ready mix-
On the Gas Stove– boil water in a pan and then add this upma mix in the boiling water, stir well to avoid any lumps. let it cook for 1 minute then cover with a lid and cook for 3 minutes . mix and serve hot with some pickle and chutney. For 1 cup of mix add 2 cups of water if you like dry upma and  or add about 3 cups of water if you like upma of soft texture.The quantity of water also depend on the quality of your rava so adjust water accordingly.you can also add some finely chopped fresh or frozen vegetables in it if you wish .
In the Microwave– add 1 cup of upma mix and 2 cups of water in a microwave proof glass bowl and mix it then cook on micro high for 5 minutes .check it may take little extra time depending on your microwave model.
In the Rice cooker- add 2 cups of instant rava mix and 4  cups of water  in the rice cooker ,mix and let it cook till all the extra water dries up completely,fluff with a fork and serve hot.
Coffee Mug Upma– Take a coffee mug and fill it half with upma mix and pour hot boiling water (double quantity of rava mix) over it and cover with a lid and wait for 5 minutes ,open the lid and fluff it with a fork and enjoy your hot cup upma or just pop the microwave safe mug in the microwave and cook for 1 minute on high, wait for 2 minutes and enjoy !
How to make Rava Idli with Instant mix-
Take 1.5 cup of Instant rava upma mix add 3/4 cup of yogurt or a cup of buttermilk and mix ,now add enough water to making a batter of pouring consistency and        let it stand for about 15 minutes, add some water if it has become thicker ,now add 1 tsp of ENO fruit salt and pour in greased idli moulds and steam cook for 10 minutes and serve hot with coconut chutney and sambhar.
Shelf Life of Ready Upma Mix – This Instant rava upma mix easily stays well for 2 months at room temperature and for 5 months in the refrigerator.After making Instant upma mix let it cool down completely for a day and then either pack in ziplock bag or in an airtight container.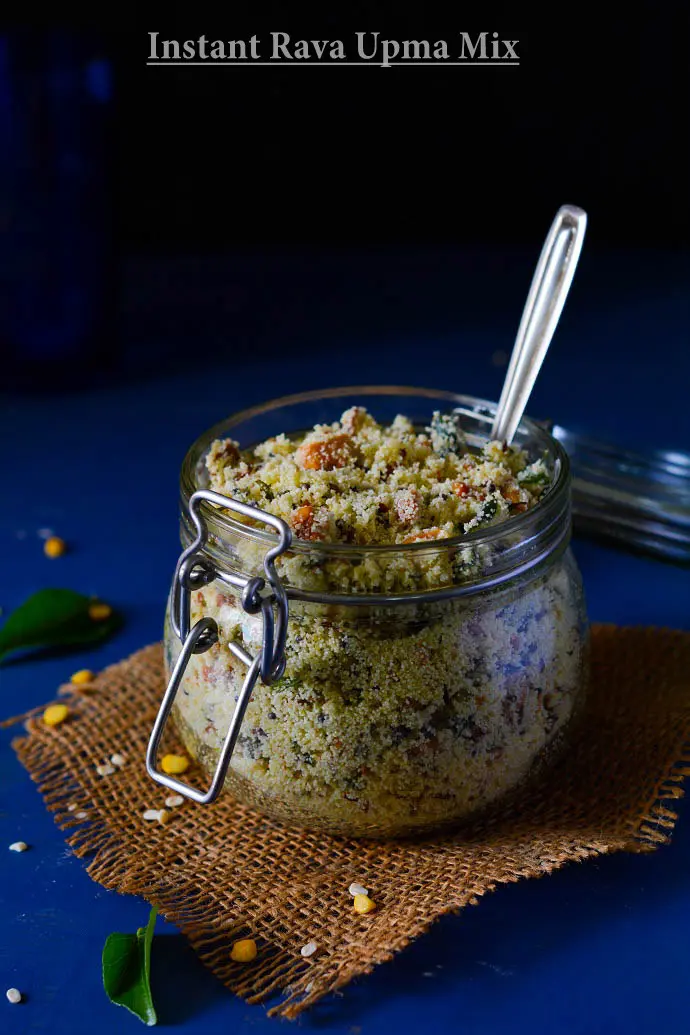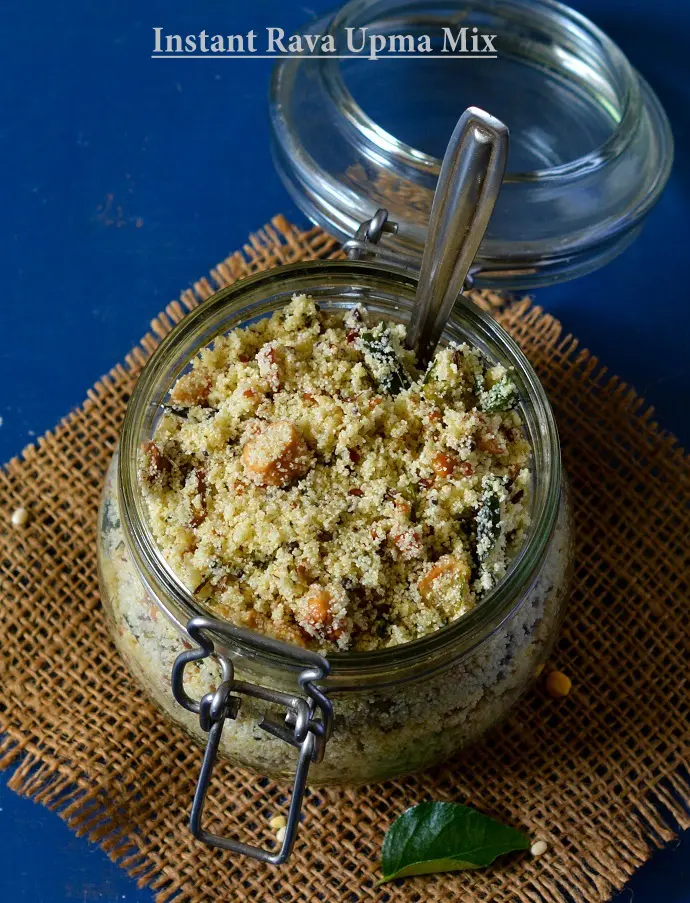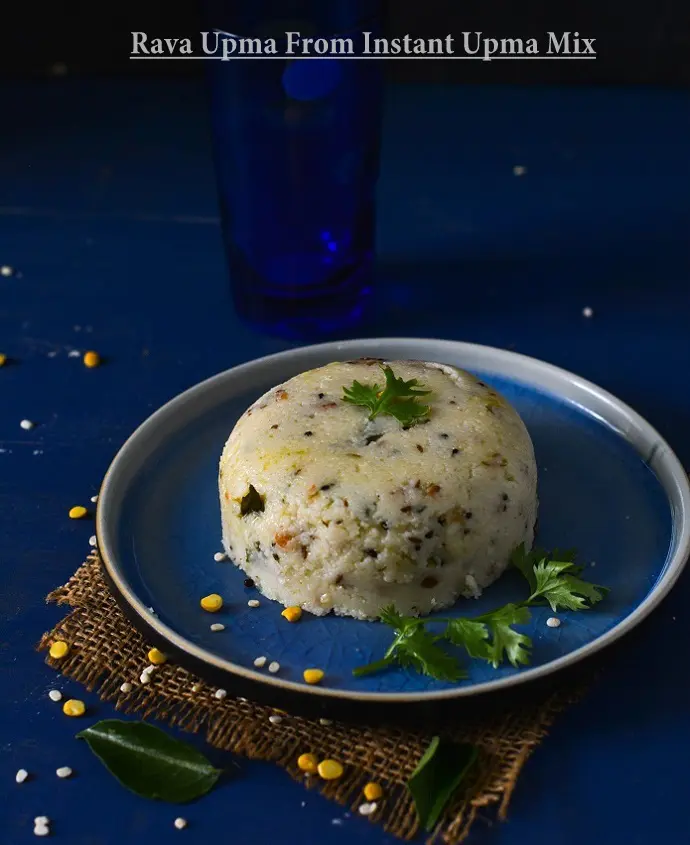 ★ Have you tried this recipe? Click on the stars ★ in the recipe card to let us know your feedback!  If you tried it then You can also click the recipe pic and share on Instagram with hashtag #maayek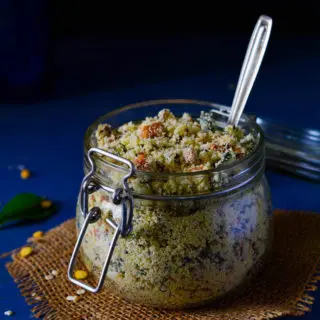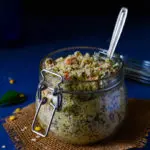 Print Recipe
Homemade Instant Rava Upma Mix for Making Upma/ Rava Idli- Travel Food
Instant Rava Upma mix - to make instant and fussfree quick Rava upma in just 5 minutes
Ingredients
3

cup

Semolina / Sooji

1/4

cup

Cashew Nuts / Kaju

chopped

4

Green Chillies / Hari Mirch

chopped

2

tbsp

Ginger / Adrak

chopped

20

Curry Leaves

1/2

cup

Fresh Coriander / Cilantro / Hara Dhaniya

chopped

2.5

tsp

Salt / Namak

1

tsp

Citric Acid/nimbu phool/taatri

powdered

6

Dried Red Chilli, Whole

broken into pieces
Tempering/Tadka/Waghar
8

tbsp

Cooking Oil

2

tsp

Mustard Seeds / Rai *

2

tsp

Cumin Seeds / Sabut Jeera

4

tsp

Bengal gram /chana daal

4

tsp

White Lentils / Urad ki dal (dhuli)

1/4

tsp

Asafoetida / Hing powder

1/2

tsp

Turmeric Powder / Haldi Powder

optional
Instructions
Heat a pan and add chopped green chilies and curry leaves,ginger and saute on low heat for about 2-3 minutes. now add the chopped coriander and keep stirring for a minute

Remove from the pan and keep aside.

Heat oil in the and add the gram daal and urad daal and stir fry till they start changing colour.(or saute for few seconds)

Now add mustard seeds,cumin seeds ,broken cashew pieces and asafoetida.

When mustard start crackling then add the broken dried red chilies, roasted green chili,ginger ,coriander mix and stir for few seconds.

Now add semolina and saute on low flame for 5-7 minutes.keep stirring it.

Switch off the flame and add salt and citric acid and mix.

You can also add turmeric if you wish .

Let it cool down completely for 5-6 hours or best rest it overnight.

When it cool down completely then pack in ziplock baags or in an airtight container.

It stays well for 2 month at room temperature and for 5 months inside the refrigerator.