Home made sun-dried tomatoes- A very easy way to make sun-dried tomatoes
Sun-dried Tomatoes- Ready made sun dried tomatoes are easily available but are quite expensive and if you make them at home, they don't really cost much. You can easily make them when tomatoes are in season and are low priced – so buy tomatoes during season in bulk and easily make an yearly stock.Sun dried tomatoes are used to make pasta, pizza, sandwiches, breads and they can be added to hummus and sauces.
How To Make Sun-dried Tomatoes Easily at Home
There are two methods of making sun dried tomatoes – drying in direct sunlight or dry in a conventional oven at low temperature. Though the results of both methods are good but I prefer to make them traditionally – the sun drying method. Sun dried tomatoes can be kept in zip lock bags and stored in a refrigerator or freezer, or added in a jar with olive oil to preserve the pieces.
How To Make Tomato Powder-
After the tomatoes are dried completely and become crisp then grind them in a mixer jar or coffee grinder to make a fine powder. Store in an airtight jar and best is to store in the refrigerator.
How To use Sun-dried Tomatoes and Tomato Powder
Sun dried tomatoes are used to make pasta, pizza, sandwiches, breads and they can be added to hummus, sauces and gravies. You can use tomato powder in so many ways. use it to make gravies, soups,parathas, chutney ,salad and in so many different ways to substitute fresh tomatoes.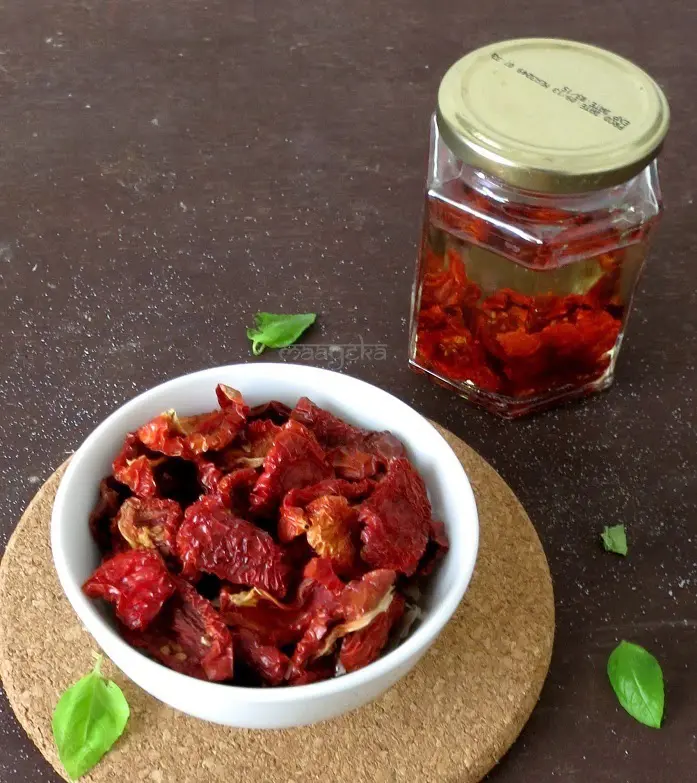 You can also follow me on Pinterest , Facebook ,  Instagram and You Tube for more delicious recipes and updates 
 ★ Have you tried this recipe? Click on the stars ★ in the recipe card to let us know your feedback!  If you tried it then You can also click the recipe pic and share on Instagram with hashtag #maayeka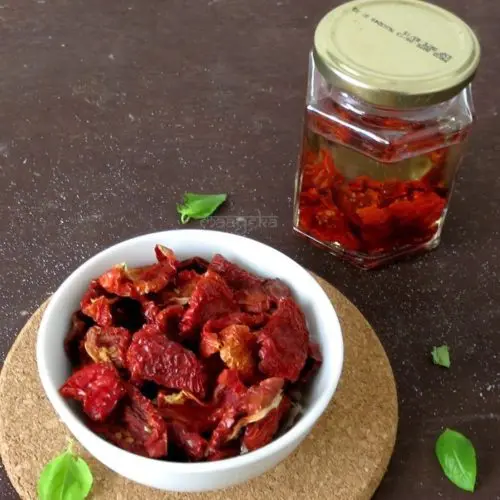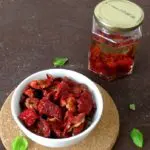 Print Recipe
Sun-dried Tomatoes and Tomato Powder
Easily make sun-dried tomatoes at home
Ingredients
2

kg

Tomatoes

to

taste

Salt

1

tsp

Pepper powder/ kali mirch

1

tsp

Dried Basil
Instructions
Wash and wipe tomatoes with a kitchen napkin.

Cut tomatoes in halves and if they are too big then chop them into quarters.

You can scoop out the seeds, but this is optional. I didn't remove the seeds.

Spread tomatoes on a big plate or tray.

Arrange them in a single layer and with some distance from each other.

Sprinkle a little salt, pepper and dried basil over the tomato pieces.

Cover the tomato tray with a fine muslin cloth or a net.

Keep the tray in direct sun light .It will take 4-6 days depend upon the weather and size of tomatoes.

When they have dried completely, they have a chewy raisin-like texture.

Once dried, store them in zip lock bags and store in the refrigerator or freezer.

You can also add in a glass jar and pour olive oil to cover the pieces completely.

Follow the same method till step 5.

Preheat oven on 160 degree centigrade and spread the chopped tomatoes in a baking tray.

Spread in a single layer and with some gap between the pieces

Cook for 8-12 hours depends on the size and thickness of the tomatoes and your oven

When the pieces cool down completely then store in a zip lock bag.

Keep refrigerated or preserve in olive oil.
Notes
Try to use tomatoes which have more flesh than juice.
Removing seeds is optional – can do both ways.
You can use any herb of your choice to season the tomatoes with – oregano, basil, thyme etc.
You may skip adding the salt, pepper and spices and choose to make plain sun-dried tomatoes.
Unlike many other vegetables, tomatoes do not become crisp after drying – they have chewy texture like prunes or raisins.
When they become dry and crisp you can grind the pieces to make tomato powder.