Daal Palak -Pigeon peas cooked with spinach and mild spices
Daal palak is an easy,delicious and healthy recipe.you can add lots of green in tuvar daal and make a healthy dish to serve with steamed rice or roti. Kids often refuse eating spinach but if you serve this daal palak they will surely love this as it taste good and also looks very nice.its my favorite every day comfort food and makes it often.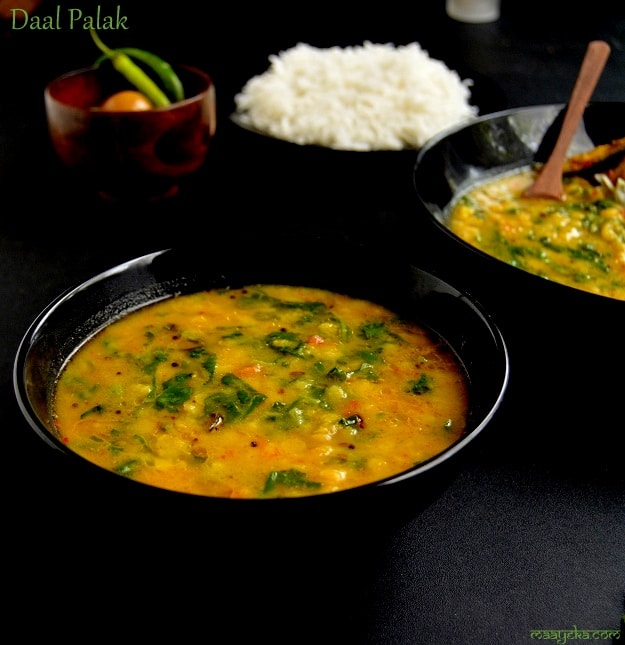 As we all knew very well that spinach is a very good source of iron, vit A, vit C ,vit K ,magnesium ,and vit 12 ,good for eye health and have anti aging properties.
so I always try to incorporate spinach in our diet but as spinach spoil very soon so I often make spinach puree and use it to make Palak poori or delicious and healthy Palak ka raita which my children likes very much.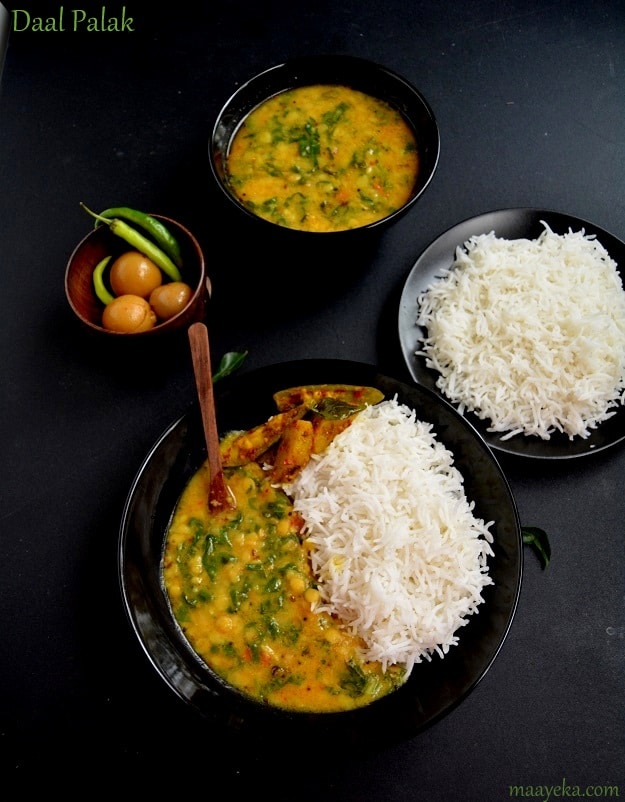 Daal is always  in the dinner menu at my home either with rice or rotis – U.P style tuvar daal  ,Punjabi tadka daal , sabut Masoor ki daal  , Rajasthani panchmel daal are my family favourite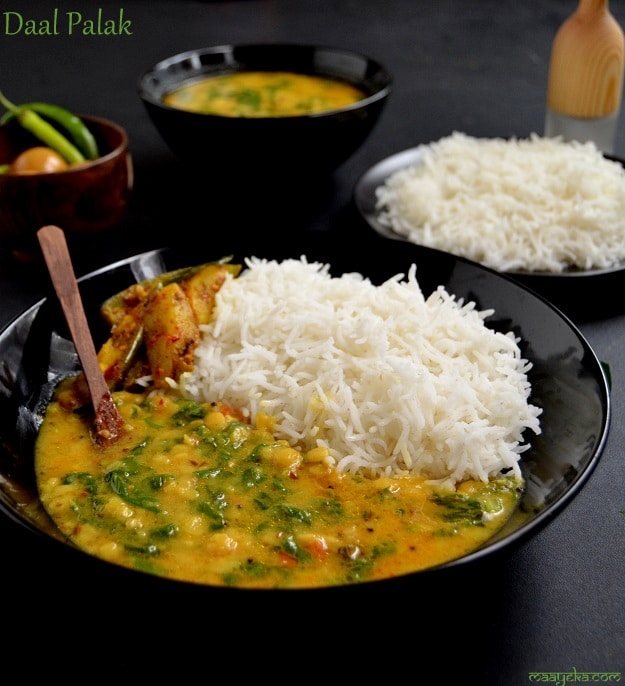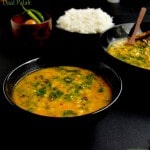 Pick and wash the lentil and soak in water for about 15 minutes.

Add the soaked lentil,1 tsp oil, turmeric and water in the pressure cooker.

Water level should be approx 3/4 inch above the daal level.

Pressure cook on medium heat for 2 whistles or till it become soft to touch.

Heat ghee in a pan and add cumin and mustard seeds.

Now add chopped green chilies ,Stir fry for few seconds and then add ginger, dried red chilies and asafoetida.

After frying for few seconds add chopped tomatoes and salt.cook till tomato become slightly soft.

Add chopped spinach, chili powder, coriander powder and stir fry till spinach wilt and become soft (no need to over cook at this stage )

Now open the cooker and gently mix the daal,no need to mash it.

Add 2-3 cups of hot water in the cooked daal and give it a boil.( water should be added according to your preference,if you want to serve it with roti then make it slightly thicker and if want to serve with rice then make it slightly thin)

Then add the spinach mixture in the daal and cook for about 2-3 minutes.

Remove from the flame and add lemon juice.

Serve hot with steamed rice and roti
There is no Nutrition Label for this recipe yet.