Yoghurt Dip made with spinach puree and spices.
INGREDIENTS :-
Prep time-10 min
Cooking time-5 min
Type-side
serve-4
Spinach /palak-150 gm
Chopped green chilli-1/2 t.s
Roasted cumin powder-1/2 t.s
Yoghurt /dahi-1.5 cup
Salt-to taste
Black salt-a pinch of
PROCEDURE-
Remove the thick steams from spinach and wash the leaves well with enough water.
Boil 2 glasses of water in a pan ,when it start boiling add the leaves and cook for 1.5 minutes(without covering the pan).OR microwave for 2 minutes.
Drain and refresh spinach in cold water.
Grind the spinach with green chilles to a fine paste.
Take the yoghurt in a big bowl and mix well.
Add the spinach puree ,salt and roasted cumin powder.
Mix well to make it smooth .
Chill and serve.
serving suggestions-goes best with biryani, pulao,rice, parathas and chips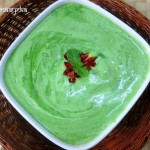 Print Recipe
Palak Raita ,Spinach Dip