A very Refreshing and delicious cooler made with Dried Hibiscus flowers
Hibiscus or Gudhal ka phool is very easily available in India.It have many health benefits but not used much in day to day life.This gudhal ka sharbat/hibiscus tea is a very simple and healthy way to use dried hibiscus flowers and get the benfits of it.
Agua de Jamaica is a refreshing drink from America, Mexico and Carribean and is also popular in Asian countries.This tea is also very popular in Egypt and Sudan by the name –Karkade.
Hibiscus tea is a very refreshing and relaxing drink.It have many medicinal properties and can be made very easily.It can be served cold or warm as per your choice but best is to serve it chilled. It helps to lower blood pressure,is a mild dierutic,helps to reduce cholesterol,Good for hair health and many more properties.
Dried hibiscus flowers are easily available in the market or you can purchase from online stores .If you can get fresh hibiscus flowers then just remove the center stamen from the flowers and then seperate the flowers and dry them for few days.
Hibiscus tea is caffein free, slightly tart and sweet in taste, hibicsus gives a beautiful ruby red colour to the drink.Some people soak it overnight but I soak it just for 2 hours and it gives a nice flavour and colour.you can also add few ginger slices in it to enhance the taste.Hope you all will love this Hibiscus tea/Gudhal ka sharbat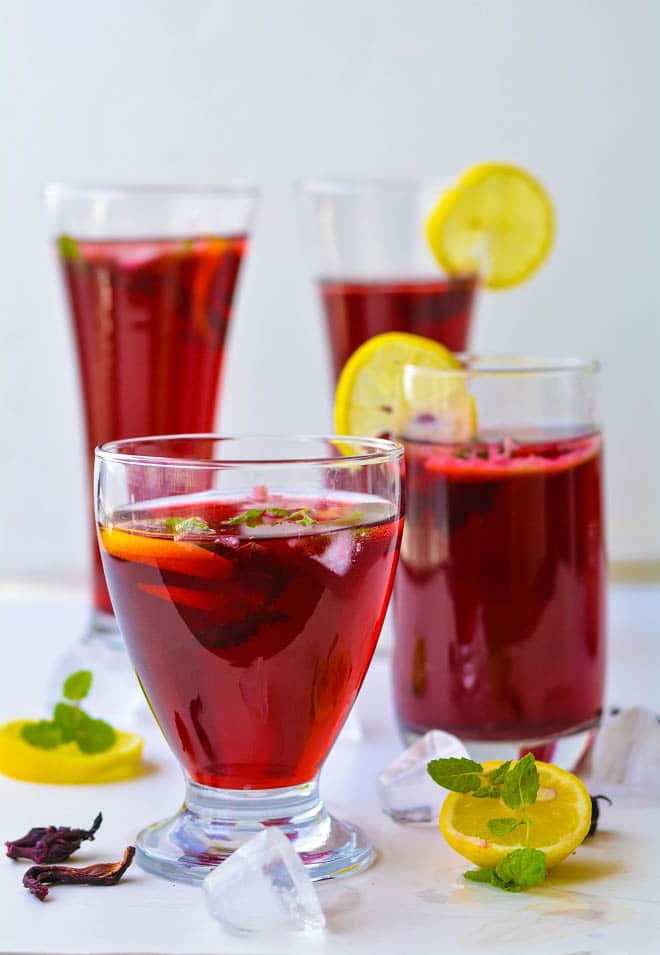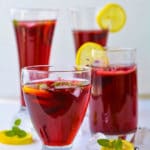 Take water in a pan and give it a boil.

Wash the hibiscus petals with water and then add the petals and the cinnamom stick in the boiled water.

Remove the pan from the heat and cover and sit for about an hour.

Now strain the water to seperate the petals from it.

Mix sugar and lemon juice in the water .

Add a lemon wedge and few mint leaves in the serving glass.

Put some ice cubes ,pour the tea and serve it chilled
There is no Nutrition Label for this recipe yet.