Fried karela chips-Crispy fried bitter gourd chips/ karela kachri
Fried kaela kachri-Bitter gourd is among the few vegetables which are very healthy but are disliked by most of the people.
bitter gourd is a very healthy vegetable and is popular in Asian countries.It has been used to treat diabetics,purify the blood, good for the patients suffering from piles, good for stomach, aids weight loss,boost immunity and much much more.
It has numerous health benefits,it detoxes the blood,helps in diabetes as it controls the blood sugar level.But as Me and my family like karela,so I often use it during the season,personally I like stuffed karela the most . But my family don't like too much spices so I often try different recipes to make with bitter gourd/ karela.
Do try these delicious karela recipes-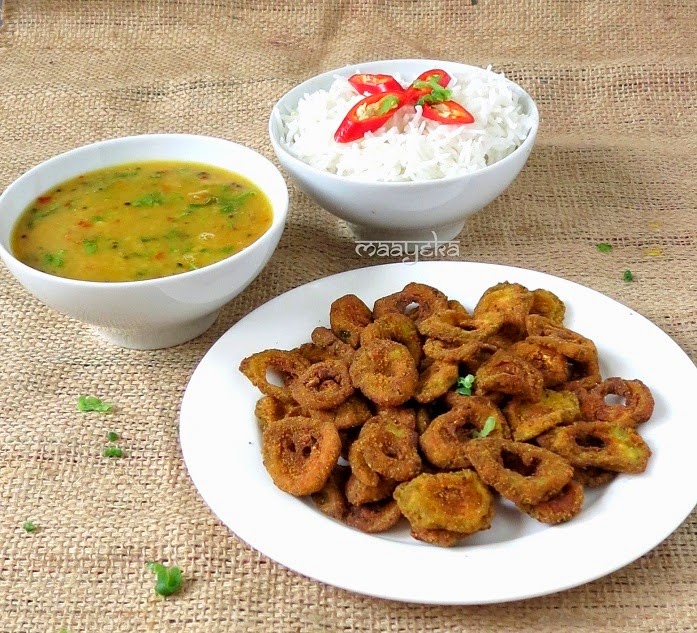 preparation time-15 minutes
cooking time -15 minutes
serve-4
INGREDIENTS-
Karela/Bittergourd-3(small)
Rice flour-3 tbsp
Red chili powder-1 tbsp
Turmeric-1/2 tsp
Garam masala-1/3 tsp
Mango powder- 3/4 tbsp
Castor sugar-1/2 tbsp
Salt- to taste
Cooking oil-to deep fry
PROCEDURE-
Wash and peel bitter gourd/karela and then slice to make thin roundals.
Apply 1 tsp of salt on the karela slices and keep aside for 1/2 hour.
Wash them well and spread on a cloth napkin for a minute to absorb all the extra water ,but no need to squeeze the water.
Now mix all the dry ingredients in a wide bowl.
Dip the karela slices in this dry mix and arrange in a a plate.
Heat oil in a wide and deep pan.
Now dip the karela pieces again in the dry mix and deep fry in batches.
first add on high heat then reduce the flame to medium.
Deep fry the chips till golden and crisp.
Drain on a paper napkin to remove all the extra fat.
Serve immediately.
Serving suggestions-serve with daal,rice or rotis
NOTE-
1-Peeling karela is optional,you can make it without peeling too.
2-Better to serve immediately as they become soft if kept for some time.
3-Slice thinly to make them crisp.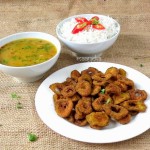 Print Recipe
Karela Kachri / Crispy Bittergourd