Tangy, sour and pungent mango and mustard sauce-specialty from the state of Bengal
Mango season is about to start and in Dubai we start geting good quality of raw mangoes so when I made this fresh first batch of mango kasundi  ,thought to share with all of you . Mango kasundi have a very wonderful and additive taste if you love the pungent taste and flavors of mustard oil and mustard seeds.It taste very different then the regular mint or tamarind chutney.It can also be made with out the addition of raw mangoes but as I like the taste of raw mangoes so prefer this version and addition of raw mango balance the pungent taste of mustard and make it more delicious and tangy.
You need just few ingredients to make this mango kasundi-raw mango,mustard seed,mustard oil and green chilies. Like most of the Indian recipes mango kasundi also have few more different versions according to every families taste and tradition.Here I am posting my  favorite recipe which I learned from a Bengali friend of mine.Hope you all will make it and love it like I do.For some more chutney recipes check
-Kamrakh mirch ki chutney
,
Amla chutney
,
Pineapple chutney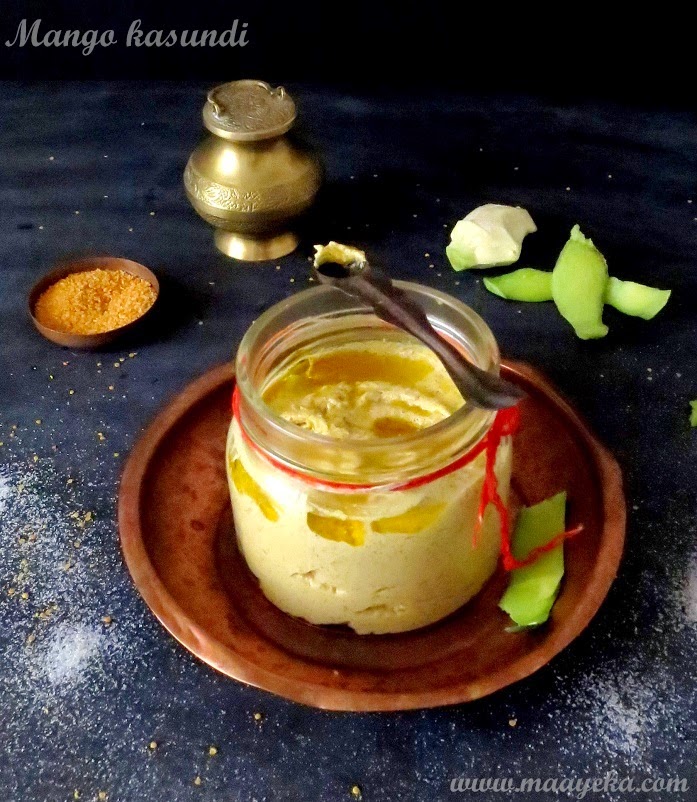 Prep time-10 min
Difficulty level -easy
Cuisine -Indian,Bengali
Spice level – pungent,tangy
Type -dip,side
INGREDIENTS-
Yellow mustard seeds,split /rai kuria-50 gm
Black mustard seeds /rai – 2 tsp
Raw mango /kachcha aam -300  gm
Green chilies/hari mirch ,chopped – 3 tbsp
Mustard oil /sarso ka tel – 1/4 cup
Salt /namak- 1.5 tbsp
Turmeric /haldi -1/2 tsp
PROCEDURE-
Wash,peel and chop raw mango in small pieces.
Take mustard seeds and rai kuria in a mixer jar and grind for few seconds .
Now add salt, turmeric, green chilies, raw mango and mustard oil.
Grind to make a smooth paste.
Pour the mixture in a glass jar.
Add 3 tsp of mustard oil over the prepared kasundi
Cover the jar with a fine muslin cloth.
Keep the jar for 2-3 days in sunlight.
Keep refrigerated.
Serving suggestions-Serve with any fried snack,as a side dish or use as a marinade.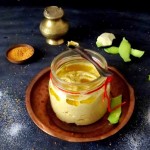 Print Recipe
Mango Kasundi / Bengali Mustard Sauce