A quick and simple milk based dessert.Today we all are celebrating Krishna Janmashtami and busy making sweet and savoury dishes to offer as prashad. During fasting we consume only fruits and vegetables and flours made with them, as cereals and lentils are not consumed during fasts.I have posted many sweet and savory recipes that can be made during fasting – My favorite recipes to make for fasting are – Sama and potato cutlets, Aloo ka halwa, Kuttu ka dahivada ,  Sabudana khichdi and  Rajgiri and aloo thepla
In south India, this milk halwa is popular as Palkova. This is a quick and instant type of dessert recipe and you just need a few ingredients to make this milk halwa. You can either use lemon juice or curd to curdle the milk, can also be made on a stove top or in a microwave oven. Results of both are good.
For more recipes for fasting check- Fasting recipes for Krishna Janmashtami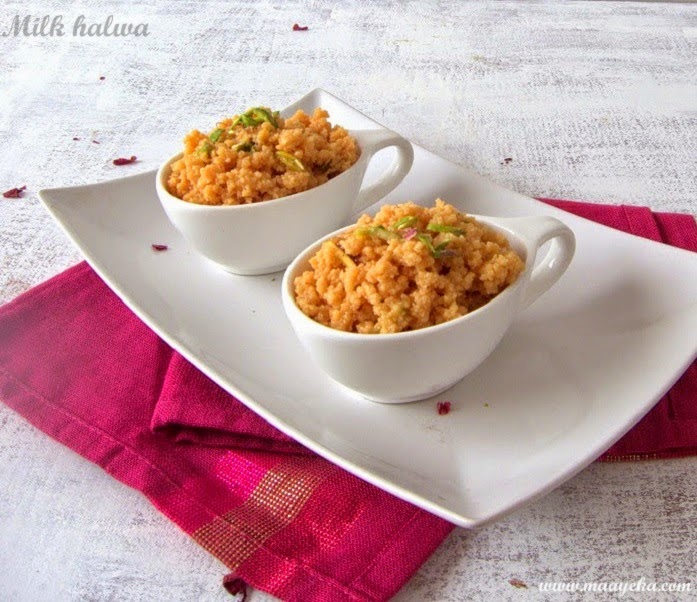 Prep time – 5 min
Cooking time – 10 min
Difficulty level – easy
Spice level – sweet
Cuisine – Indian
Type – Dessert, Fasting food
Serve – 4 servings
INGREDIENTS-
Sweetened condensed milk/milkmaid – 400 ml
Fresh milk – 200 ml
Lemon juice – 1.5 tbsp
Almond, chopped – 8
Pistachio, chopped – 8
Cardamom powder – 1/4 tsp
Rose water – 2 tsp
PROCEDURE-
Take a heavy bottom non stick pan and slightly grease it with ghee or butter.
Add condensed milk, fresh milk and lemon juice in the pan.
Mix every thing with a whisk
Now cook it on medium flame and keep stirring.
Cook till it started to thicken and all moisture dry up.
Now add chopped almonds ,cardamom powder and rose water.
Mix well and take out in a serving bowl
Garnish with chopped pistachio and cardamom powder.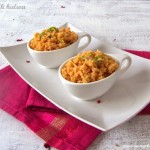 Print Recipe
Milk Halwa / Palkova