Tiranga pulao- beautiful and delicious Layered Rice pilaf with three flavours and colour

Tiranga pulao- Rice is the staple diet of Indians,we use rice to make different snacks and main course dishes.Steamed rice is paired with different types of curries and lentils. Set dosa ,idli are popular tiffin variety from South India.
In North part of India we often make khichdi and pilaf with rice to use on daily basis.There are so many varieties of making pilaf. My favorite are –Biryani pulao, Pineapple and chili rice, and the specialty of U.P-
Aloo matar ki Tahiri.
For this tri colour pilaf I used three different vegetable and their paste to give color and flavor. for the orange color I have used tomato and red chili and for the green layer I used spinach and green chilies.The mild and fresh flavors blend well very nicely and the taste was appreciated by every one in the family.
                                                                                   Happy Independence day!!!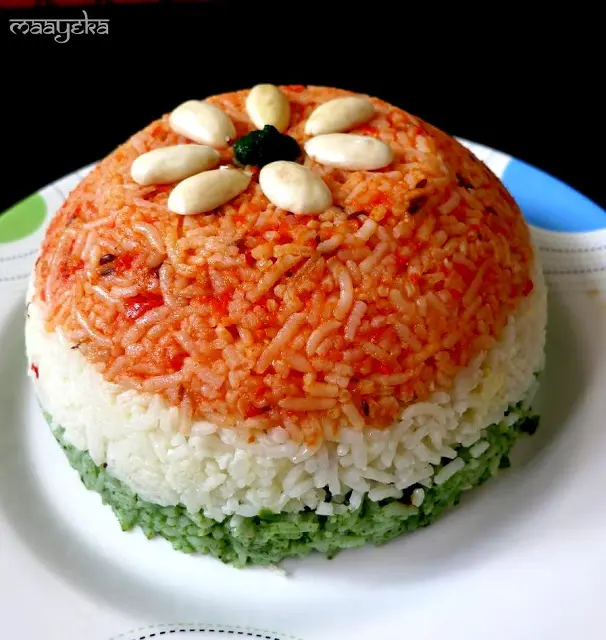 Prep time -20 min
Cooking time -15 min
Difficulty level -medium
Spice level – mild
Cuisine -Indian
Type -main
INGREDIENTS-
Rice/ chawal -1.5 cup
Salt/ namak -1tsp
Almonds /badam -5
Cloves /lavang-5
Green cardamom/ hari elaichi -4
       For Orange layer-
Tomatoes ,chopped -3
Turmeric/haldi -1/3 tsp
Red chilli powder /mirch-1 tsp
Refined oil -2 tsp
Cumin seeds /jeera-1/2 tsp
Salt /namak-1/4 tsp
       For White layer-
Cottage cheese /paneer-1/2 cup
Yoghurt/dahi-2 tbsp
Green cardamom /harai elaichi -3
Salt/namak-1/4 tsp
Refined oil -2tsp
       For Green layer-
Spinach /palak -1 cup
Mint leaves /pudina-1/4 cup
Green chilies /hari mirch -3
Lemon juice /nimbu ka ras -1/2 tsp
Cumin seeds/ jeera-1/4 tsp
Garam masala-1/4 tsp
Salt /namak-1/4 tsp
Refined oil-2tsp
PROCEDURE-
Wash and soak rice in  water for 20 minutes
Boil 5 glasses of water in a big pan and add salt
When water start boiling add cloves cardamom and rice.
Cook till 3/4 done and then drain in a colander.and let it cool down properly.
Grease a big and deep bowl and keep aside (A)
ORANGE LAYER-
Chop tomatoes in small pieces.
Heat 2 tsp oil in a pan and add cumin seeds when they start crackling add 1/ tsp of turmeric and chopped tomatoes and cook till they become soft, now add chili powder, salt  and 1/2 cup boiled  rice and mix gently.
Add this rice in the greased bowl (A) and press with a spoon.
WHITE LAYER-
Heat 2 tsp oil in a pan and add whole cardamom(crush to open) ,then add yoghurt and stir.
Now add small pieces of cottage cheese and salt ,saute for few seconds.
Add 1 cup of boiled rice ,mix well and add in the bowl(A) and press with a spoon
GREEN LAYER-
Wash spinach, mint and green chilies and make a smooth and thick paste.
Heat oil in a pan and add cumin seeds when start crackling add the spinach puree and saute for a minute.
Add salt,garam masala, lemon juice and 1.5 cup of boiled rice ,mix gently  and add in the greased bowl (A) and press with a spoon.
Gently invert on the serving plate
Garnish with peeled almonds and mint paste.
Serving suggestions-Goes well with yoghurt,raita and salad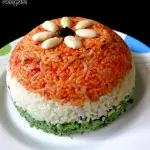 Print Recipe
Tiranga Pulao / Vegetable Pilaf
Tiranga pulao- beautiful and delicious Layered Rice pilaf with three flavours and colour