Athela Amla/Amla in Brine- Indian gooseberry pickled in Brine/Uppu Nellikkai
Athela Amla-In winter we get so many fresh vegetables to pickle and preserve to use through out the year. Lemon, carrot ,cauliflower ,turnip ,radish are among the most preferred ones to pickled and preserved for the year. My grandmother told me that she and her mother used to sundry cauliflower and turnip in winter and then store them and use them during summer
but as now all vegetables are easily available through out the year so we don't have to dehydrate the vegetables to make sabji and curries. But still we do make pickles from seasonal vegetables.
During winter we get very good quality amla/ Indian Gooseberry at very reasonable price so its a good habit to use this healthy amla in your diet in what ever form you like it. I love making chutney and pickles so I cant resist from making few pickles and chutney from this healthy amla.
This Athela Amla or preserved amla in Brine is a very easy to follow recipe and a novice can also make this easily. Brine is nothing but a salt solution and the salt not only preserve the pickle but also reduces the tartness and slight bitterness of the amla and makes it palatable .The salt is slowly absorbed by the amla and makes it delicious . Though you can consume it the same day but after 3-4 days when the amla absorb the salt it taste more delicious.
Athela  amla can be made with boiled Amla and Raw amla both ,the boiled ones are kept refrigerated after few days. If you want to make this pickle with raw amla then just wash and wipe them properly and make slices of raw amla and just soak in brine solution for few days till the amla become slightly soft and salty in taste and then start using it.
I love both the versions but as the boiled one got ready in 2-3 days so I often make this boiled version. You can also add some ginger slices and green chili pieces in it (when the water comes to room temperature).The brine should cover the amla's completely and do refrigerate the pickle for a long shelf life.
This pickle is preserved by salt only so add required amount of salt in it else it may get spoiled . Normally 25- 35 % percent salt is added but for an easy measurement idea just use a tsp salt in each cup of water and if making with raw amla then use 1-1/4 salt tsp in a cup of water.
You can use this pickled amla/ athela amla/ uppu Nellakkai to make chutney,stir fries and in salads too. Do make this amla in brine pickle this season to boost your immunity from this wonder fruit of Nature !!
You can also try these delicious amla recipes-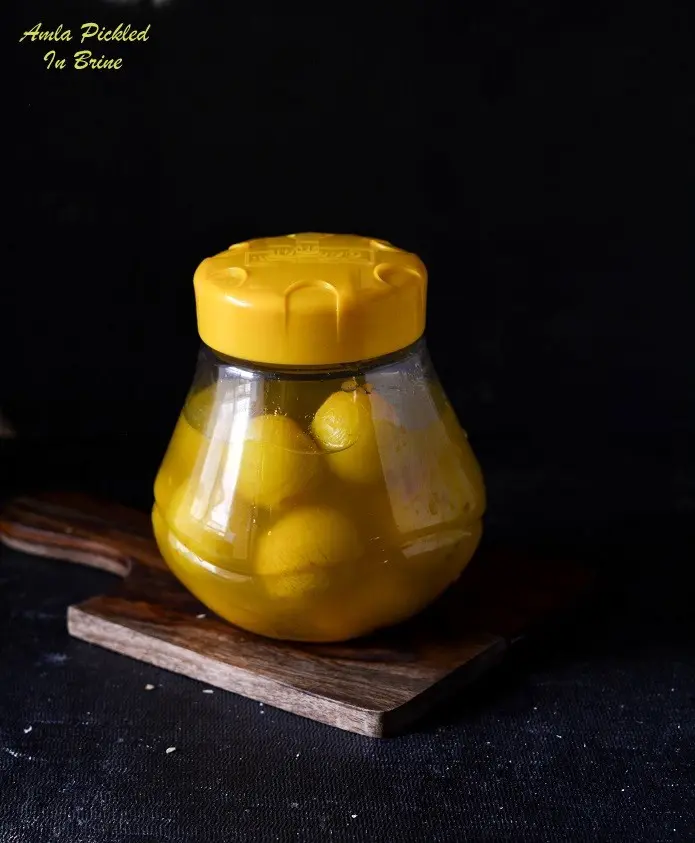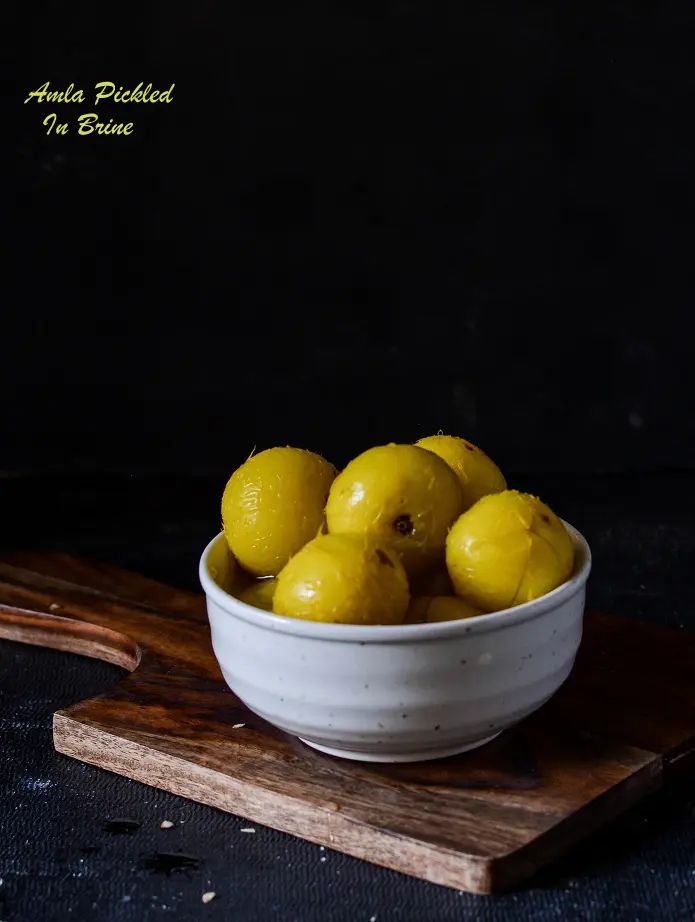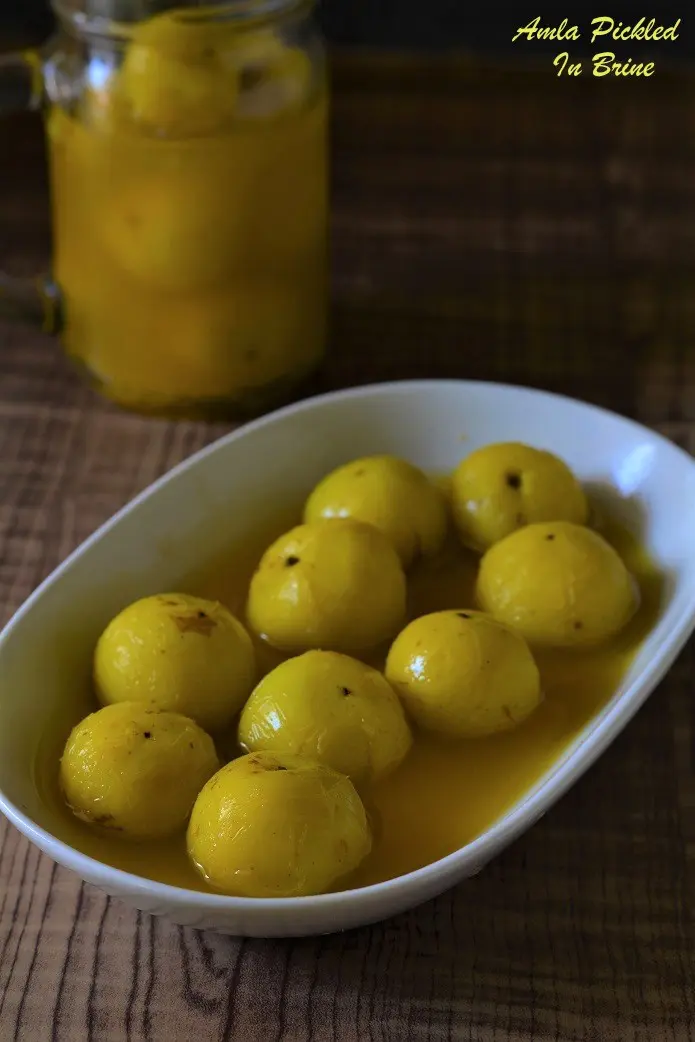 ★ Have you tried this recipe? Click on the stars ★ in the recipe card to let us know your feedback!  If you tried it then You can also click the recipe pic and share on Instagram with hashtag #maayeka
You can also follow me on Pinterest , Facebook ,  Instagram and You Tube for more delicious recipes and updates .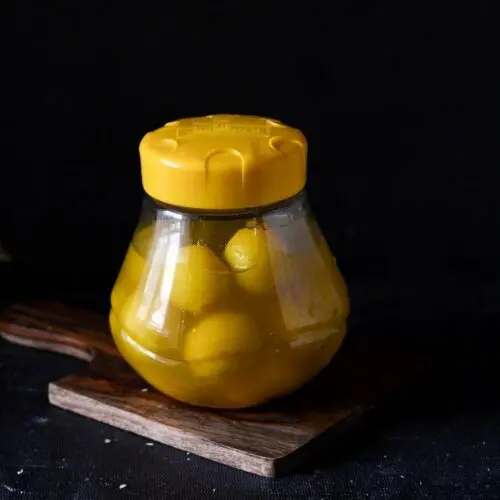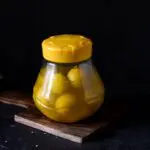 Print Recipe
Athela Amla, How To Make Amla in Brine, Easy Amla Pickle
Amla In Brine-Amla/Indian gooseberry pickled in Brine/Uppu Nellikkai
Ingredients
15

Indian Gooseberry /amla

4

cup

Water / Paani

5

tsp

Salt / Namak

1/3

tsp

Turmeric Powder / Haldi Powder

2

inch

Ginger / Adrak

optional
Instructions
Wash amla's and keep aside.

In a pan add water, salt and turmeric and let it come to a rolling boil.

Now add the whole amla's in the water and let it simmer till amla become soft (when you see cracks/ slits in the amla segments its the indication that it is done now)

Take out one amla and press it slightly if the slits opens up easily then its done now.

Turn off the heat and let it come to room temperature .

If you want to add sliced ginger and green chili pieces then add them when the water cool down completely (traditionally ginger and chilies are not added in this but I love adding both )

Fill the amla along with the liquid in a sterilized glass jar and keep it refrigerated after 2-3 days.

If you have added enough salt then it can easily stays fresh for 6-8 months in refrigerator.
Notes
Note-
This is an easy pickle so you don't need any exact measurements to make this ,just add enough water to cover the Amlas and the water should be quite salty to taste.