A tangy and delicious apple chutney
Indian food is incomplete without pickles and chutneys. their are variety of chutneys can be made with fresh herbs,fruits and vegetables,some are consumed fresh and some we can make in big batches and store for a long time
.Kids often refuse to eat fruits but they love jam and tangy fruit chutney ,which can be easily incorporated in their meal or breakfast as an accompaniment or spread in sandwiches and rolls.
Apple is used to make many Indian preserves and dips etc. Apple chutney is quite an easy recipes ,You can use either green apples or red apples or a combination of both ,You need not to buy expensive variety of apples to make this apple chutney,you can use any seasonal variety which are cheaper among all the varieties of apples available.
Apple ka murabba ,chutney, Apple Ki sabzi are relished all the whole year.I love making fruit chutney and I have already posted a few-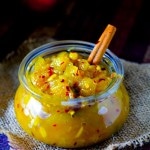 Peel and chop apples and raw mango into small pieces.

Heat oil in a heavy bottom pan and add cumin seeds.

When cumin start to crackle then add cardamom ,cinnamon,cloves and green chilies.

Add chopped apples and raw mango and stir for few seconds.

Add turmeric, salt ,1/2 cup water and cover the pan with a lid and cook on low heat

When apples become soft then add sugar,chopped ginger ,raisins,chili flakes and cook till the chutney thickens (no need to mash the apples )

Add vinegar in the chutney and give it a boil.(you can avoid adding vinegar if you can store it in the refrigerator)

Let it cool down and then store in a glass jar.

Keep refrigerated after 3-4 days for a long shelf life.(stays well for minimum 25 days in the refrigerator)

Serving suggestions-serve with any snack,meal or use as a sandwich spread
Note-
you can use lemon juice instead of raw mangoes and if you are using tart apples then skip adding both.
There is no Nutrition Label for this recipe yet.