An Indian dessert made with pineapple and semolina
Halwa is a very popular dessert of India .In all the Indian states halwa or kesari is made and enjoyed on festivals and on daily basis. Normally halwa is either made with wheat flour whish is often refered as Kadah Prashad or made with semolina /rava /sooji- Sooji kaa halwa but on special festive occasion halwa is made with fruits and vegetables like – Mango halwa , Doodhi halwa , Gajar kaa halwa  and a special treat for festivals badam kaa halwa .
Pineapple halwa or pineapple kesari is very popular in Southern Indian states .It is specially made on each festival and weddings.It is quite quick and easy recipe if you have the measurement and ratios right .Pineapple halwa can be made either with fresh pineapple or tinned pineapple .You can add chopped pineapple or can add coarsely crushed pineapple puree ,it depends on individual choice  but I prefer to add coarse puree in pineapple halwa. Quantity of sugar can be adjusted according to individual choice.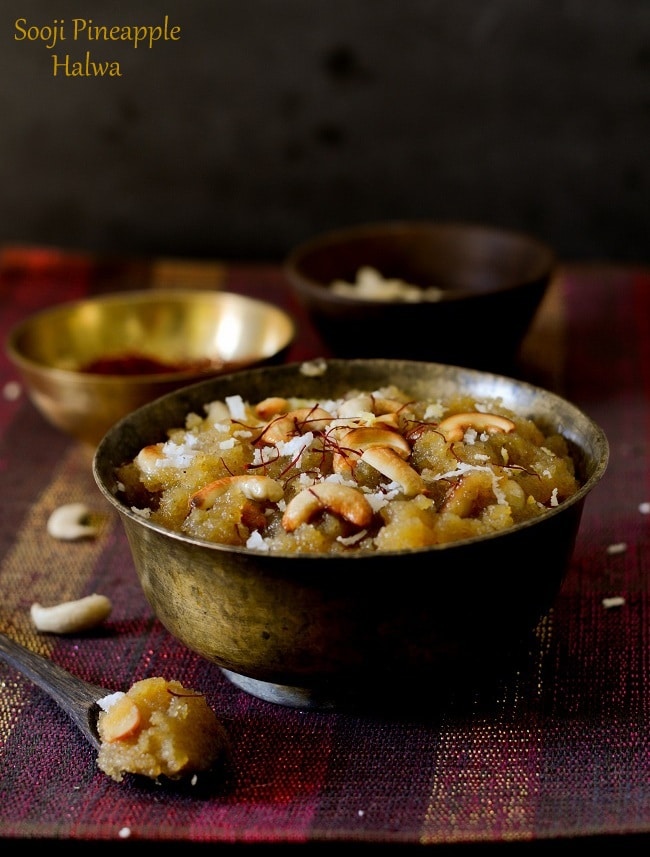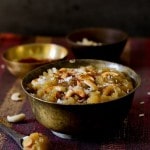 Coarsely Crush 6 pineapple slices in the mixer jar, no need to make a smooth puree.

Heat water and sugar in a pan and cook till sugar melts completely.

Now remove the sugar syrup from the flame and add saffron and pineapple crush(1.5 cup ) into it and mix.

Heat ghee in a heavy bottom pan and roast the cashew nuts to a nice golden colours and then take out from the pan and keep aside.

Now add semolina/rava in the pan and roast on low heat.

Roast till semolina/sooji become golden in colour and start giving a nice aroma.

Then add the sugar syup and keep stirring till it start to thicken.

Now add cardamom powder and mix well

Garnish with sliced pistachio ,cashew and grated coconut and serve hot.
There is no Nutrition Label for this recipe yet.