Soya Seekh Kabab- Kababs made with bengal gram and soya chunks.
Soya Seekh Kababs or Kabobs, originated in the Middle East, and have now found favour in all parts of the world. Usually non-vegetarians, there are quite a few vegetarians possibilities too. Various combinations of vegetables and lentils can be used to make these seekh kababs. The mixture is applied on a skewer and then cooked either on direct flame or pan fried in oil.
Soybean is very rarely used in my kitchen, as I don't like the strong flavour and chewy texture of soy nuggets/vadis, so I've tried to combine them with bengal gram (chana daal) to make these healthy and delicious seekh kababs. I have used a fresh blend of spice to make this but you can also use Punjabi garam masala or  Galouti masala.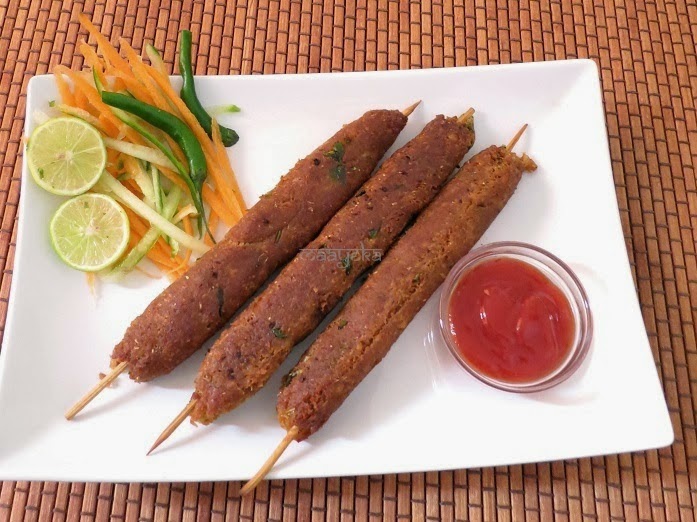 Prep time-20 min
Cooking time-8 min
Cuisine-Indian
Type -snack
INGREDIENTS-
Bengal gram/Chana daal – 3/4 cup
Soy nuggets/Soya bean ki vadi/Textured Soy Protein – 1.5 cup(70 gms)
Green chilies, chopped – 1 tbsp
Fresh coriander – 2 tbsp
Bread crumbs – 4 tbsp
Corn flour – 2.5 tbsp
Chili powder/Lal Mirch – 1.5 tsp
Mango powder/Khatai – 1.5 tsp
Salt – to taste
Butter – 1 tbsp
Cooking oil – 1.5 tsp
Spice mix-
Coriander seeds/sabut dhaniya – 1 tsp
Cumin seeds/jeera – 3/4 tsp
Almonds/badam – 10
Cloves/laung – 4
Peppercorns/sabut kali mirch – 8
Green Cardamom/hari elaichi – 4
Star Anise/phool chakri – 1/3 piece
Dried Rose Petals/sookhay gulab ki patti -6
PROCEDURE-
Take all the ingredients listed in -spice mix and grind to make a fine powder.
Soak the bengal gram in water for 15 minutes and soak soy nuggets in hot water for 15 minutes.
Squeeze water from soy nuggets and boil them in enough water for 5 minutes.drain the water from soy nuggets and squeeze well (this is done to remove the smell from soy nuggets).
In a pressure cooker add bengal gram and soy nuggets in separate containers along with 1.5 cup of water.
Pressure cook for a whistle on medium flame, then drain the water and squeeze the nuggets well.
Heat 1 tbsp of butter and 1 tsp of oil in a heavy bottom pan and add the boiled bengal gram and soy nuggets.
Stir fry on high heat for 2-3 minutes to evaporate the moisture.
Let this mixture cool down completely.
Grind bengal gram, soy nuggets and green chilies to make a coarse paste.
Take out the mixture in a bowl and add bread crumbs, corn flour,spice mix, chili powder, salt, mango powder and fresh coriander.
Mix the mixture well, here you can add some more crumbs if needed.
Evenly apply the mixture on satay sticks and keep aside.
Heat some oil in a broad and heavy pan to shallow fry.
Add few seekh kababs in the pan and cook on medium heat .
Gently turn the sides of the satay stick 2-3 times to get a nice golden colour from all the sides.
Drain the kababs on a paper napkin.
Sprinkle some chat masala and lemon juice on the kababs.
Serve hot with ketchup or yogurt and mint chutney.
TIPS-
1-You can shape the mixture in the form of round patties and make shami kababs or cutlets.
2-You can cook them on direct flame or BBQ, in that case you have to add little extra bread crumbs to make a chapati like dough, as the soft mixture may fall off from the skewer.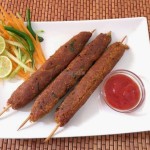 Print Recipe
Soy Seekh Kababs