A spicy and tangy steamed snack made with Taro Root Leaves and Chickpea flour
Paatra of Gujarat or Alu vadi or pathrode of Maharashtra is a steamed snack made with colacosia leaves. Fresh colacosia leaves/Taro root leaves/Arbi ka patta are smeared with a spiced gram flour batter. Green chili paste, ginger, tamarind paste and jaggary are added in the gram flour batter to gives a medley of sweet, sour and spicy taste.
After applying the gram flour paste and stacked together then the leaves are rolled to make a long and thick roll. The roll is steamed to cook perfectly and then sliced into thin roundels. The number of leaves used to make the roll depend on how thick you want to make it, if you want to serve small pieces then use just 2-3 leaves in a roll or use 5-6 leaves in a roll like I have used here. They can be served with tea as a snack, served with green chutney or coconut chutney. A good recipe for lunch box, picnic or as a travel food.
After steaming, Paatra can be served in 3 ways:
1. Steamed – just squeeze some lemon juice, fresh coconut and chopped coriander and serve (fat free snack)
2. Deep fried – deep fry the steamed paatra slices in hot oil to make them crisp
3. Stir fried – tempered in mustard seeds, sesame and few other ingredients,which I have posted here
4. Rasiya paatra – tempered with spices and little sweet and sour liquid to make them moist and juicy.I have mentioned this method in the end of this post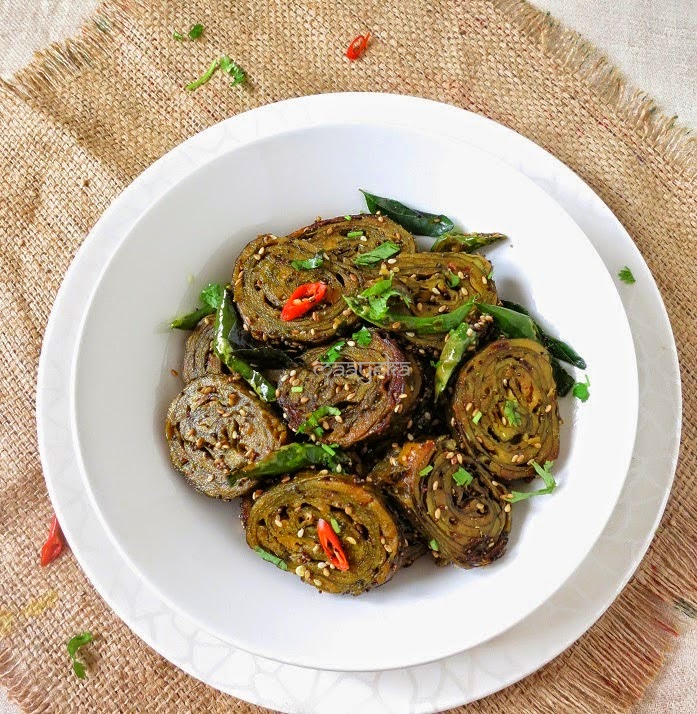 INGREDIENTS –
Colocasia leaves/arbi patta/Paatra leaves – 8 big
Gram flour/besan– 2  cups
Wheat flour /atta– 1/4 cup (optional)
Chili paste/pisi hari mirch  – 1.5 tbsp
Ginger paste/adrak paste – 1 tsp
Tamarind / Imli, dried – 1.5 tbsp
Jaggary / Gur – 2.5 tbsp
Chili powder /lal mirch– 1 tsp
Coriander powder /dhaniya – 1 tsp
Turmeric/haldi – 1/2 tsp
Cooking oil /tel- 2 .5 tsp
Baking soda – a pinch of (optional)
Salt – to taste
Tempering –
Cooking oil – 3 tbsp
Mustard Seeds / Rai – 1 tsp
White Sesame Seeds / Til – 2 tsp
Asafoetida / Hing – 1/4 tsp
Curry leaves – 10
Green Chilies, slit lengthwise – 4
PROCEDURE-
1. Wash the colocasia leaves/paatra and then gently wipe with a cloth
2. Carefully trim the hard vain of the center of the leaf with a sharp knife.so it become easy to roll the leaf after wards.
3. Soak tamarind in half cup of water for about 15 minutes,then mash and squeeze the pulp.
4. Soak jaggary in little water and mash well.
5. Take a bowl and add all the ingredients listed, jaggary and tamarind paste.
6. Add just enough water to make a thick paste (like idli batter consistency).
7. Take a colocasia leaf  from the vein side up and apply paste all over.
8. Now arrange other leaf over it with opposite sides facing the bottom. Apply the paste all over it.
9. Repeat the process with all the leaves. If you want to make small roundels then use only 2-3 leaves to make a roll and if you want to make big roundel then can use 5-6 leaves to make a roll.
10. After applying the paste fold the top and sides for about half inches.
then roll and make a neat and tight roll.
11. Place the rolls in a greased steamer plate.
12. Boil enough water in a steamer and place the steamer plate inside.
13. Cover the steamer with a tight lid and steam on medium heat for about 25- 30 minutes.
14. Take out the rolls and slice with a sharp knife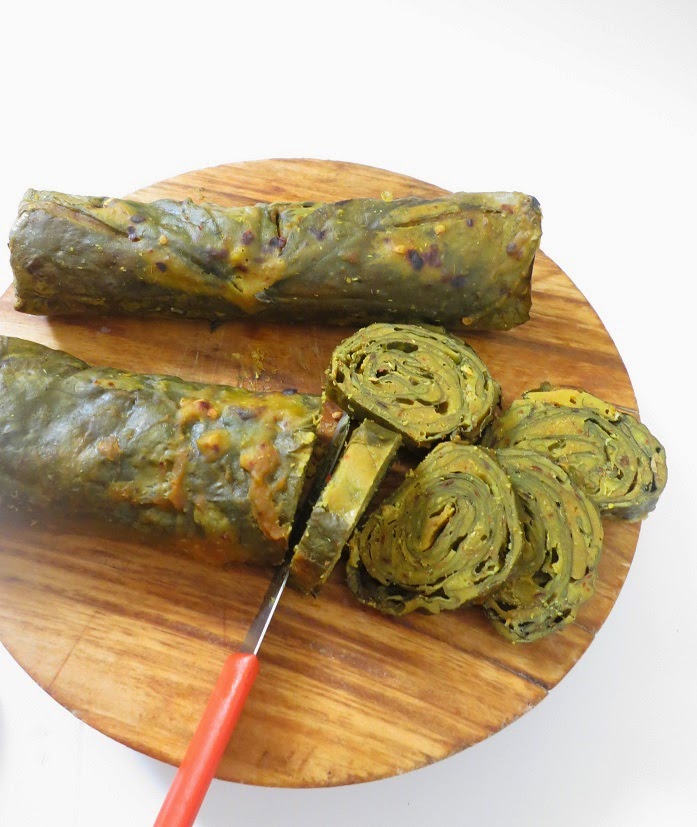 Tempering / Waghar
15-Heat oil in a big pan.
16-Add mustard seeds,when they start crackling add sesame seeds, asafoetida ,curry leaves and green chilies.stir for a minute.
17-Add sliced paatras and saute for 2 minutes on medium heat.
18-Switch off the flame and add chopped fresh coriander and grated coconut.
19-Serve with green chutney,coconut chutney or ketchup
RASIYA PAATRA (a slightly juicy variant of paatra) –
Tempering-
Paatra, sliced – 2.5 cup
Cooking oil – 2 tbsp
Mustard seeds/ rai – 1 tsp
Sesame seeds / til – 1.5 tsp
Asafoetida / hing – 1/4 tsp
Curry leaves / curry patta – 8
Bay leaf / tej patta – 1
Clove / laung – 3
Cinnamon /daalchini – 1/2 inch piece
Grated coconut-1.5 tbsp
Green chili, slit – 2
Lemon juice – 1.5 tsp
Sugar – 1.5 tsp
Salt – to taste
Water – 1 cup
PROCEDURE-
1. Heat oil in a pan add mustard seeds, sesame seeds, cloves, bay leaf, cinnamon, asafoetida, curry leaves and green chilies.
2. Now add water ,salt and sugar and give it a rolling boil.
3. Now add the sliced paatras and desiccated or fresh coconut and simmer for 5 minutes.
4. Switch off the flame and add lemon juice and chopped coriander.
5. Keep covered for 2-3 minutes and then serve.
NOTE-
If colocasia leaves/paatra are not available then you can use big spinach leaves as an alternate.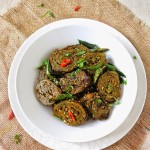 Print Recipe
How to make Paatra and Rasiya Paatra