Stuffed Mawa Modak
Stuffed sweet dumpling made with milk and dry fruits
Ganesh Chaturthi/Vinayak Chaturthi is a very popular festival in India. Different varieties of  stuffed mawa modaks ,sweets and Naivaidhyams are made during Ganapati utsav. Sweet Modaks of different varieties are made and offered to Lord Ganesh. There are many versions, flavours and variety of making modaks.
Most popular and authentic modaks are made with flour stuffed with coconut and jaggery and then deep fried and  the other very popular modaks are made with rice flour dough ,stuffed with coconut and jaggary filling and then steamed.
I have already posted an easy recipe for making Coconut rose modak ,which are made with coconut and condensed milk. Today I am sharing an easy, healthy, and delicious Modak recipe to offer to lord Ganesha.The outer covering is made with milk powder and condensed milk and cooked in microwave. If you don't want to make it in microwave then you can cook it in a non stick pan till the dough start separating from the pan.
The filling is made with crushed nuts and dates and then stuffed inside the modak. A special type of mould is used to make these modaks, which is very easily available all over India, but may not be that easily available outside. In case you don't have access to a mould, you can easily shape it without it – just make a stuffed ball and then gently pull the top with greased fingers to make a dome.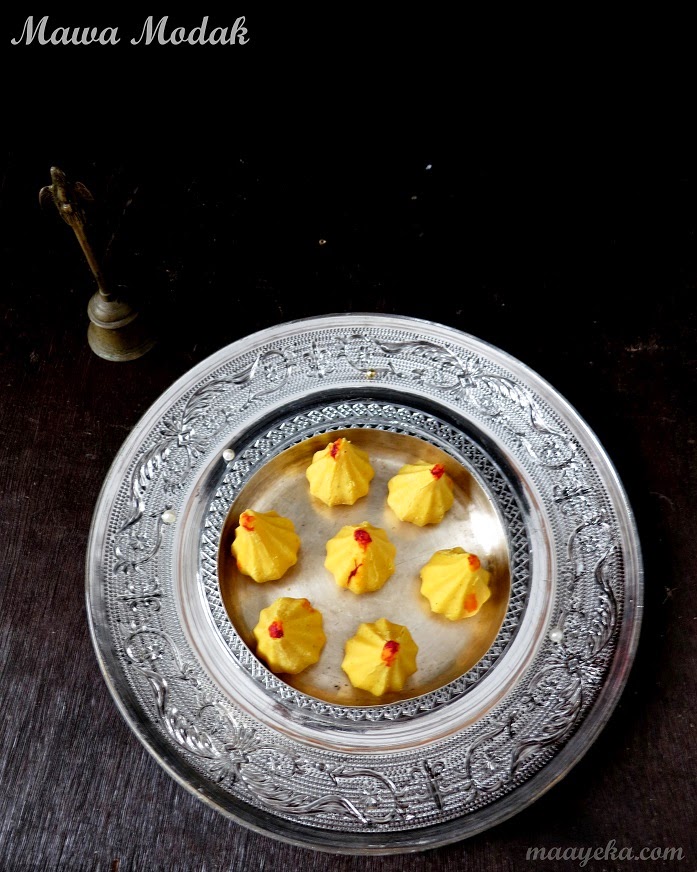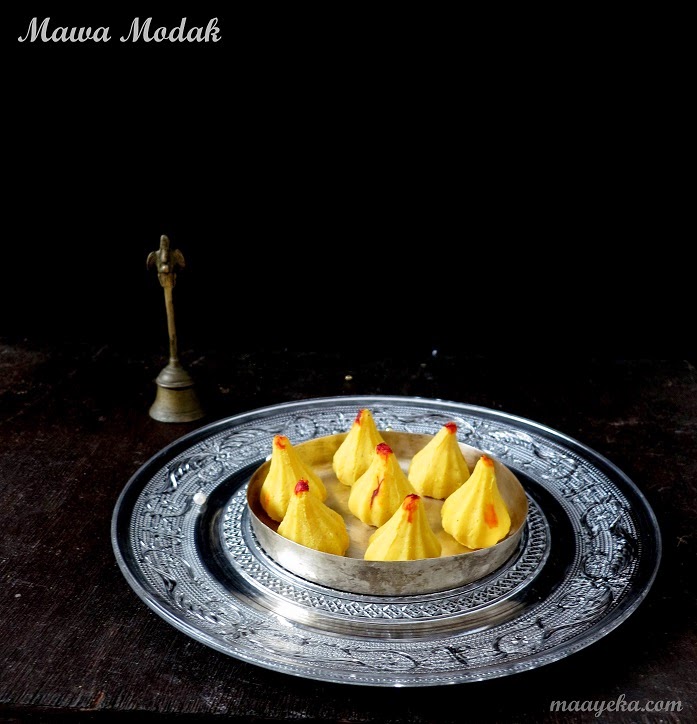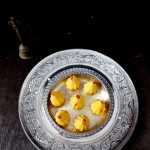 Print Recipe
Stuffed Mawa Modak
Ingredients
2

cup

Milk Powder / Doodh Ka Powder

1

can

Condensed Milk

1/2

tsp

Cardamom Powder / Elaichi Powder

3

tsp

Butter, Unsalted / Makkhan

1/4

tsp

Saffron / Kesar

1.5

tsp

Whole Milk / Doodh
Stuffing
15

Almonds / Badam

2

tbsp

Pistachio / Pista

12

Cashew Nuts / Kaju

10

Dates / Khajoor

3

tsp

Condensed Milk

1/4

tsp

Cardamom Powder / Elaichi Powder
Instructions
Chop or crush the nuts and make a coarse mixture.

De-seed, chop and mash the dates in the grinder.

Take a bowl add nuts, dates, cardamom powder and 3 tsp of condensed milk.

Mix and mash every thing to make a dough.

Can add some more condensed milk if it is too dry

Now make small size balls from this nut mixture and keep aside.

Soak crushed saffron in 1.5 tsp of warm milk and keep aside

In a big microwave proof glass bowl add butter and micro for about 40 seconds .

When butter melts then take out the bowl from the microwave.

Add milk powder and condensed milk and whisk well.

Now put the bowl in the microwave and cook for 1 minute on micro high.

Take out the bowl and stir and mix well.

Now again micro for 1 minute.

Take out the bowl and mix it again.

Now add saffron and cardamom powder and mix well.

Again micro for 1 minute.

Take out and mix well and then repeat the process for 1 more time.(total 4 times )

Let the mixture cool down a bit,keep stirring in between to avoid any lumps.

When it cool down then take a small portion of the dough and stuff it in the greased mould from the opening in the bottom

Press the dough all around with the help of your thumb and make a cavity in the center.

Take a nut mixture ball and stuff it in the center of the modak.

Take a small portion of the milk dough and seal the bottom.

Now open the mould carefully and take out the modak from the mould.

Garnish modak with a paste of saffron and milk.