Orange pickle -yes you read it right!
I know you're surprised. I had never heard of such a thing before too – until I ended up experimenting with oranges today. I had bought some really cute oranges yesterday, but they turned out to be very sour – I'd have to add 3-4 tsps of sugar to their juice just to make it edible.
So an idea popped into my head – let's try pickling them! And the result turned out to be so delicious – me and my husband ended up keeping aside the dal and veggies for dinner, and just had the pickle!
So next time when you get hold of sour oranges, you know what to do with them. And I'm sure you'll love this recipe so much, for all you know, you might end up hunting for sour oranges next time!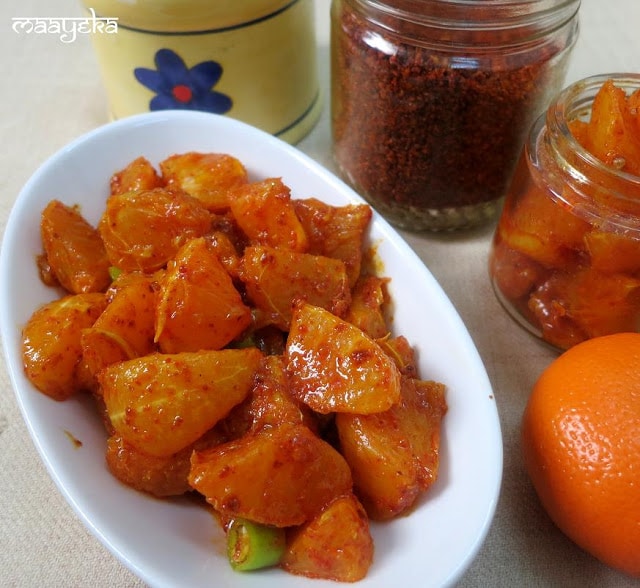 Prep time-10 min
Cuisine-Indian
Type-Pickle
Serve-4


INGREDIENTS
fresh oranges-3
Green chillies-2
Chilli powder-1/2 t.s
Asafoetida-a pinch of
pickle masala-2 t.s
Black salt-1/4 t.s
Oil-3 t.s
PROCEDURE-
Peel the oranges and seperate the segments.
Chop the segments into 2,3 pieces and remove the seeds.
Take them in a bowl and mix all the spices, chopped chillies and oil.
Keep covered for 15 minute to soak in the flavours.
Serve and enjoy .
Note-
1-If you don't have readymade pickle masala then add 1/2 t.s salt, pinch of methi powder and 1/3 t.s crushed fennel powder.
2- Keep refrigerated the leftover pickle.
serving suggestions-serve as a pickle .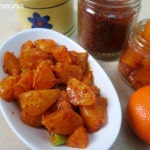 Print Recipe
Orange Pickle