Moong daal chips – A fried snack of yellow lentil and wheat flour with spiced yoghurt dip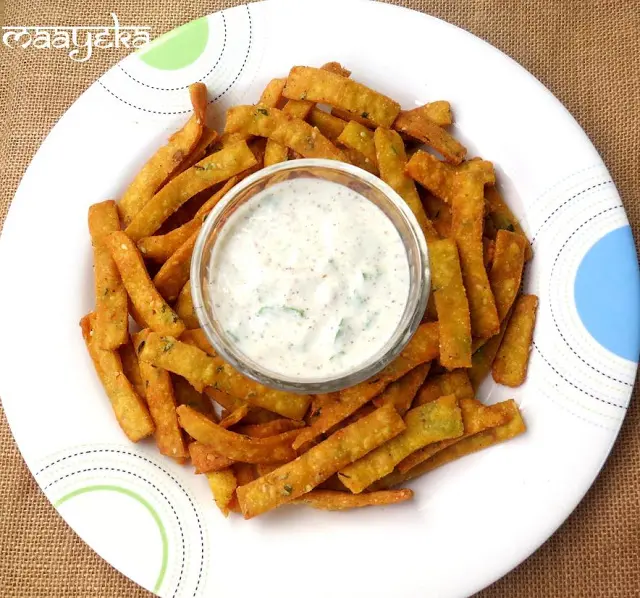 INGREDIENTS-
Yellow lentil (moong daal)-2 tbls
Wheat flour-1 cup
Semolina-2 tbls
Cumin powder-1 t.s
Sesame seeds-1 t.s
Lemon juice-1.5 t.s
Oil-3 tbls
Fresh coriander-2 tbls
Sugar-1 t.s
Salt-1 t.s
Chilli powder-1 t.s
PROCEDURE-
Soak moong daal for 2 hours and then grind into a paste.
Take all the ingredients in a big bowl and mix well .
Add daal paste and mix, add water if needed,and make a medium hard dough.
Make balls from the dough and roll to make a thin chapati.
Cut into thin and long stripes.
Heat oil in a pan and deep fry these chips in batches on medium heat till golden brown.
Cool and store in a airtight jar.
ACHARI DIP-
INGREDIENTS–
Curd-1/2 cup
Mustard seeds-1/4 t.s
Fenugreek seeds-1/4 t.s
Cumin seeds-1/4 t.s
Fennel seeds-1/2 t.s
Green chilli-1
Fresh coriander-1 tbls
Sugar-1/2 t.s
Salt-a pinch of
Dry roast all the seeds on low flame and then grind to make a fine powder.
Beat curd and add chopped green chilli ,coriander,sugar ,salt and 1/2 t.s ground masala powder.
Let it chilli for 15 minutes then serve with moong daal chips.
You can add this spice mix in any raita to enhance the flavour .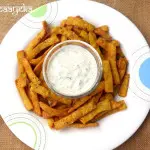 Print Recipe
Moong Daal Chips with Achari dip