Tangy,sweet and spicy yellow pumpkin curry
Sweet and sour pumpkin (kaddu) sabzi is a specialty of Rajasthan and Uttar pradesh. Though pumpkin is used in all states of India to make different types of curries but this khatta meettha kaddu is very different then all other versions.
To make khatta meetha kaddu you can use either the yellow peel or the green peel pumpkin .If you are using yellow peel pumpkin then you have to remove the hard peel but if you are using the green peel wala pumpkin then it is optional to remove the skin as in my family we don't remove the green peel.
In my home town Mathura this kaddu ki subzi is usally served with Khasta kachori and Daal poori along with the so popular Mathura ke dubki waley aloo ki subzi and it also pair well with Aloo tamatar ki subzi. Today I am sharing my Moms khatta metha kaddu recipe which every one loves in my family !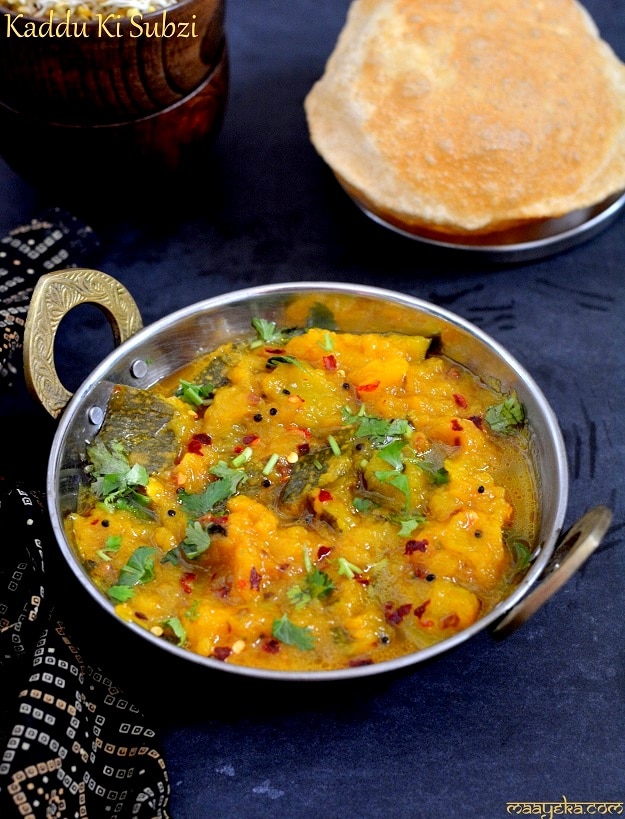 Thickness of the curry depends on personal choice,some prefer to make it as a dry curry ,some like it to make semi thick like the way I made it.but  it taste great both ways.some make it chunky and some prefer it slightly mushy so it depends on individual choice but the taste remains the same.Today I am sharing my Moms recipe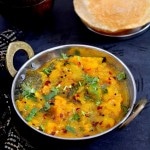 Wash and chop the pumpkin (traditionally, green skinned pumpkin is not peeled, only yellow skinned pumpkin is peeled.but its okay if you'd like to peel the green pumpkin too. Nobody gets hurt. 🙂 ).

Heat oil in a pressure cooker, add mustard seeds, fenugreek, cloves and fennel seeds and when seeds start crackling add asafoetida,whole red chilies and chopped green chillies.

Now add chopped pumpkin, ginger, chopped raw mango and all the spices EXCEPT sugar.

Mix well and add 3/4 cup water and pressure cook for 2 whistles or cook in a pan till it become soft to touch.

Then open the cooker and add sugar and mint leaves and cover and cook for 5 minutes on low heat.

Garnish with fresh coriander and serve
Note-
1-If you don't have raw mango then add 1.5 tsp mango powder or tamarind pulp at the end of cooking.
2-If you want to make it as a dry preparation then add  just 1/3 cup water.
There is no Nutrition Label for this recipe yet.