Instant Plum Chutney- Aloo bukhara ki chutney, No cook Recipe
Plum chutney- It often happens that whenever we brought a big bag of any fruit then only half are used and the remaining half kept lying in the refrigerator . Last week I also brought plums and they are still sitting in the refrigerator so I used them to make this delicious tangy chutney and served with stuffed Makki Aloo parathas and every ones loved this Plum Chutney .
I have already Posted a different recipe of Aloo bukhara Chutney ,which is cooked with sugar and spices and have a long shelf life. The recipe of Plum chutney I am posting today is an Instant recipe ,you just have to grind all the ingredients ,no cooking is required .Instant plum chutney stays fresh in the refrigerator for a week. If your plums are sweet then skip adding sugar and if they are tart then reduce the quantity of lemon juice, adjust according to your taste.The plums I have was quite blend so have added sugar and lemon juice both to give a nice tangy flavour.
I love making Chutney and pickles so makes different varieties of chutnies and pickles regularly with whatever I found sitting in my refrigerator :). I have posted many delicious chutnies made with Fruits – you can try the recipes of Ber Ki chutney, Kiwi Mint chutney,  Pineapple and Bell Pepper Chutney ,  Apple Chutney , Ginger Chutney,   Mixed Fruit Chutney,  Amrood Ki Chutney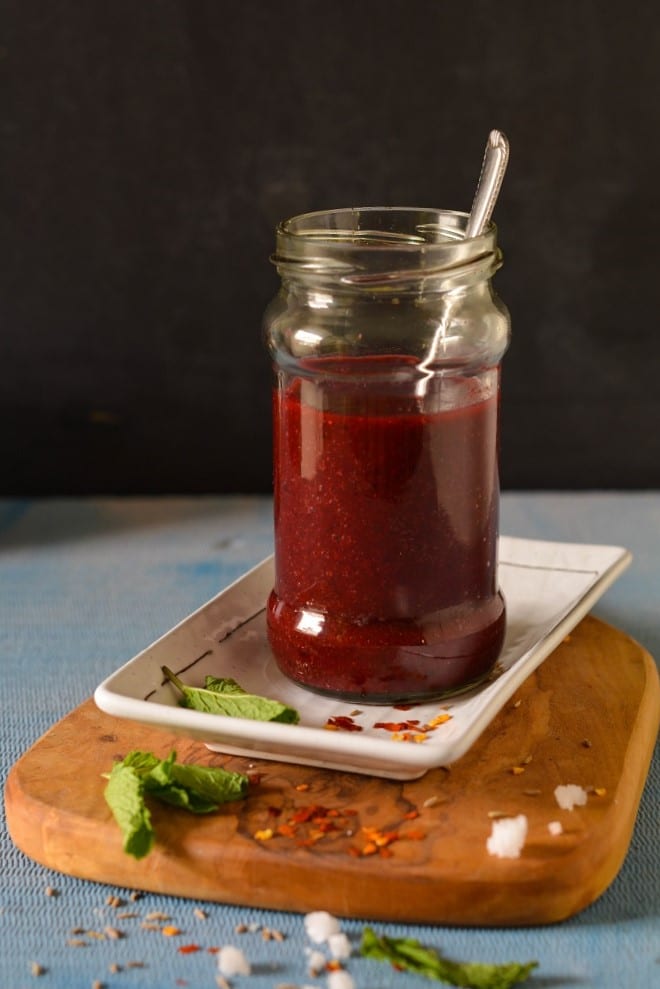 Wash and chop the plums and discard the Pit.

Wash and chop green chilies and mint.

In the mixer jar add all the ingredients and grind to make a smooth paste.(add 1-2 tbsp water if needed)

Store in a glass jar and keep refrigerated.

Use as a chutney,dip or spread. goes well with Indian or international recipes.
Note-
Adjust the quantity of sugar and lemon juice according to the tartness or sweetness of the plums.
Stays fresh for a week in the refrigerator.
There is no Nutrition Label for this recipe yet.